WSOP Main Event on ESPN: Hellmuth's Entrance, Hand of the Week and Our MVP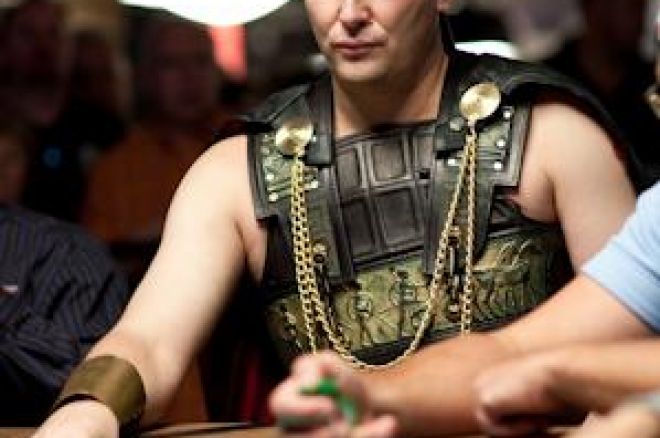 Say what you want about Phil Hellmuth, but at least he (or his publicist) is creative. The second week of ESPN's coverage of the 2009 World Series of Poker Main Event kicked off with the eleven-time bracelet winner's Day 1 entrance, a now-annual display of pageantry that this year featured Hellmuth donning a crown, a fur wrap, gladiator sandals, and a toga as he was carried inside the Rio by a bevy of "servants" and flanked by dozens of models in flowing white gowns. Hellmuth couldn't even change out of his Caesar getup before he was dealt a playable hand, the
, but after calling a pre-flop raise, Hellmuth folded to Otavio Tassone's continuation bet on a 6-5-3 rainbow flop. Had Tassone showed his
, it might have induced the sort of tirade we saw from him later in the hour, shooting out of his chair like a geyser when his pocket jacks were snapped off by the lowly
of some "Northern European idiot" (actually he was Swiss). The third and fourth hours of Main Event coverage brought highlights from Day 1C and 1D of play, and no shortage of Hellmuthian drama.
Cast of Characters: Daniel Negreanu took center stage on the main featured table during the first hour, while Phil Hellmuth took a seat on the secondary table once he changed out of his toga. We also met Frankie Gay, who was playing for his son Pruitt, who was killed in action in Afghanistan last summer as well as Kent Senter, a 55-year old father of two who, while facing terminal cancer, was carrying out his dream of playing in the Main Event. 2008 WSOP Player of the Year Erick Lindgren landed on the main featured table in hour two while defending Main Event champion Peter Eastgate took up residence on the secondary. Also getting their fair share of screen time were Phil Ivey, Tom "durrrr" Dwan, Dennis Phillips, Robert Williamson III, Annie Duke, Joe Hachem, Prahlad Friedman, Lou Diamond Phillips, Ray Romano, and the NBA's Jordan Farmar and John Salley.
Prominent Themes: It seemed like pocket aces couldn't win a pot this week. Erick Lindgren had them snapped off in the first level of play, then managed to do the same to Bobby Perillo's when his Q-Q flopped top set in the hand that ended up being Perillo's last in the Main Event. Negreanu saw his rockets go down in flames as well, against J-7 suited, but Negreanu sensed something was up and was able to get away from the hand on the river.
Norman Chad's New Schtick: "On Celebrity Apprentice, Annie was told that poker players are trash. Maybe so, but at least we're loyal, honest, and look pretty good in a Roman toga."
Interesting Tidbits: Daniel Negreanu was offered a spot on Survivor back in 2007, but turned it down because it would conflict with the WSOP. Jean-Robert Bellande was ultimately cast in his place. What did Phil Ivey do the night before he sat down for Day 1D of the Main Event? He played all night at Bellagio in the "Big Game," of course.
Blink and You'll Miss It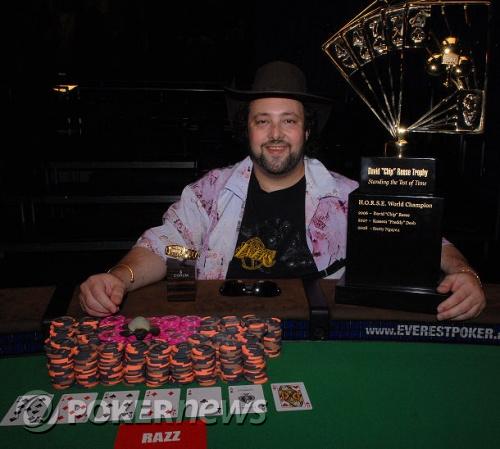 For all of fifteen seconds, we got to see David Bach win the $50,000 H.O.R.S.E. event amidst a segment on the Player of the Year race.
"The Nuts"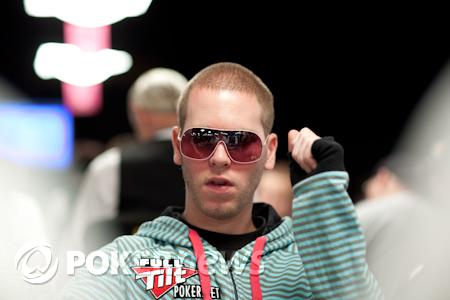 Forget about the segment on the age-old "to show or not to show the bluff" debate. The real nuts this week was Jeff Madsen's foray into freestyle rapping, taking over from Prahlad Friedman as the "Vanilla Ice of poker." Standing atop a poker table, surrounded by a crew including Phil Laak, Joe Sebok, World Poker Tour hostess Amanda Leatherman and Liv Boeree, Madsen treated poker fans around the world with the following rhymes:
Yo this is Jeff Madsen
I got my crew and 'bout to show you best rappin'
it's what I do
Yo I'm 'bout to tell you 'bout my World Series
it's been kinda hard, just hear me
I had pocket jacks I raised
this guy had aces man I pwned it, I was blazed
'bout to do it pronto
tryin' to win three bracelets, like Jeffrey Lisandro
MVP - Daniel Negreanu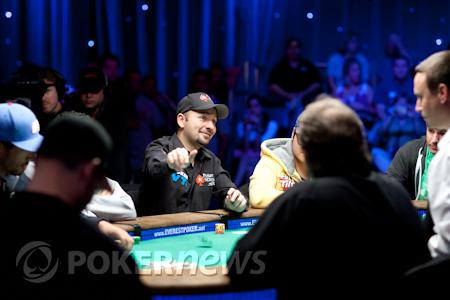 The 2004 WSOP Player of the Year didn't play his best poker in this year's Main Event, but he toughed out a serious wave of illness that overcame him while playing on the TV featured table. Negreanu found himself stricken with the dreaded casino flu almost immediately upon sitting down, and ended up chugging fluids and blowing his nose throughout most of the day. Still, Negreanu managed to make some apt reads and extracted great value out of his opponents before blowing up on what would be his final hand — committing the remainder of his stack with pocket threes on a T-7-7 flop, only to run into pocket queens. Clearly hurting by that point, Negreanu was more in need of some bed rest and vegan soup rather than a three on the turn or river.
Hand of the Week - Erick Lindgren Lays Down Aces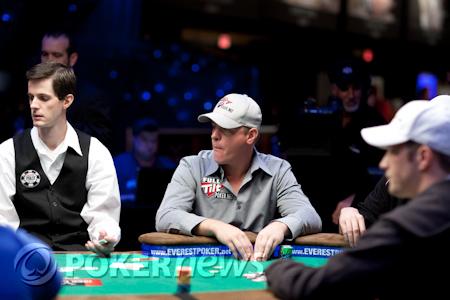 Bobby Perillo started a limp-fest, calling the 300-chip big blind with
from under-the-gun. Michael Mercaldo limped behind him with
and Erick Lindgren found
. Rather than thin the field with a raise, he limped in as well, inviting Evan Panesis to call the small blind with
. California casino pioneer George Hardie checked his option in the big blind with
and all five went to the
flop. Everyone missed, Lindgren's aces still leading, and the action was checked around. The turn was the
. Check, check, check to Michael Mercaldo, who decided to take a 1,200 stab at a pot none of his opponents appeared to be interested in. Lindgren smooth-called and Panesis called, having turned top pair. The river was the
. Panesis checked to Mercaldo, who fired out 5,000. Lindgren folded the best hand, mucking his aces, and Panesis mucked the second-best hand, ceding the pot to Mercaldo, who took it down with nothing but a pair of sevens.
Fashion observations: A garish hoodie and tough shades were a fun, cheeky departure for the always-adorable Jennifer Harman, but tragedy in motion on Jeff Madsen and Vanessa Rousso.
Notable Bustouts: Annie Duke, Daniel Negreanu, Jeff Madsen, Ivan Demidov, Ray Romano, John Salley.
Quote of the Episode: "I just made an ass out of myself. Why'd you show that hand? I hate my life!" - Robert Williamson III after open-folding his jacks only to be shown pocket tens.
Doesn't the WSOP Main Event look fun? Start your quest to play in it next year by signing up for a brand spanking new online poker account.