The Nightly Turbo: POKERBLUFFS revealed, Legends Update, and Andy Beal in Trouble?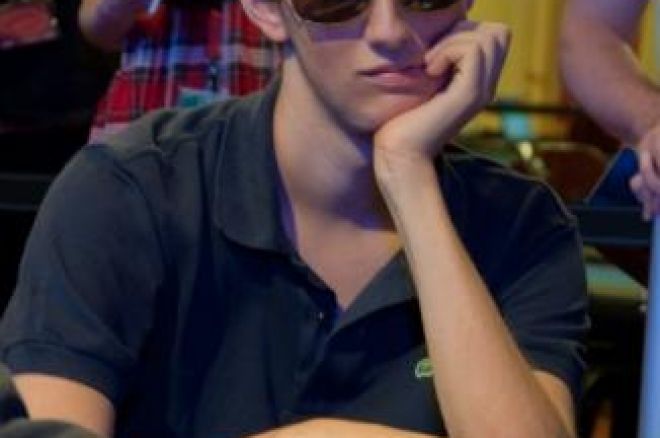 Welcome back to The Nightly Turbo. We look for the day's top stories, so you don't have to.
POKERBLUFFS Revealed
High Stakes News has uncovered the mystery that is "POKERBLUFFS." (Well, they just read the chat logs.) According to those chat logs, the man behind the screen name POKERBLUFFS, also owns "Deldar182" on PokerStars. Australian, David Eldar is the owner of both screen names. He was a champion Scrabble player who transitioned to poker. He's no stranger on the tournament circuit and is regarded as one of the best $25/$50 NLHE players on PokerStars. We're sure this isn't the last time we'll see Eldar in the nosebleeds.
In The Online Railbird Report, we told you about POKERBLUFFS, yet another player taking his shot at the $500/$1000 No-Limit Hold'em tables on Full Tilt. He came away from those tables $500,000 richer, all at the expense of Di "urindanger" Dang, Rafi "howisitfeellike" Amit, and David Benyamine.
We've still yet to figure out who high stakes Full Tilt player "martonas" is. All we know about him is that he is Swedish and he drives the action on the nosebleed tables. When he's on the tables, players line up to play.
Read more at High Stakes News.
Full Tilt $1k Monday
The Full Tilt $300,000 guarantee $1k Monday attracted some familiar names yesterday. Peter "Nordberg" Feldman took down the tournament for $97,500. Among the notable names, Zachary "CrazyZachary" Clark (who is also Chip Reese's nephew) finished in ninth place, good for $7,800. Below are the results.
$1k Monday
Buy-In: $1,000 + $60
Entrants: 390
Prize Pool: $390,000
1. Peter "Nordberg" Feldman - $97,500
2. gregior - $62,400
3. jbenya - $46,800
4. Cobalt56 - $36,075
5. BootySmooth - $27,300
6. zerocashout - $19,500
7. PocketPickles55 - $12,675
8. electra - $9,750
9. Zachary "CrazyZachary" Clark - $7,800
Notables: Mathias "joaoMATHIAS" Baumgarten-11th-$4,875, Mike "SowersUNCC" Sowers-12th-$4,875, Bryan "bparis" Paris-14th-$3,900, Joe "hoodini10" Udine-20th-$2,145, Bryan "Squirrely1" Sapp-25th-$2,145, Ryan "ryanbluf" Karp-29th-$1,755, Chris "MrDoggy" Klodnicki-30th-$1,755
You can't win if you don't play. Sign up for a Full Tilt Poker account and get started.
In Case You Missed It
Have you figured out how you're going to get to the Bahamas for the PokerNews Sports Legends Challenge? We talked to Kenna James and Gavin Smith about the event. They're both very excited and Smith even has some fighting words for some of the sports legends. Check out what they both have to say in The Sports Legends Challenge Picks Up Momentum. When you're done with that, sign up for an Absolute Poker account and win your way to the once-in-a-lifetime event.
The action in the nosebleeds at Full Tilt has yet to slow down. All the high stakes regulars are sitting in on the action. Tom "durrrr" Dwan was the main beneficiary of all the action over the weekend. Find out how much he won and how much the others lost in The Online Railbird Report.
Coverage of the WSOP on ESPN returns tonight at 8pm EST. We know who will steal tonight's spotlight. Do you?
The durrrr Challenge resumed yesterday. We've all but basically forgotten it, since the last time Antonius and Dwan met to put a notch in the 50,000 hands was June 19th. Antonius came out ahead this time and shortened Dwan's lead. Find out by how much here.
Day 1A of the APPT Macau is over and the chip leader for the day is Brandon Demes. He finished the day with 102,200 chips. Find out who's in and who's out with our Live Reporting.
WPT: Sold...Again
Yesterday, we broke the story that the WPT had been sold to a PartyGaming subsidiary, Peerless Media, for $12.3 million.
When Gamynia initially bid $9 million for WPTE, we were all curious as to what this meant for the struggling poker tour. Now that PartyGaming has come in and snatched WPTE from Gamynia's grasps, we can only wonder more.
Pauly (from Tao of Poker) believes that PartyGaming is "putting themselves in an extremely advantageous position" for when the economy improves and online poker returns to the American market. He also believes that PartyGaming could be using the WPT brand to build a stronger presence in Europe to rival the PokerStars EPT. All we can say is, nothing is out of the realm of possibility.
Read more at Tao of Poker.
Andy Beal: 0 IRS: 1
Wannabe high-stakes poker player/guy who has more money than he knows what to do with, Andy Beal, was recently part of an IRS crackdown on exotic tax shelters. A federal judge found that the $19 million investment in distressed Chinese businesses could not be taken as a tax deduction because it "lacked economic substance."
Although Beal has stated the loss from that investment was $1 billion, the IRS claims the loss was only $10 million. Beal has since paid all his taxes as well as a 40% penalty assessed by the IRS.
Beal's bank, Beal Financial Group, is currently in a $100 million bid for Trump Entertainment Resorts.
Read more at Gaming Today.
Legends of Poker Update
Day 4 of the WPT Legends of Poker is underway at the Bicycle Casino in LA. Among the 24 players left are November Nine members, Kevin Schaffel and Steven Begleiter (wonder if they're using all their "run-good" too soon).
Prahlad Friedman rounds out the top nine chip counts to start the day and in honor of that, we bring you: Poker Is Fun.

Let us know how you like The Nightly Turbo below. Check out our Facebook page and become a fan!