The Sports Legends Challenge Picks Up Momentum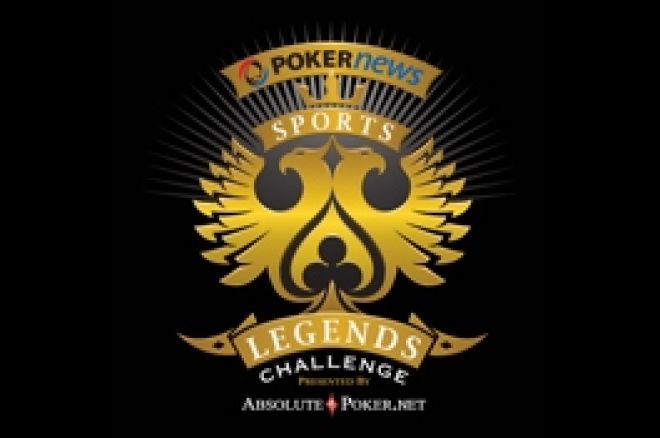 The PokerNews Sports Legend Challenge is set to get underway September 14-17, as 25 of the world's top sporting legends join forces with 25 top professional poker players to provide a weekend of exciting action. Featuring poker, golf, blackjack, and slots tournaments, this action packed weekend looks like it may be one of the hottest tickets of the year.
According to Kenna James, he's thrilled to be a part of the event. "I'm really looking forward to playing with the same player I have the honor of coaching, Gayle Sayers. I never had the chance to see him play but I was at the Hall of Fame game when he was elected into the NFL Hall of Fame. At the time, I had no idea that I was going to end up coaching him. I couldn't be happier."
Although James has faith his student will do well, Full Tilt Pro Gavin Smith thinks Sayers is a marked man. "Here's my list of three sports legends who are going to bite; Gayle Sayers, Dr. J, because basketball players are useless when it comes to poker, and Jim Brown, because he looks like he might be religious," said Smith.
With so many top-flight athletes in attendance, many of the pros are taking the action seriously. "I'm going to be sure to bring my A-game. Any time you're surrounded by legends, whether its poker or other sports, you don't want to embarrass yourself. This becomes more important when you factor in that Fox Sports will be broadcasting the action. No one wants to look bad," said James.
According to Smith, he got involved in the Sports Legends Challenge because he felt it was a cool event. "We get to play poker with some of our childhood heroes," said the recent Face the Ace dream crusher.
Despite all of the poker action, James is also looking to spend time with the sports legends away from the felt. "I can't wait to play golf with these guys. Getting to play a round with the sports legends and hear their stories is something I'm really looking forward to," he said.
Although James is looking forward to playing golf, Smith has other thoughts on his mind. "I would like to get a chance to tell Troy Aikman he was overrated."
Both players and many involved with the tournament have nothing but positive things to say about the event's hosting venue which is situated on a beach in the Bahamas. "The Atlantis is a first class resort. Whether you like swimming in the ocean or playing with the sharks, it's amazing. It's really a once-in-a-lifetime experience," said James.
Check out satellites on Absolute Poker, or head to SportsLegendsChallenge.com for more info.