The "durrrr" Challenge: Action Resumes with a $392,000 Win for Patrik Antonius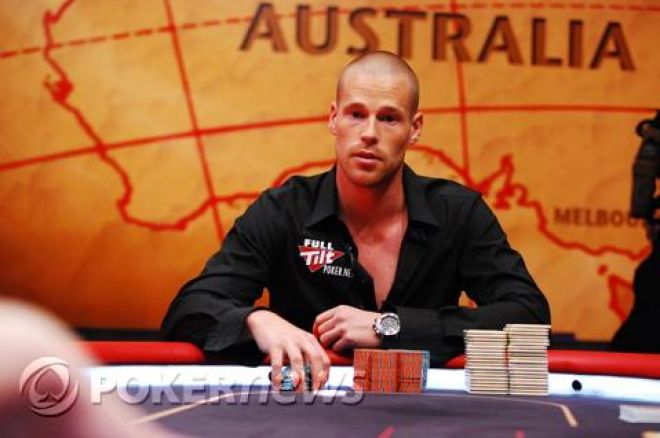 Just when we thought they'd all but abandoned their plans to finish the match, Tom "durrrr" Dwan and Patrik Antonius hopped onto the "durrrr Challenge" tables on Full Tilt Poker yesterday and played their first session in well over two months. The high-stakes rivals played for two and a half hours, logging 795 hands of $200/$400 Pot-Limit Omaha across four tables to bring the total hand count for their match to 21,442, about 43% of the required 50,000. As you may recall, the last time these two met in a Challenge session, back on June 19th, Dwan put some serious hurt on Antonius, winning over $764,000 in a relentless 15-hour session to take the lead in the challenge by $726,000. This time, Antonius answered back with a $392,000 win to cut Dwan's margin to just over $334,000.
With "martonas" finally taking a break from the high-stakes cash games to eat, sleep, or both, Antonius asked Dwan if he was up for a session. Though their last meeting was marked with 1,000 BB stacks, $400,000 pots and million-dollar swings, the tone of this session was far more cautious and measured. Playing some brilliant, focused poker, Antonius dominated from start to finish, picking up three of the five largest pots and gobbling up more than his fair share of the smaller ones. Within the first ten minutes, two six-figure pots developed. First, Dwan got his whole stack in on the turn with a full house against Antonius' king-high flush draw to pick up a $120,000 pot, but he lost all of it back and then some only minutes later after jamming the flop with a straight flush draw against Antonius' top set which filled up on the river in a $160,000 pot.
After that it was all Antonius, all the time. Thirty minutes into the session he picked up
and made it $1,200 to go from the button only to face a three-bet to $3,600 from Dwan. Antonius gladly popped it to $10,800 and Dwan came in with a five-bet to $32,400, more than half his stack already in the pot before the flop. Antonius set him in and Dwan called, showing
. Antonius' aces held on the
board and he took down the $125,593 pot.
Things only got worse for Dwan from there, as he ran into kicker trouble in a hand only minutes later. In a pot that Dwan three-bet pre-flop, Dwan check-raised Antonius' $3,600 bet to $18,000 on a flop of
. Antonius re-potted to $61,200, Dwan set him in and Antonius called, showing
for a pair of kings, ace kicker and the nut flush draw to Dwan's pair of kings, queen kicker, and the second-nut flush draw. Ouch. The turn and river came the
and
respectively, Antonius raking in the $150,792 pot, leaving Dwan to rebuy yet again.
Antonius was already up $200,000 by the end of the first hour, signaling the start of the "soul read" portion of the evening. Sitting on one table with nearly $214,000 to Dwan's $86,000, Antonius made his standard opening raise to $1,200 and Dwan responded with his standard opening three-bet to $3,600. Antonius called and they saw a flop of
. Dwan bet $4,800 and Antonius called. The turn came the
and Dwan fired again for $11,200. Antonius called and they saw the
hit the river. Dwan put out another $32,600 and after letting nearly his entire bank run out, Antonius made the call. And what a call it was. Antonius turned over
for queens up, picking off Dwan's bluff with
and earning the $104,399 pot.
Though Antonius emerged with a substantial win at the end of the session, Dwan did pick up the largest pot. After a pre-flop raising war that put $36,000 in the middle before the
flop came down, Dwan led out for a pot-sized bet, Antonius re-potted all in and Dwan called. It was the
for Antonius (top pair, a straight draw, and backdoor nut flush draw) and a wrap draw/backdoor flush draw for Dwan with
. The turn and river fell the
and
, good for a runner-runner flush for Dwan and the $223,591 pot.
Thus far today, Antonius and Dwan have failed to appear on Full Tilt Poker (shocker), and "martonas" is presently three-tabling $25/$50 No-Limit Hold'em and PLO. Could his break from the nosebleed stakes bring them back for more?
Stay tuned to PokerNews for continuing updates on this historic match, and be sure to follow us on Twitter for up to the minute news and entertainment.