Commerce Tournament Attracts Largest Land-based Non WSOP Event in History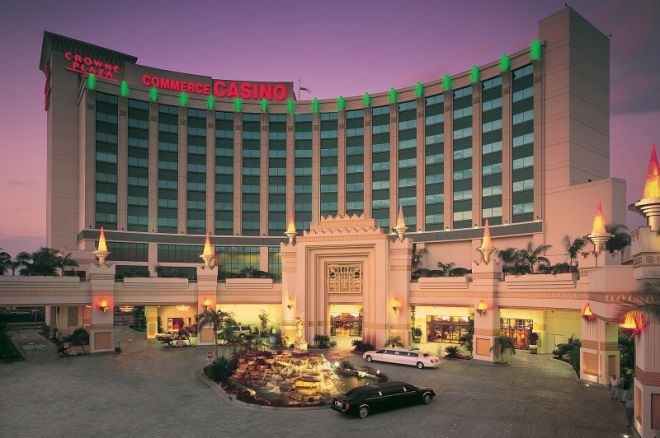 Thanks to the multitude of different buy-in events across the country, tournament directors have had a difficult time finding a unique format that would appeal to broad audiences until now. Commerce Casino tournament director Matt Savage has apparently hit the nail on the head with the introduction of a new format that included a three-day start allowing players to buy back in on subsequent days if they bust out early. In addition to the ability to rebuy, Commerce solidified its name as the largest land-based tournament in history (3,967 players), after the World Series of Poker, by offering a $500,000 guaranteed prize pool.
According to Savage, everything is going according to plan, so far, in the Hold'em Series. "Commerce was jam packed this past weekend. It shows that a little creativity and an opportunity for a second chance at hundreds of thousands of dollars can reinvigorate poker," he said in a recent press release.
First place went to Los Angeles, Calif., player Moshe Mashiah, who collected $164,627. Commerce crushed its $500,000 guarantee by $253,730, paying 369 players a share of the $753,730 prize pool. Considering that there are still $400,000 and $500,000 guaranteed events remaining on the schedule, it looks as though Commerce will be packing players in by the dozens.
For those people looking for interesting tournament action, several special events are scheduled including a $545 heads-up (double elimination) event, a $335 knockout tournament that will see players collect $100 for every player they eliminate, a $1,600 iron-man tournament that offers no breaks as players battle for the first-place bounty — 50% of the prize pool — and finally, the $2,580 no-limit main event, which offers a $500,000 guaranteed prize pool.
If you missed the three-day start with rebuys through three flights, don't fret because PokerNews has your solution. We will be using the same format for our PokerNews Cup.
Looking to win your way into the PokerNews Cup? Check out PokerNewsCup.com for more details.