Two Months, Two Million: Living Large in Vegas, Losing Big at the Poker Table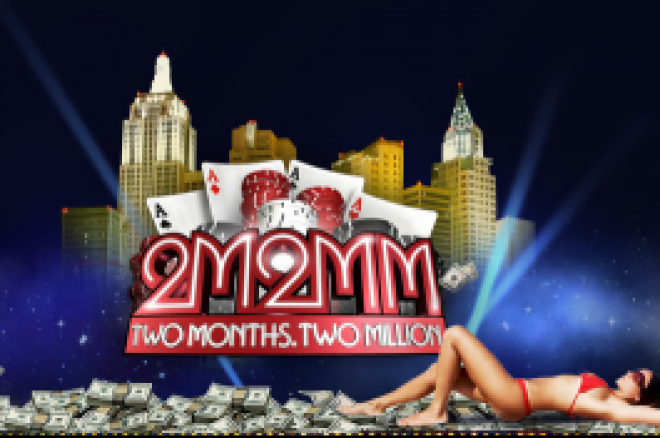 "Why do they say snap-call? I think we should say something even faster. Speed-of-light call and speed-of-light fold. Or like, Mach 5 fold," Jay "Krantz" Rosenkrantz said as he powered through a session in the War Room.
"I don't know, dude. Mach 5 isn't faster than a snap. A snap is just a moment in time," Dani "Ansky" Stern replied.
"I actually think Mach 5 is faster. It's faster than the speed of sound, it has to be faster," Jay retorted.
"What are you talking about? Snapping is a moment in time. It's like a quarter of a second. Mach is a speed. Mach 5 is a measurement of speed, OK?" Dani said, his blood beginning to rise.
"It's the speed of sound, though."
"Mach 5 is five times the speed of sound."
"Five times the speed the sound travels."
"What does that mean?"
"What do you mean, what does that mean? What is actually moving the speed of sound!" shouted Dani, clearly passionate about the subject of the time-space continuum.
These are the sort of debates our delightfully geeky foursome engage in, especially when they're losing and are trying to take their minds off the game and onto something — anything — else. This week's episode saw the guys extremely low on morale, their four-week total of $160,000 nowhere close to on-pace for reaching their $2 million goal. Although we've seen Dani and Jay deal with losing streaks before, this week, even the seemingly untiltable Brian "Flawless_Victory" Roberts found himself steaming after sustaining six-figure losses from taking a shot at higher limits.
To relax and recuperate, Brian and Jay hit the spa for facials, complete with green masks and cucumbers on their eyes. Back at the house, Dani bemoaned the fact that it's hard to meet a "normal" girl in Vegas, so Brian offered some flirting advice.
"Just say 'Hi I'm a twenty-something millionaire and I don't have an arm growing out of my head!'"
Brian's girlfriend, Cassie, was in town and planned an extravagant evening for the following night. The only catch? She wanted both Dani and Emil to bring dates. The two hit up the Playboy Club at the Palms where they met a pair of brunettes: Megan and Emily. While Dani went for the machine-gun approach, chatting up as many women as he could before one would give him her number, Emil set his sights on one girl and won her digits after claiming to be a prince from Dubai.
After arriving home, Emil hopped online and found a high-stakes pot-limit Omaha game running, featuring Gus Hansen, Di "Urindanger" Dang, "luckexpress10", Phil Ivey, and "DIN_FRU." Brian, the best PLO player in the group, sat in but quickly lost an $80,000 pot to Hansen. While Brian decompressed after the loss, Jay confided that he is so frustrated with losing that he's thinking about stepping down their $2 million goal.
The next morning, Dani finally took a look at his receipt from the Playboy Club and discovered that he had spent over $5,000 on bottle service. While Emil called Megan to confirm dinner, Dani could barely remember even meeting Emily.
Jay decided to take a quick trip home to "get his head on straight" and departed for New York while Brian, Emil, and Dani prepared for their dates. Their own VIP concierge, a goateed tough-guy type called Striker, arranged for a spectacular helicopter ride over Las Vegas for the three couples before dinner at Wolfgang Puck's Cut. Emil's date, Megan, experienced sticker shock when she discovered that an entrée cost more than her rent. At the end of the meal, the girls watched Brian, Dani and Emil play credit-card roulette for the check until Emil ended up with the nearly $1,800 bill. The group returned to the house where, after a bit of drunken trampolining, Emil took Megan to the tilt room to whack some watermelons before heading upstairs together.
At home in Commack, N.Y., Jay tried to explain some of his feelings to his mother who still doesn't exactly understand what her son does for a living. All she asked for was a Barry Manilow ticket if he ended up winning the $2 million.
Back in the War Room, Brian took a shot playing "luckexpress10" heads-up, but quickly lost $104,000.
"Losing always hurts more than winning feels good,"Brian said as he quit the game.
With the week nearly over, the guys tallied their wins and losses:
Week 5 totals:
Jay +$1,000
Brian -$111,000
Emil -$16,000
Dani -$2,000
Week 5 total: -$128,000
Total to date: +$35,100
With Brian down six figures, he earned the penalty stunt. The other three decided that he had to perform stand-up comedy at the Four Queens in downtown Las Vegas. Like Jay the week before at the all-male revue, Brian seemed all-too-comfortable onstage, calling out his friends in the audience and using them as fodder for his one-liners.
Two Months,Two Million is airing in a new time slot, Wednesdays at 8 p.m. EST, on the G4 network. Check your local listings. To start earning $2 million of your own, open up an account on Full Tilt Poker.