2 Months, 2 Million: The French Connection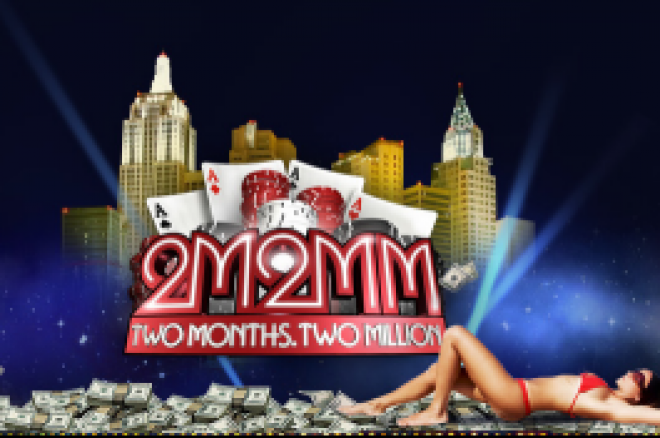 Brian Roberts likes to shop. This much was apparent in Sunday night's episode of 2 Months, 2 Million, where Roberts was seen inside no fewer than three high-end retailers in pursuit of every twenty-something, fabulously wealthy online poker player's favorite pastime — buying toys. In the episode's opening scene, Roberts and Jay "Krantz" Rosenkrantz visited a car dealership specializing in vintage and rare vehicles. Although they didn't drop six figures on a new set of wheels, they did take a spicy little red roadster for a test drive.
Krantz was running better as Week 4 opened, winning $27,000 from his rival "BLEWJOB", who still has a lot of Krantz' money. However, the match quickly turned around and Krantz quit his session down $11,000. He decided to adjourn to the pool at the Hard Rock Hotel with the other three guys to get off tilt. As they lounged outside their cabana, we discovered just how desperately in need of sunlight these guys were-- especially the ghostly pale Dani Stern. While checking out the scene, Brian spotted Erica Schoenberg and ran over to tell Krantz about it. Krantz had recently been in an online dust-up with Erica's fiance, David Benyamine. Krantz claimed that Benyamine had "hit and run" him in a $200/$400 game, winning a pot and then leaving unexpectedly and without explanation. The move sent Krantz on tilt and he ended up ranting at Benyamine in the chat box, calling him a fish, among other things. Erica, in turn, retaliated with a post on her blog about the incident, describing Krantz as "probably a college dropout who plays Magic: The Gathering." The guys convinced Krantz to approach Erica and bury the hatchet.
Krantz headed over to Erica's cabana and made a very polite apology. Erica was quite good-natured about it, noting that she immediately regretted writing her post about the incident. Krantz told Erica that he was interested in playing Benyamine again and left her with his card.
Back in the War Room, Krantz opened an email from Benyamine that said he'd call when he was ready to play. In preparation for their match, Krantz went into his database and reviewed some old hands they had played. Outside in the backyard, Dani and Emil Patel played ping-pong for $1,000 a game. During the match, Dani let Emil know he was planning to challenge Erica to a live heads-up match.
To relax and focus, the guys took a private yoga class in their backyard. None were flexible, or zen masters for that matter, as they struggled to maintain poses.
"Oh my hamstrings! My hip flexors!" squealed Brian.
"Benyamine's not doing this. He has no idea how yoga-ed up I'm gonna be," quipped Krantz.
While Krantz waited for Benyamine to call, Brian and Dani headed out to engage in a little retail therapy. After trying on a $2,000 pair of white sneakers with crocodile leather panels and 18k gold accents, Dani nearly went for the splurge but ultimatley decided against it, promising himself that if he ever won $40,000 in a day, he'd come back and buy the shoes. Dani told Brian that he managed to set up a match with Erica and asked his advice on how he should play against her.
"Probably very loose and aggressive," Brian said.
"You think she's going to be tight?" wondered Dani.
"Of course. I think she's going to be a total wimp."
Brian went on to offer quite the diss at live players, declaring that they are "pretty much universally terrible at all forms of poker."
Dani saw the match with Erica as a win-win situation. Even if he lost, he still got to hang out with an attractive poker-playing woman.
The following morning, Krantz woke up to three missed calls from Benyamine...that came in at 6 a.m. Although Benyamine might have been ready to play at that hour, Krantz wasn't. Sick and tired of waiting around for his phone to ring, Krantz headed out to the Hard Rock to watch Dani's heads-up match with Erica. They played heads-up for $2,000, which, as Dani described, was "not exactly high stakes, but it's still poker with a really attractive girl." As the two played, the gang razzed Dani with embarassing tales, revealing to Erica that he wears feet pajamas while playing online. Although we see Dani push Erica off a hand with an all-in move, it's unclear who actually came out ahead.
At 8:30 a.m., Krantz was awakened by his ringing phone; Benyamine was willing to play for an hour. After shaking out the cobwebs, Krantz trudged into the War Room and sat down with Benyamine at a heads-up $200/400 no-limit hold'em table. Although he ran well at the beginning of the match, winning $28,000 in the first 15 minutes, things went south quickly for Krantz. First, he lost a buy-in when he got his money in on an ace-high board holding A-J to Benyamine's A-Q. Then, to add insult to injury, he got all-in with A-A vs. J-J, but Benyamine managed to spike a set on the turn. The hour ended with Krantz down $74,000.
After totaling up their winnings for the week, Krantz discovered that his huge loss against Benyamine left him with no choice but to execute the penalty stunt.
Week 4 Results
Emil Patel (+$27,200)
Brian Roberts ($+9,500)
Dani Stern (+$11,000)
Jay Rosenkrantz (+$1,000)
Week 3 total: (+$48,700)
Total to date: (+$163,100)
Since Krantz wussed out on the penalty stunt the previous week, the guys were going to really make him pay this time. They offered him three choices: (1) perform in an all-male revue, (2) walk the Las Vegas Strip dressed in an adult diaper and ask 25 women "Are you my mommy?" or (3) go door-to-door telling his neighbors he's a sex offender. Krantz chose option #1 and after being outfitted in a wife-beater, work belt, and hard hat, he completed a routine straight out of The Full Monty to an adoring female audience. Not wanting to stop at only one number, Krantz proceeded to take a shower onstage wearing nothing but his boxer briefs and give a lap dance to one lucky lady.
As they watched him dance, Brian, Emil and Dani looked more uncomfortable in the audience than Krantz did onstage.
Need to catch up on 2 Months 2 Million? G4 is showing a marathon of the first four episodes next Sunday. Check your local listings for times and start your own $2 million quest by opening an online poker account today.