The PokerNews Jet Set: Punta del Este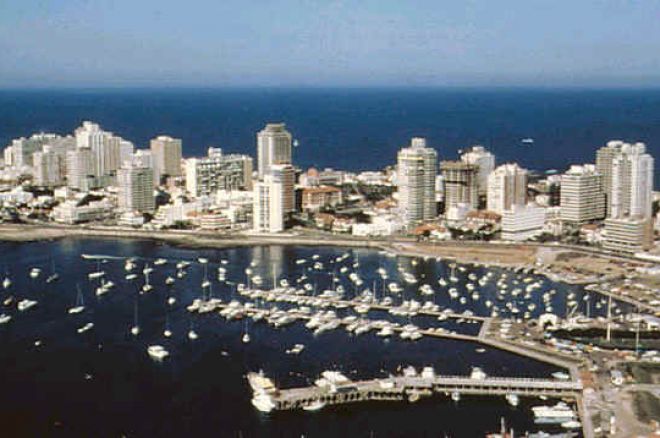 It's called the St. Tropez of South America and after only a few hours there you'll see why. Home to miles of exquisite beach, a sophisticated cultural scene and some of the country's most luxurious resorts, Punta del Este, Uruguay, is every inch the exclusive resort town its French counterpart is. Next week, the poker world descends on this little slice of paradise for the second stop of the PokerStars.com Latin American Poker Tour. If you've never traveled to South America before, well, it's a little different. We've got your back, though, so you can focus on packing your shorts and flip-flops. That's right, kids. It's summer south of the equator.
An air travel tip that could save your trip
If you're traveling from the U.S., you probably know by now that most airlines only run a few flights a week to Montevideo. If you are not traveling on a direct flight (that is, any itinerary with a stopover) do everything in your power to pack light and carry on all of your belongings. If your flight is delayed on the first leg of your trip, it can create a very narrow window for your baggage to be transferred. And if your bags don't make it on your flight, you could be without them for up to 48 hours. Condense your belongings into one small wheeled suitcase and a backpack or messenger bag and you should have no trouble getting them both on board.
Montevideo>Punta del Este
From Montevideo Airport, it is about a 90-minute taxi ride to Punta del Este. Make sure to only use an official airport taxi — don't chance it with one of the gypsy cabbies who will inevitably approach you on the way out of the terminal. The ride costs about $185 US each way and most drivers will accept U.S. dollars; just make sure to negotiate your fare and the method of payment before getting in the car.
If you're not too enthusiastic about forking out almost $200 for a taxi ride, you're not alone. The good news is there will most likely be a slew of fellow tournament players (or even a Team PokerStars Pro or two) on your flight who will be headed in the same direction. Another alternative is to take the bus to Punta del Este. It's super cheap at $7 per person and will leave you off at the Punta del Este bus terminal. From there, it's about a $20-25 taxi ride to the venue. For more information, go to http://www.cot.com.uy/.
Currency
The local currency is the Uruguayan Peso, but U.S. dollars are widely accepted. Change a small amount of your travel money into pesos at the airport, but it's a good idea to hang on to most of your dollars. If you end up needing more pesos, you can always exchange currencies at the casino. By today's exchange rate, $1 US equals about 20 Uruguayan Pesos.
About the venue
The LAPT Punta Del Este takes place at the Mantra Resort & Casino in the La Barra area, about a 30-minute taxi ride from the center of town. Truly one of the most spectacular host properties on any of the PokerStars tours, the Mantra offers its guests an experience that is five-star all the way. Rooms are generously apportioned, with king-sized beds, flat screen televisions and free wi-fi. Many of the ground-floor rooms open to their own private patios with chaise longues and views of the pool.
If you're playing in the tournament, you'll most likely be having most of your meals at the resort. Lucky for you, the Mantra has three different restaurant options. The Indigo Grill is a great option for those dinner breaks where you might be short on time. Enjoy wood-fired pizza, a full salad bar and traditional Uruguayan Parilla barbecue — just make sure to order your steak "muy, muy rojo" if you'd like your meat cooked more like medium-rare. The beef in South America has incredible flavor, but chefs south of the equator tend to cook it a bit longer than American palates might be used to.
If you're in the mood for a fancier meal, try Zafferano, the resort's main restaurant. Located right next to the pool, Zafferano serves up gourmet dishes with a Mediterranean flair. Another option is Parador, a beachside dining option about 300 meters from the resort.
If you're steaming from a bad beat or just feeling a little tight in the shoulders from the long journey to Uruguay, hit up the Balance Spa for a relaxing massage.
Out and about in Punta
If you find yourself with a free evening, there are plenty of restaurants, bars, and nightlife options to explore in Punta del Este. Our favorite local watering hole, Moby Dick's, is located right on the water and has a stunning view of the marina. Its outdoor patio is the perfect place to sit back with a Patricia or two (that's the local brew) and enjoy the warm night breezes. We have to warn you, though, things don't get hopping at the local bars until well after midnight. If it's some quality eats you're after, try O'Farrell's for some brilliant seasonal entrees with a Franco-Mediterranean influence. The saffron risotto with shrimp and scallops is simply to die for.
Are you ready to take your game on the road? LAPT, NAPT and EPT satellites are running daily on PokerStars.