Around the World with Lynn Gilmartin: Auckland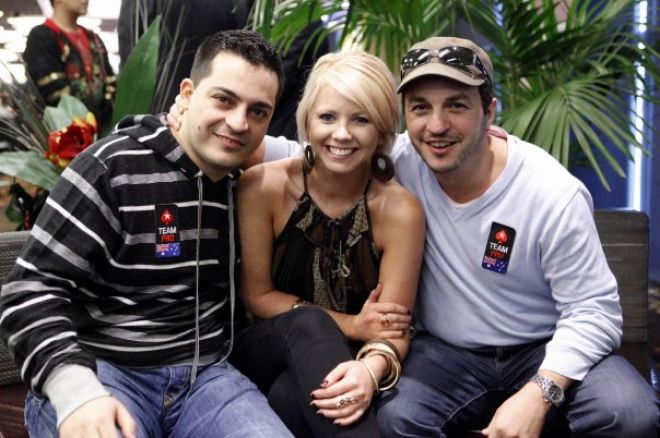 Auckland, known as the "youngest city in the world," is the largest city in New Zealand, with 1.3 million people calling it home. It is one of only a few cities that sits on the shores of two major oceans and is dotted with extinct volcanoes. New Zealand, despite being comparable in size to Great Britain or Japan, has a population of only four million – one of the world's least-crowded countries – making it a sanctuary for those seeking peace and relaxation, or, on the flip side, a playground for a thrill-seeking adventure. Throw in some of the friendliest people on earth, and one of the most elite poker tournaments in the Southern Hemisphere, and you have yourself one hell of a vacation destination.
The Basics:
Language: English, but Maori is the native lingo
Currency: New Zealand Dollar
International Dialing Code: +64
Weather: Cold!
Getting There and Around
If you're coming from the US, you've got at least 12 hours of flying to do. Air New Zealand is your best, and by far the cheapest option. Don't be fooled by the cheap fares – I've spent a lot of hours in the sky over the years, and they're definitely up there as one of my preferred international airlines.
The airport is about a 30-minute drive from SKYCITY Auckland, the PokerStars.net Asia Pacific Poker Tour Auckland host casino, costing roughly NZ$70 for a taxi. The venue is so well located, only minutes away from the harbor, that most places to see are within walking distance. If you're not interested in braving the cold, then a short taxi ride won't cost much.
Auckland has also been labeled the "City of Sails," with more boats per capita than any other city in the world. Eat your heart out Monaco. So with the mass of small islands and volcanic fields surrounding the city, why not jump on a yacht to get around for the day?
Here's a tour of the city we did last year straight from the airport.
The Accent
I can't say I enjoy having my accent mistaken for that of a New Zealander. I'm not denying that Aussies sound a little strange at times, but the New Zealand accent has a particular twang that just makes everyone laugh, that is, if it's not attached to a Māori, as they're the only people it suits. Aussies love to make fun of the Kiwi accent, so much in fact that a YouTube video known as "Beached As" went crazily viral, and I just had to put together a little remake last year.
Adventures
You don't need to travel far when seeking adventure in Auckland. In fact, you don't even have to leave the SKYCITY building since directly above it is the Sky Tower, offering a 200 meter jump for a creative way to de-tilt on dinner break.
If you have time for a day trip, take a short ferry ride across to the stunning island of Waiheke, that is home to 92 kilometers of stunning beaches, vineyards, and seaside villages. Taking a few happy-snaps is the most you'll get out of the beaches at this chilly time of year, but with over 30 vineyards to visit, you could make quite a boozy afternoon out of the trip. My favorite wines are produced in New Zealand, so I can't leave without trying some direct from the vineyard. If you just want the fun and none of the responsibility of finding your way around, then taking a tour such as Wine on Waiheke is just what you need.
New Zealand is most famous for its extreme sports and fantastic ski seasons, so during these winter months the mountains are full of tourists seeking their share of fun in the snow. If you do have more than a day free to venture out to the slopes, then Queenstown on the South Island is the best place to go. If you don't want to travel too far, head somewhere such as Mt. Ruapehu, the North Island's premier skiing destination. It's an active volcano (yep…) situated halfway between Auckland and Wellington, about a four-hour drive from Auckland city.
The Haka
If you've ever seen the New Zealand All Blacks rugby team, then you've witnessed the extremely intimidating Haka and will 100 percent click on the below video to amuse yourself again. If you haven't heard of it, do yourself a favor. It's a traditional Māori dance to acknowledge achievements or to give a warm welcome, but I wouldn't want to be faced with this kind of hello in a dark alley.
I can't wait to head to Auckland once again for the PokerStars.net Asia Pacific Poker Tour's fourth season. If you're not lucky enough to join us yourself, then you can catch all the live updates and videos right here on PokerNews.
Follow us on Twitter for up-to-the-minute news.
PokerStars have once again announced an exclusive $10,000 Sunday Million Freeroll for Club PokerNews members in October. This is the fourth month in a row our players have benefited from a 10k satellite freeroll to some of the biggest online tournaments in the world.