Poker News Briefs, July 18, 2009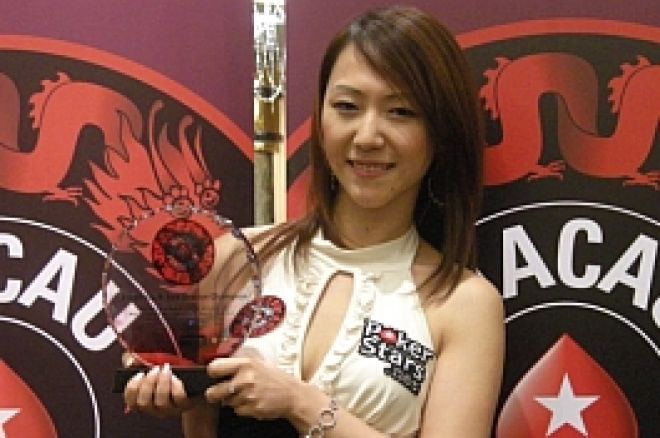 Lin Takes 'Red Dragon' Title at PokerStars Macau
Emerging star Celina Lin added another solid entry to her poker resume by capturing the 'Red Dragon' event at the July 9-12 Macau Poker Cup, part of the PokerStars Macau at the Grand Lisboa series. Lin, a member of PokerStars.net Team Asia, topped a 168-player field in the HKD $1,000,000 Guarantee tourney. Lin's victory was worth $394,800, about USD $51,000. The Macau Poker Cup precedes next month's Asia Pacific Poker Tour Macau stop. More information on PokerStars.net's upcoming APPT Macau event, which runs August 25-30, 2009, can be found at pokerstarsmacau.com. [Photo courtesy PokerStars Macau.]
Foxwoods Announces August Mega Stack Challenge XIII
East Coast poker destination Foxwoods Casino and Resort in Connecticut has announced its Mega Stack Challenge, slated to run August 18-23, 2009. The series' key event is its $2,000 buy-in, $750,000 guaranteed tourney, a three-day affair starting on August 20th. Smaller tourneys bracketing the main event, with respective guarantees of $100,000 and $150,000 fill out the schedule. Satellite entries to the $2,000 main are available.
Road 2 Recovery Announces Fifth Annual Charity Tourney
The Hard Rock Hotel and Casino in Las Vegas will again play host to the annual Road 2 Recovery charity poker tourney. This year's fifth annual event, with a $200 entry and $100 rebuys, is scheduled for October 8, 2009, and coincides with the US Open of Supercross. Road 2 Recovery is a non-profit organization that benefits injured AMA-licensed motocross and supercross racers. Tiffany Michelle won last year's event, which drew several big-name poker pros. More information about the charity and the tourney is available at road2recovery.com.
Zynga Goes After Virtual Poker Chip Sellers
Subscription-based online playing platform Zynga Game Networks has filed federal complaints against at least seven different individuals or companies who are selling the "virtual poker chips" used to play Texas hold'em on the site. Zynga alleges in its federal complaints that the parties are undercutting Zynga's own price for purchase of the virtual chips, and states claims of trademark infringement, unfair competition and interference with contract. Zynga customers agree to be bound by the site's Terms of Service (ToS) when using the site's content. In a page on the Zynga site about the buying of Zynga poker chips, Zynga states, "By the terms of service, buying Zynga chips from a third party will result in your chip stack being reset to zero. Selling Zynga chips will result in a permanent account ban and legal prosecution." Zynga is one of the Internet's leading social gaming sites, offering a poker application to sites such as Facebook, and claims some 14 million daily users.
PokerStars Also to Run World-record Attempt on Sunday
In what's shaping up as a duel for the largest paid-entry online tournament ever, PokerStars will also host an online tournament on Sunday. (Full Tilt is also hosting its own world record attempt on Sunday.) Stars' special tourney on Sunday features a $1 buy-in and a $100,000 guarantee, and starts at 14:10 (2:10 PM) ET.