2010 World Series of Poker: Jonathan Duhamel Wins 2010 WSOP Main Event!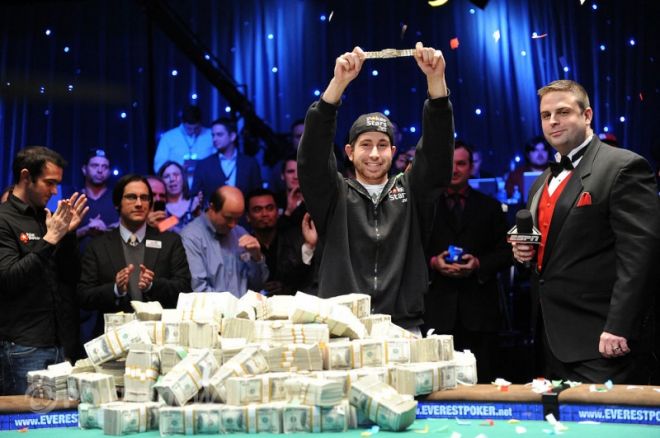 "Ole! Ole! Ole! Ole!" Those were the chants ringing loudly and proudly from Jonathan Duhamel's cheering section as he pumped two large bricks of cash over his head in the air while posing for photos behind HIS pile of cash topped with HIS World Series of Poker Main Event championship gold bracelet! The chanting rang on and on for several seemingly long minutes while the champion soaked it all in, making sure to embrace John Racener and have a few words with him.
Back on July 5, the first group of runners packed into the Amazon Room at the Rio All-Suite Hotel & Casino to embark on their 2010 WSOP Main Event run. After all four days of registration were complete, the field had grown to 7,319 entrants, becoming the second largest Main Event ever. Four months later, a champion has been crowned: Canadian Jonathan Duhamel.
Duhamel walked into the Penn & Teller Theater on Saturday morning as the man to catch, with a big lead. He eventually got a little short, then went on a tear to take an even more monstrous chip lead into the final showdown. Now he holds a lot more than just chips — $8,944,310 to be precise!
Thirty hands into the final table, Duhamel's chip lead was dented when his
was coolered by Filippo Candio's
. All the chips went in preflop, and Candio had secured his double-up by the turn to knock Duhamel down around 50 million. Nineteen hands later, he and Joseph Cheong tangled in a pot that brought out a new chip leader for the first time in four months. Cheong raised and called a Duhamel three-bet, then called a continuation bet on the
flop. They checked the
turn, and Cheong made a healthy bet of 8.25 million on the
river. Duhamel called, and Cheong's
gave him two pair, a pot of more than 30 million, and the chip lead.
There was no slowing down for Duhamel, though, and he continued to take his fair share of preflop pots over the next few orbits. After 90 hands, he was at 47,500,000 at dinner. His active play allowed him to scoop up a lot of free chips, but it also forced him to raise and fold, or even three-bet-fold on a few occasions.
On Hand #129, John Dolan made his final stand. When the table folded around to his small blind, he moved his short stack of about 13 million into the middle. He ended up having
and was snap-called by Duhamel's
. The at-risk player seemed happy to be in a coin flip with his queen-five but could not connect with the
board.
Despite that knockout pot, Duhamel's stack was in the midst of a steady decline that got worse before it got better. A short-stacked Racener doubled up into contention, then promptly ran his
into Duhamel's
for a pot of more than 34 million. The
flop robbed Duhamel of that big pot, though, and Racener's second double-up knocked Duhamel all the way back to 27 million.
On the next hand, Duhamel opened with a raise from the small blind before Michael Mizrachi moved all-in from the big. Duhamel called off his stack with
and was racing for double or nothing against The Grinder's
. A nine landed on the flop and another one landed on the turn, and Duhamel was right back up over 50 million. He and Mizrachi continued to mix it up in several big pots, most of them eventually being pushed into the French-Canadian's corner.
On Hand #185, Duhamel dealt the final blow to Mizrachi. On a queen-high flop, Mizrachi three-bet jammed his
. Duhamel had limped his
from the small blind and snap-called the shove to send Team Mizrachi and half of the theater out the double doors.
Cheong was still the chip leader through the middle-stage of play, but that changed in a flash. On Hand #197, Duhamel raised to 2.8 million, and Cheong came along with him from the small blind. Cheong check-raised on the
flop, then barreled on the
turn and
river. Duhamel finally paused to think on the river but called off 13.5 million of his chips with
to win the massive pot and take the chip lead once again with about 110 million.
Whether or not he could close out this Main Event, Jonathan Duhamel's name would be etched in the WSOP books for winning the largest pot in its history. It happened just a few shuffles before the end of the night, and it was Cheong and Duhamel playing for more than 170 million chips — the buy-ins of nearly 6,000 players. Cheong, the chip leader once again, six-bet shoved his
, and Duhamel called all-in with
. A board full of blanks crushed Cheong down under 10 million in a pot that will live on in WSOP infamy, shooting Duhamel up into a near-decisive chip lead. Six hands later, Duhamel cued the end of Day 9 when his
eliminated Cheong and his
in third place.
Heads-up play lasted 43 hands before Duhamel could finally finish off John Racener, who took home $5,545,955 for his runner-up finish. There wasn't too much to be said about this heads-up match that had Racener needing to overcome more than a 6-to-1 chip deficit when it began. Racener could only manage one double-up off of Duhamel when he woke up to pocket queens in the big blind after he was shoved on. Duhamel had shoved with the
. Racener's queens held and there was some hope.
That one double-up would be the only all-in confrontation that Racener would win, though, because the next time the two put all of the chips in, Duhamel left with the title. Duhamel shoved all-in on the final hand with the
. Racener was too short to pass it up and called off the last of his chips with the
. After the board ran out
, Duhamel was swarmed by a sea of red Montreal Canadians jerseys. Then his fans hoisted him high into the air and bounced him up and down.
On hand to present the gold bracelet to Duhamel was none other than last year's champion and youngest Main Event winner ever, Joe Cada. As Jack Effel announced and Duhamel was handed the bracelet, confetti fell from the sky whileh his friends and family chanted away. Duhamel said a few words to everyone but was mostly thankful to everyone and short on words, clearly in shock from what has just happened. "Thank you to everybody for being here, it's a dream come true," he said. "I don't know what to think, I don't know what to say."
After Duhamel's win, PokerNews' wrapped up its coverage of the 2010 World Series of Poker. Congratulations to all of the winners, the players who reached the November Nine and especially to new champion Jonathan Duhamel! It was another great year on the felt, and we thank everyone for following along with us.
Remember to follow us on Twitter for up-to-the-minute news.
Jonathan Duhamel is sponsored by PokerStars.net, who are currently giving Club PokerNews members regular exclusive $15,000 Sunday Million Freerolls and $2,000 PCA Freerolls.