PokerNews Gift Guide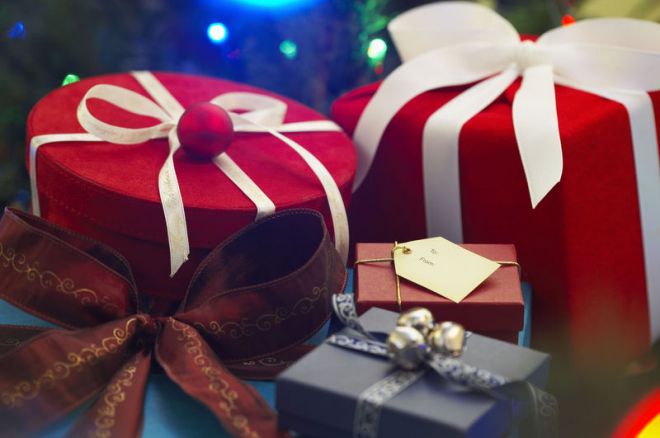 Whether you celebrate Hanukkah, Christmas, Kwanza or any other holiday, we can all agree that one of the best parts of the season is gift-giving. Honestly, who doesn't love seeing their friends or loved ones light up after tearing open wrapping paper to find they've received what they've always wanted. The problem comes when you spend senseless amounts of money on presents that are already owned, out of date, or simply unwanted.
Poker players can be a fickle bunch and therefore can be even harder to shop for, but there are a few items that are essential for everyone who grinds online or live. This holiday season, don't get your poker playing friends or family members a lame gift that they will re-gift or sell on Craigslist; get something they will love, enjoy and, most importantly, use.
Here is the PokerNews wish list of gifts that are big, small, expensive and cheap – perfect for everyone from micro-grinders to high-limit sharks. We hope you find it useful. We hope your shopping is relatively painless. And most of all, we hope that you enjoy the holiday season.
Kem Playing Cards ($29.50)
You obviously can't play poker without a deck of cards, but if you give someone a pack of Bicycle cards then they'll know you just picked them up from the local grocery store two minutes ago. Kem Playing Cards are casino-quality, come in both bridge and poker sizes and are available in many designs. These cards are perfect for home games and come with a plastic carrying case so all you degenerates can play Chinese with a nice deck during your dinner break.
Alera Nico High-Back Swivel/Tilt Chair ($127.81)
Conformability is key if you're going to be a winning player online. If you're sitting in an old chair, on your bed, or slouching on your couch, you're going to find you're readjusting yourself often in order to dismiss that kink in your back. With the Alera Nico High-Back Swivel/Tilt Chair you can maximize comfort during long sessions while also maintaining a healthy back. If you don't already have one, parlay this with a desk from any popular home furniture store. Male laptop grinders should remember that using a laptop on your lap is a health hazard. Studies show that if you rest a hot laptop on your man parts too often, you're at risk for singeing and nobody wants that. Nobody.
Samsung P2570HD 24.6" HDTV ($427.27)
Samsung is widely considered to be one of the best television manufacturers, and with this baby you can knock out three birds with one stone. Using the Samsung P2570 24.6" HDTV you can watch TV, play video games and then hook your computer up to it and start grinding. If you have a bigger budget and are willing to spend a little more for a bigger screen, then check out Samsung.com for deals on all of their TV's and other accessories.
Beats by Dre ($299) or Bose ($299) Headphones
For the ballers (or wanna be ballers) this is easy: grab yourself some Beats Studio by Dre. These high-tech, stylish headphones, designed by super-producer and rapper Dr. Dre, are wildly popular and offer a strong, thumping bass. For the more conservative player who is generally uninterested in flashy things, grab yourself some Bose QuietComfort headphones. While Bose stands out less, Bose's quality is great and the company is considered to be a leader in the sound industry. The debate between users of Beats and Bose is neverending, so we'll let you choose because in the end it's all in the ear of the beholder.
Slingbox ($299.99)
For anybody who travels, the Slingbox is a must. With a Slingbox you can watch your home cable or satellite provider on your laptop anywhere there's an Internet connection. It's ideal for watching local programs like news and sports on the road and also awesome because you can use it for your premium channels and on demand. Slingbox is also quick and easy set up and once it's connected there are no more additional fees. Just turn it on and enjoy!
Customized NFL Hoodie ($49.99)
Winter is only with us for approximately a quarter of a year, but it is always winter inside your common poker room and since the NFL is one of the most popular sporting leagues in the world we're sure you have a team to represent. Thanks to the NFL shop, you can personalize a team hoodie that fits you and carries your favorite team logos or even your own name. You can also put your favorite current player's name on the back, but, unfortunately, all retired players are protected by the players union so no classics are available. NFL hoodies are useful in your house, on the felt and at the stadium, which makes them a versatile, comfortable and warm gift for anyone.
One-Month Gym Membership (Prices vary)
Relax, this isn't to say poker players are all out of shape, but there are certainly a few grinders who could put in a few hours on the treadmill. Exercise and physical activity are vital to living a healthy life and maintaining a healthy mind. There are numerous poker players who attribute their mental toughness to working out, and they do so even when they travel to different tournament stops around the world. If the gym near you is bigger, then this gift is even better because there are so many things you can choose to do with your membership. You don't have to just pump iron; you can take yoga classes, play basketball, swim or do any other activity you enjoy. Best of all, if the person you're giving this to is simply too lazy to use it, it's only a month and won't put too big a dent in your pocket.
Rounders Blu-ray Collector's Edition ($15.66)
Almost every player that opens up this gift will beam with happiness because Rounders is arguably the greatest poker movie of all time. Matt Damon's zero to hero story and eventual triumph over Teddy KGB piqued the interest of many players when it was released in 1998, and it is still important in the poker community. The collector's edition includes behind-the-scenes clips, tutorials on how to play Texas Hold'em, and tips from real poker champions including Johnny Chan and Phil Hellmuth. This is an excellent gift for anybody who enjoys the game, and with Rounders 2 in the early stages of preproduction, it also serves as a nice refresher for the much-anticipated sequel.
Flip UltraHD Video Camera ($171)
This gift is great for any player who wants to create a video log, whether they're traveling the circuit or just playing online. Members of the PokerNews.nl crew documented their 2010 WSOP using the Flip UltraHD Video Camera, and the video and audio quality packed into that little guy is amazing. If you're capable of pressing a button and using a USB cable, then with this camera you can capture and upload vibrant, 720p quality video on to YouTube or Vimeo within minutes. Players can finally share all of those degenerate moments on break or they can put on their tourist hat and use it to shoot their favorite locations. Plus, this camera is a steal at only $200, considering that most HD camcorders usually go for $400+ and can't fit in your pocket.
Money
Face it, nobody will turn down cash, dead presidents, greenbacks, moolah, paper or coin. Some think it's boring to give money, but there are plenty of poker players who are constantly begging for a bankroll or a couple of buy-ins, so throwing them some money could make their day. In the end, they ultimately choose what exactly they do with this gift, making it the greatest gift of all.
Well, on second thought...they might just burn through another couple hundred so why not buy them a membership on PokerNews Strategy? Instead of just wasting your money they might be able to pay you back or buy you a nice gift!
All the prices listed were found at Amazon.com
Whether you're naughty or nice, follow us on Twitter and friend us on Facebook!