PokerStars.net European Poker Tour Prague Day 5: Roberto Romanello Victorious!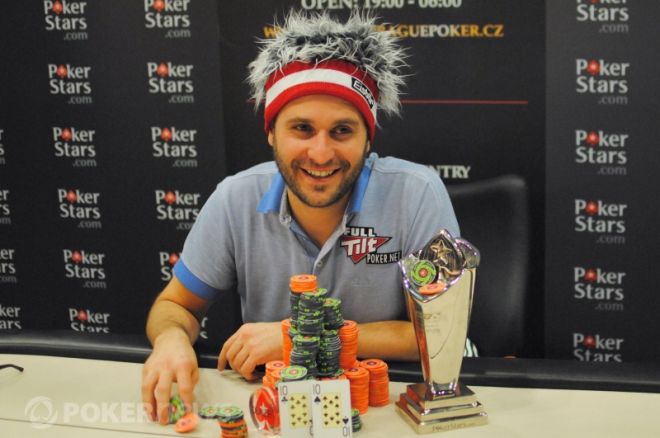 It was a most intriguing final eight who made it back to the Hilton for the final day of the PokerStars.net European Poker Tour Prague. Chip leader at the start of the day was Marco Leonzio, one of three Italians (or four if you count the ostensibly Welsh Roberto Romanello) to make the final table grade. Team PokerStars Pro Marcin Horecki and online qualifier Jan Bendik were flying the flag for Poland and Slovakia respectively, Manuel Bevand for France, and online pro Peter Skripka for Russia. Nine hours later, it would be a very emotional Romanello - along with Horecki, one of two finalists who'd made a previous EPT final table - who raised the trophy and took home the €640,000 first prize.
The first player to hit the rail was the shortest stacked of the Italians, Roberto Nulli. He shoved under the gun with
but was snapped off by Marcin Horecki holding pocket
. Horecki flopped a set and Nulli took home €54,500 for eighth place.
Nulli's was the first of three bustouts that took place in rapid succession. Just a few minutes after Nulli, Manuel Bevand hit the rail. Bevand had been crippled on the very first hand of the day when he doubled up Jan Bendik. Bevand tripled up but remained short, and eventually pushed with
and smacked into Roberto Romanello's
. Bevand came 19th in this event in 2008 and 22nd last year; he now has a seventh place finish to add to his record, and a career best €71,000 cash. Several minutes later and Jan Bendik got his chips in with
against Peter Skripka's pocket
. Bendik flopped a king but Skripka turned a nine, and the Slovakian went home with €100,000 for sixth place.
It took over two hours to see our next exit, the chip lead changing hands several times. Skripka briefly took the lead, but lost it again almost immediately doubling up Roberto Romanello to the chip lead, threes against Romanello's kings. While Romanello enjoyed a relatively steady upward motion in the chip counts, overnight chip leader Marco Leonzio suffered. He was already quite a small stack when Marcin Horecki pushed from the small blind with
. Leonzio called with
but Horecki's hand stayed ahead and he doubled up, leaving himself with little more than one big blind. He tripled up a few hands later but was still desperately short when he called all in with
to Romanello's
. Romanello actually claimed to have misread his hand, but it was still better than Leonzio's holding. Romanello flopped a four, and Leonzio took fifth place for €130,000.
Peter Skripka had a pretty bad day. After doubling up Roberto Romanello, he went on to pay off Emilliano Bono's royal flush, and not long after that he gave Bono a full double up,
against Bono's pocket kings. Thus he was rather short when Marcin Horecki shoved from the small blind with
. Skripka called all in from the big blind with
, Horecki flopped trip tens, and Skripka was sent back to Russia with €163,000.
Marcin Horecki was the chip leader when they went three-handed, but he soon handed a chunk of his stack to Roberto Romanello. Romanello raised preflop and Horecki called in the big blind to see a
flop which both players checked.Horecki bet out 265,000 on the
turn and then called Romanello's raise to 575,000. Horecki bet out 680,000 on the
river, but Romanello eventually called with just
, and it was good enough to give Romanello the pot and a convincing chip lead.
Romanello's lead was somewhat narrowed when he put Emilliano Bono all in from the big blind. Bono had raised from the button, and snap-called all in when Romanello made the reraise. Bono's
came good against Romanello's
when the board came down
to double him up. But a hand or two later and Romanello lurched back up to over 10 million chips when he turned a flush against Marcin Horecki and got paid off to the tune of over 2 million.
This little incident left Horecki with just 1.55 million in chips - around 10 big blinds. He went all in from the button with
and found himself in great shape against Bono's
. But the board came down
to make the Italian two pair, and the last Team PokerStars Pro in the field had to settle for third place and €247,000.
Roberto Romanello went into the heads up with a roughly 3:2 chip lead and although Bono narrowed it slightly at one point, Romanello never lost the lead. Eventually, Romanello raised from the button with pocket tens and faced a large reraise from Bono holding
. Romanello put him in, Bono called, and it was all over by the turn, the board coming down
. Romanello was overcome with emotion- he broke down in tears and had to leave the room for a few minutes. When he returned, it was to thank everyone involved in organizing the tournament and announce that he was throwing a huge party and everyone was invited.
As everyone at the EPT heads off to party with Romanello or try to work out how to get home for Christmas in heavy snow, it remains for us to reflect on how PokerStars have once again pulled off another spectacularly enjoyable and successful poker festival. It's not for nothing that the Czech Republic won the Best Country award at last year's EPT Awards ceremony. In fact, now we think of it, it might not be a terrible thing to be stranded here in Prague for another couple days after all.
There is still time to play in our final $15,000 Sunday Million Freerollon PokerStars in the current series, but hurry as you have to qualify this month.