PokerStars.net European Poker Tour Prague Day 2: The Field Will Have to Scale Richter's Mountain of Chips Going into Day 3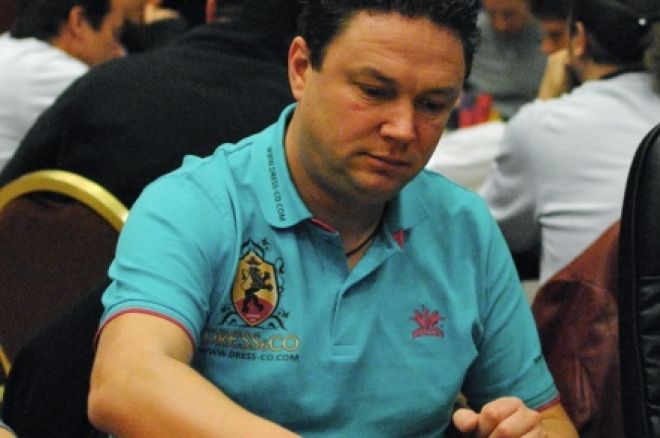 The snow was bucketing down in Prague come noon Wednesday, creating a delightful winter wonderland outside for anyone unfortunate enough to have busted on Day 1 of the PokerStars.net European Poker Tour. There would be no midday snowball fights for the 254 happy poker players who made Day 2, though, as they returned to the basement tournament room at the Hilton to battle it out for chip supremacy. The field was more than halved over six levels of play, and we will return for Day 3 with 93 players. Only 80 of them are going to see a return on their EPT investment.
Chip leader by an enormous margin at the start of the day was Dirk Richter. The German lurched into the lead in the last couple hands of Day 1b when his aces held against kings and nines for a vast pot, his 296,700 stack 50% larger than that of the next man. Richter wielded his enormous stack like a weapon, bludgeoning any shorter stack unfortunate enough to be seated at his table. He never once lost the chip lead, and goes into Day 3 in the top spot with 593,000.
A great day was had also by EPT Copenhagen finalist Roberto Romanello. The Welshman and his silly hat came into Day 2 third in chips, and his stack enjoyed a fairly steady upward movement to see him finish the day on 566,000 - good enough for second place overall.
Young Brit Toby Lewis had an extreme roller coaster of a day, dropping right down to 18,000 within minutes of the shuffle-up-and-deal before climbing all the way up to 184,000 - and then crashing back down to just 20,000 when he doubled up Paul Knebel,
against Knebel's
. Two double ups later, though, the EPT Vilamoura champion was back in the game and he finished the day on 93,500 - fewer than 20 big blinds, but still in with a shot at a second EPT title.
Those who busted out well before the money included such luminaries as Team PokerStars SportStar Fatima Moreira de Melo, EPT Barcelona champion Kent Lundmark and Team PokerStars Pros Richard Toth, Theo Jorgensen and Liv Boeree, and Amsterdam Master Classics winner Kristoffer Thorsson.
People still in with a shot at EPT glory include Matt Affleck, husband and wife team Josh and Helen Prager, Rob Hollink, Team PokerStars Pro Marcin Horecki and EPT Berlin winner Kevin MacPhee. Looking good to break his own record for EPT cashes, circuit stalwart Luca Pagano is still in the running with just 13 places to go until the money.
Tomorrow is set to be a day of joy for the 80 players who are going to go home with a minimum of €8,000, but it's going to be a traumatic time for the unlucky 13 players who go home with nothing. We'll be on the floor from noon local time to record the emotional roller coaster, so join us back here at PokerNews.com for all the action.
There is still time to play in our final $15,000 Sunday Million Freerollon PokerStars in the current series, but hurry as you have to qualify this month.