PokerStars.net European Poker Tour Prague Day 1b: Off the Richter Scale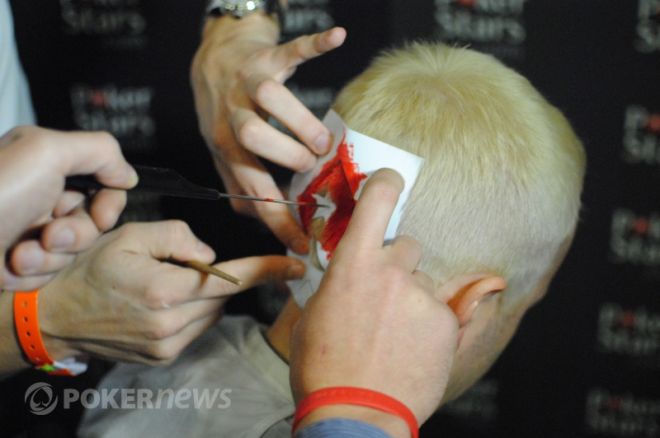 The Prague Hilton saw last-minute queues to register for this year's €5,300 PokerStars.net European Poker Tour Prague Main Event subside slowly during the first level as a large number of players squeezed in to the already popular second flight, bringing the total number of 1b runners to 372. As expected, this was a great increase on Day 1a's field (191 players), bringing the overall total to 563 and the prize pool to €2,730,550. This marked a drop of just two tables' worth of players from last year's total; it seems that no amount of sub-zero weather with its associated travel difficulties is capable of deterring the hardy European poker community from attending this hugely popular stop on the tour.
The 2009 EPT Prague saw Czech pro player Jan Skampa win the title and €682,000. His elimination Monday guaranteed a new Prague champion this week, and vying most competitively for this position (albeit with four days left to play) are Day 1b's chip leaders: Dirk Richter (296,700), Roberto Romanello (196,500) and Laurence Houghton (188,800). Romanello seemed an unlikely contender for the end-of-day top spot early today, but several key pots went his way during the later levels including one that knocked out Anas Tadini. Tadini's large all-in move on a two-diamond turn (with trips, as it turned out) saw Romanello's gamble with a flush draw pay off on the river, starting what ended up being an unstoppable ascent. Fellow aggressive UK player Houghton finished the day sitting directly to Romanello's right, but this seemed to pose no threat to his own late stage rise in chips.
As everyone was cleared from the tournament floor for the last four hands of the night, Richter went on a chip-accumulation spree, gaining over 150,000 chips in the closing moments of Day 1b. One of these key hands crippled Toni Judet as a three-way all in brought kings and nines up against Richter's last-minute aces. Rarely does someone manage an eleventh-hour total upset of the chip rankings, but Richter provided himself with a lead of nearly 100,000 over second place – yesterday's leader Elias Brussianos.
The day might have ended with a sharp upturn in fortune for these few players, but early levels painted a different picture. It was Giuseppe Pantaleo who took the lead a few hours in, breaking the six-figure mark faster than any player so far at this event and holding on to a punishing lead over his table for most of the day; he ended the day with just 36,700. Other notable steady climbers included Peter Roche (112,500), Xavier Detournel (109,600), Melanie Weisner (113,700) and Tobias Renkemeier (171,500).
The nations providing the highest number of entrants have turned out to be France (well-known French players today included Thomas Bichon, Manuel Bevand, Antoine Saout, Christophe Benzimra and Bruno Fitoussi), Germany (represented by Team PokerStars Pros Florian Langmann and Michael Keiner) and Italy (Fabrizio Ascari, Alfonso Amendola and Salvatore Bonavena among Day 1b entrants).
If Monday's field was lightly sprinkled with Team PokerStars Pros, today's was flown over with a crop duster: Liv Boeree, Theo Jorgensen and Luca Pagano made it through all nine gruelling levels, while Marcel Luske, Dario Minieri, Martin Hruby, Bertrand "ElkY" Grospellier and Nacho Barbero had no such luck.
Hruby (runner up in Vienna this year) might not have fared too well at the tables today, but he did manage to win a prop bet with Dag Palovic (pictured), which led to the exuberant Slovakian having his hair cut, bleached, and imprinted with a bright red PokerStars logo live in the tournament arena. He lost overall after playing 75 heads-up matches with Hruby (37 to 38) but seemed to enjoy the styling process, playing long into the evening after it was all cut and dried before running kings into aces. Even that couldn't dampen Palovic's spirits, nor that of the multitude of players who jumped straight into the side event (a "Mystery Bounty Turbo" of some sort) or kept the cash games buzzing late into the night.
Day 2 brings back 254 players led by Richter, and with the top 80 being paid, it looks like the plan will be to make the money over the course of six levels. Join us back here on Wednesday for live updates beginning at midday local time.
There is still time to play in our final $15,000 Sunday Million Freerollon PokerStars in the current series, but hurry as you have to qualify this month.