The PokerStars.Net Million Dollar Challenge: The Challenge of Champions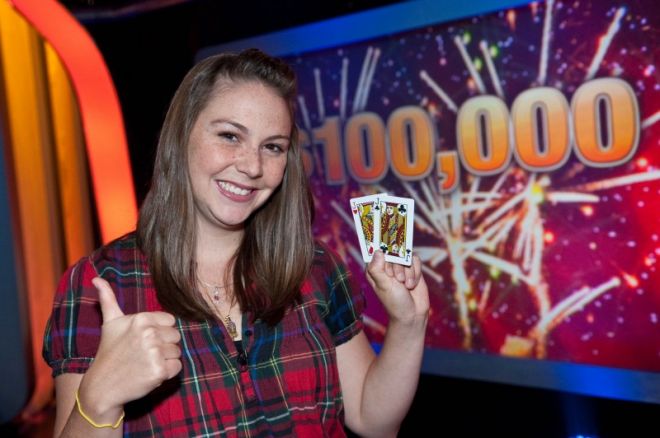 The PokerStars.net Million Dollar Challenge continued Sunday with the last episode of Season 2, the Challenge of Champions. Four former contestants returned to the stage in their quest for $1 million and included the only $100,000 from Season 2, Carmenlita Cothron from Silver Spring, Maryland; Johnny Whitt, a jovial santa-looking cowboy from Houston, Texas; Jessica Cupini, a 21-year-old mother of one from Weirton, West Virginia; and Ray Reid, a 29-year-old son of a pastor.
The Rules: The PokerStars.net Million Dollar Challenge is usually played in a series of three heads-up rounds; however, this was the Challenge of Champions, so things were done a little differently. The four finalists would first square off against one another in a four-person no-limit Texas hold'em single-table tournament. Whoever emerged victorious would win $100,000 and move on to face Daniel Negreanu heads-up for $1 million!
History: The first Challenge of Champions occurred in 2009 when Denny Luna, Mike Kozowski, Father Andrew Trapp and Brian Barboza squared off against one another. Kozowski, a retired first responder during the 9/11 terrorist attacks, emerged victorious from the four-player tournament and went on to face Daniel Negreanu in the final match. It ionly took Kozowski three hands to dispatch his opponent to become the first PokerStars.Net Million Dollar Challenge $1 million champion.
Shuffle Up and Deal: Before action got under way, host Chris Rose introduced the special guest dealer — Negreanu. "I've never had a job in my life so this is new to me," Negreanu joked as he prepared to deal.
Cat Fight: On just the second hand of the match, action folded to Jessica Cupini in the small blind and she raised to 700 with
. Carmenlita Cothron called from the big blind with her
and the ladies watched the flop fall
. Cothron had flopped middle pair with a straight-flush draw, a monster hand.
Cupini, first to act, bet 800, which Cothron quickly raised to 1,600. After a call, Negreanu burned and turned the
, giving Cupini two pair and the lead. She coyly checked to Cothron who bet $2,300. Cupini announced an all-in raise that would cost Cothron all but 200 of her chips to make the call. That is what she did and discovered she needed to hit the river to stay alive. Negreanu stated the outs and announced he would have called, too. Unfortunately for Cothron, the river was the
. Cupini doubled to 39,600 while Cothron was left with one big blind and was eliminated on the next hand.
Whitt Eliminated in Third Place: Jessica Cupini raised to 2,000 after looking down at
and received calls from both Johnny Whitt who held
and Ray Reid's
. The
flop was gin for Cupini, flopping her top set; however, Whitt led out for $1,500. Reid called with middle pair, and Cupini set a trap by smooth-calling behind.
The
on the turn gave Whitt a pair of aces, but he decided to check. Reid took the initiative and bet 4,000 only to have Cupini make it 12,000 to go. "Well apparently they all got an ace," Whitt said before making the call. Reid conceded the hand and it was heads-up to the river, which was the
. Whitt moved all-in for his last 4,600 and Cupini made the easy call. Just like that, the Texas cowboy was sent to the rail while the Cupini took a commanding chip lead.
Reid Doubles: On the first hand of heads-up play, Ray Reid picked up
and moved all-in for his last 16,100. Cupini snap-called with her
only to discover she was far behind. The board ran out
and Reid received a much needed double to 32,200.
$100,000 Winner: Cupini once again looked down at
and raised to 4,000, which Reid called with his
. Amazingly, Cupini hit another set when the flop fell
. Reid checked-called a bet of bet 5,000 from Cupini as the
peeled off on the turn.
The card was terrible for Reid, giving him trips but his opponent a full house. Reid check-called all-in for 23,200 only to discover the grim news. Cupini was one card away from winning $100,000 while Reid needed an eight, ace, or three on the river to stay alive. The crowd rose to its feet as Negreanu burned and revealed the
. Reid was eliminated on the hand while Cupini won $100,000 and the chance at $1 million.
Negreanu vs Cupini: Host Chris Rose asked the PokerStars Pro if he was ready to transition from dealing to playing. "I'll be honest, I'm just a little bit scared of her," Negreanu said. "You believe that? Ha, that's a bluff." With that, the $1 million match was on.
Negreanu Moves All-in: In an early hand, Cupini limped with
and then called a raise to 3,500 from Negreanu who held
. He bet 4,000 on the
flop only to have Cupini raise to 11,000. Negreanu, who had the nut flush draw, decided to put Cupini to the $1 million decision and moved all-in. It was a coinflip, but of course Cupini didn't know that. "What do you have? A flush draw?" she asked. "I think you have a flush draw." Although she was spot on, she still folded. Negreanu was kind enough to show her (and the audience) his flush draw.
Season 2 Comes to an End: Negreanu had built a chip lead in the match when the following hand developed. He limped with
and Cupini checked her option with
. The two watched as the flop came down
, giving Cupini top pair. She bet 4,000 and Negreanu opted to call with his open-ended straight draw.
That straight was completed when the
spiked on the turn. Cupini moved all-in for her last 19,000 and ran straight into the nuts. "I've got Doyle Brunson's hand," Negreanu said as he called and flipped over his cards. Cupini needed to catch a ten on the river just to survive, and the crowd started chanting, "Jessica! Jessica! Jessica!" Unfortunately, the crowd support was not enough as the
hit. Cupini's shot at $1 million came to an end, though she still left with $100,000. Meanwhile, Negreanu's victory ensured $100k for his charity, the Make-A-Wish Foundation. And that was how Season 2 of the PokerStars.net Million Dollar Challenge came to an end.
Be sure to follow us on Twitter and like us on Facebook for the full PokerNews experience.