The PokerStars.Net Million Dollar Challenge: Ray Reid Makes a Run at the Challenge of Champions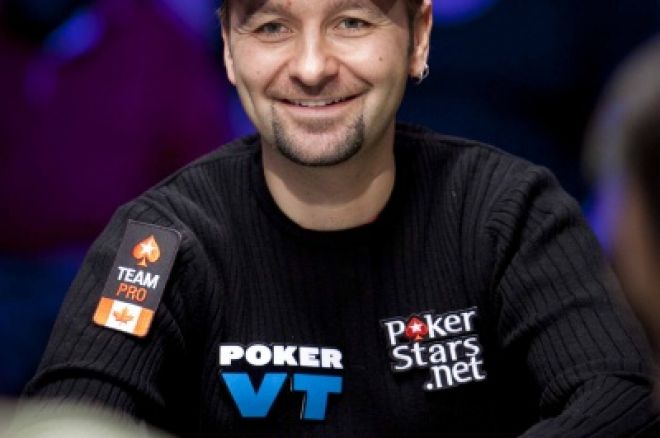 This week's episode of the PokerStars.net Million Dollar Challenge, episode 6 of Season 2, saw 29-year-old Ray Reid take his shot at $100,000. Born in Jamaica but living in Toronto, Canada, Reid explained that he had reached a low point in his life, having to rent a room from a friend, and that the million dollars would have an immediate impact. In addition, Reid wanted to use part of his winnings to help his father, a pastor, build a church. However, before he could do that there was still poker to be played.
The Rules: The PokerStars Million Dollar Challenge is played in three rounds. In Round 1, the challenger is joined by Daniel Negreanu, who coaches them as they play heads-up against a celebrity or professional athlete. Although he can give the challenger advice, Negreanu cannot see the hole cards. In Round 1, the challenger is allowed a single timeout that pauses the action whenever called and allows private strategy session with Negreanu. If a challenger manages to win Round 1, he or she will be awarded a trip to the Bahamas.
Round 2 works a bit differently because the challenger faces a Team PokerStars Pro. In addition, Negreanu is put in an isolation booth where he can see the board cards and the challenger's hole cards while coaching via a headset. On the other side of the felt, the Team Pro is given the power to invoke the "Dome of Silence" on two occasions of his or her choosing, cutting off communication between the challenger and Negreanu for the remainder of the hand. If the challenger emerges victorious, he or she will win $25,000 which can either be kept or risked by playing Negreanu heads-up for $100,000 and a seat at the season-ending final table where $1 million will be up for grabs. However, if the challenger risks it and loses, he or she walks away with nothing, and Negreanu is awarded $10,000 to donate to the charity of his choice.
Celebrity Defender: Reid's first obstacle came in the form of former NBA defensive player of the year Gary "The Glove" Payton. In the first hand, Payton raised to 2,000 with
and Reid called the additional 1,200 with
. The flop fell
and Reid checked to Payton who bet 3,000. Reid responded by check-raising to 6,000 and Payton called. The
turn changed nothing and Reid fired out 4,000. Payton moved all-in for 8,000 more.
"Wow, this could be the quickest match of all time," Negreanu chimed. Reid then called a timeout and discussed the situation with his coach backstage. Negreanu told him he was pot committed and ought to go with the hand. Reid did just that by making the call and was in great shape. The
river allowed Reid to clear Round 1 in the first hand and win a trip to the Bahamas in the process.
Enter the Bear: In Round 2, Reid was up against Team PokerStars Pro (USA) member Barry Greenstein. In an early hand, Greenstein raised to 2,000 with
and Reid called with his
per Negreanu's advice. Reid checked the
flop and Greenstein obliged with another bet of 2,000. Reid then threw in a raise to 4,500, and Greenstein wisely folded middle pair. With that, Reid took the lead in the match.
Dome of Silence: A short while later, Greenstein raised to 4,000 with
. Reid called with his
as the flop came down
. Reid checked, Greenstein bet 4,000, Reid check-raised the minimum to 8,000, and Greenstein invoked the "Dome of Silence" as he said, "Just for fun, since this might be my last hand, I better shut Daniel Up."
Greenstein moved all-in for 12,000, and Reid called the extra 4,000. To eliminate his opponent, Reid needed a ten, jack or queen. The
on the turn gave Reid the straight, and he managed to notch yet another win.
Reid vs. Negreanu: Instead of keeping the $25,000 he won in Round 2, Reid decided to risk it and face Negreanu in the third and final round. If he were to win, Reid would claim his seat in the Challenge of Champions, if he lost, he would leave with nothing.
Bad Beat: A few hands into the match, Reid held the early chip lead and raised to 2,800 with
. Negreanu looked down at
and called. The
flop was gin for Reid, giving him a flush and Negreanu two pair. Both players checked and the
on the turn changed everything. Negreanu had hit a full house and Reid was left drawing dead with his flush.
Negreanu set a trap by checking and Reid walked right in by betting 3,000. Negreanu raised to 6,000, Reid looked at his cards one more time and moved all-in, and Negreanu called. The
river was meaningless, and Negreanu took down the 34,200 pot, leaving Reid with just 5,800.
Close But No Cigar: On the very next hand, Negreanu moved all-in with
, and Reid reluctantly called with his
. Reid was dominated as the board ran out
. While Reid came up just shy of a big payday, Negreanu managed to win $10,000 for his charity, the Make-A-Wish Foundation. However, if the next challenger failed to find success, Reid's performance would earn him a spot in the Challenge of Champions.
Brand New Challenger: Reid's departure meant it was time for a new contestant. Nicole Rowe, a breast cancer survivor from Salisbury Mills, New York, was next up and was immediately faced with the task of battling John Elway in Round 1.
Elway Scores a Touchdown: On just the third hand of the match, Elway had built a decent chip lead when Rowe looked down at
and raised to 6,000. Elway responded by raising to 12,000 with
. Rowe called as the flop fell
. Elway checked his trip aces and Rowe fell into the trap by moving all-in for her last 3,200. Elway made the easy call and Rowe needed running hearts to survive. The
turn left her drawing dead and
on the river added insult to injury. Elway had the bigger full house and successfully defended the challenger.
With Rowe's elimination, Ray Reid punched his ticket as one of the four players who would return for the Challenge of Champions on December 12.
Over on PokerStars, Club PokerNews are pleased to announce we have several exclusive $15,000 Sunday Million & $2,000 PCA Freerolls that you cannot find anywhere else.