WSOP-C Eastern Regional Championship Day 2: Bell Leads The Final 27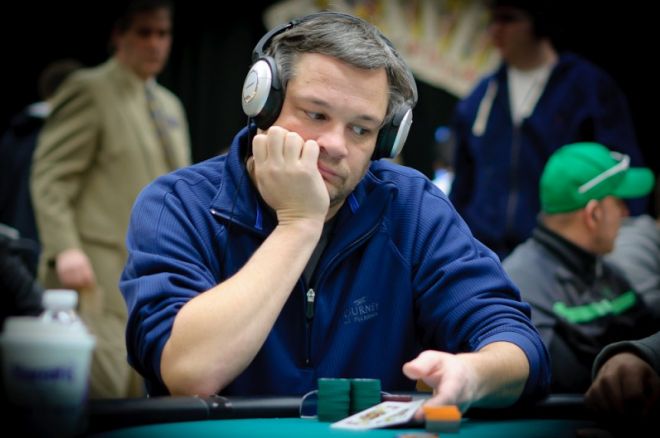 The World Series of Poker Circuit Eastern Regional Championship resumed on Monday in Atlantic City with 93 players remaining from the starting field of 136 to battle it out on Day 2. Seven levels and change were played and just 27 players were left in what was an action-packed day of poker. Ending the day at the top of the counts was Chris Bell with 434,500.
He started the day with 56,850 and vaulted up the leader board, scoring elimination after elimination. Anthony Newman, Dwyte Pilgrim, Brent Hanks, and John Cernuto all met their end at the hands of Bell. About 90 minutes before play ended, Bell eliminated Chris Reslock to capture the chip lead. After a
flop, a series of raises between the two ensued and Reslock found himself all in with
. Bell didn't have a made hand either, but held
and was a ahead. Reslock found no help from the turn or river, catapulting Bell to the top of the chip counts.
Second in chips is Seth Fischer with 386,700. Fischer's rise toward the top of the counts was much different than Bell's. Rather than felting players throughout the day, Fischer won two huge pots against one time chip leaders Vanessa Selbst and Chris Klodnicki. He played both hands in similar fashion, culminating with river calls of huge bets from his respective opponents. Against Selbst, the final board read
and Selbst bet every step of the way. However, she was unable to shake Fischer who called with
, beating her holdings. In a later hand against Klodnicki, Fischer called a huge river bet on a
with
. Klodnicki had missed his flush and straight draws and saw a good deal of his chips head to Fischer.
Speaking of Klodnicki, perhaps the hand of the day went down between he and Selbst at the 700/1,400/200 level. After a player in early position raised, Klodnicki three-bet with
. Next to act was Selbst and she four-bet with
Action folded back around to Klodnicki and after a few minutes, he re-raised for about 90% of his stack. Selbst, though, did not realize that he had chips behind and revealed her hand after calling. The flop fell
and Klodnicki check-called all in for the rest of his stack, getting there when the
hit the turn. Selbst was unable to fill up on the river and the Day One chip leader was eliminated shortly thereafter.
Joining Selbst on the rail were Bryn Kenney, Ronnie Bardah, Jim Collopy, Will Failla, Dan Heimiller, Brock Parker, Shannon Shorr, and many other big names.
The chip counts heading into Day 3 are:
1. Chris Bell - 434,500
2. Seth Fischer - 386,700
3. Eugene Katchalov - 306,400
4. Frank Calo - 255,100
5. Jason Burt - 195,300
6. Ketan Pandya - 186,200
7. Nick Mitchell - 183,200
8. Matthew Waxman - 179,800
9. Chris Klodnicki - 179,700
10. Jack Schanbacher - 168,000
11. Christian Harder - 149,400
12. Kenny Hicks - 139,900
13. Brett Richey - 138,500
14. Jay Nair - 135,000
15. Eli Berg - 108,200
16. Beth Shak - 106,300
17. Victor Ramdin - 102,600
18. Todd Terry - 99,400
19. Jonathan Little - 92,800
20. Dave Sands - 92,600
21. Duane Goodison - 89,000
22. Micah Raskin - 85,400
23. Andy Frankenberger - 80,900
24. Dan Kelly - 73,600
25. Bobby Wisiak - 62,000
26. Sorel Mizzi - 53,500
27. Lee Childs - 2,800
Day 3 begins at noon local time Tuesday and will continue until the final table of nine is reached. Fifteen make the money, so expect tomorrow to be an exciting day of poker. Our Live Reporting team will be back on the floor to bring you the action.
Follow us on Twitter for up-to-the-minute news.