WSOP-C Harrah's Atlantic City Day 2: Croft Raiding Stacks; Waxman Hot on His Heels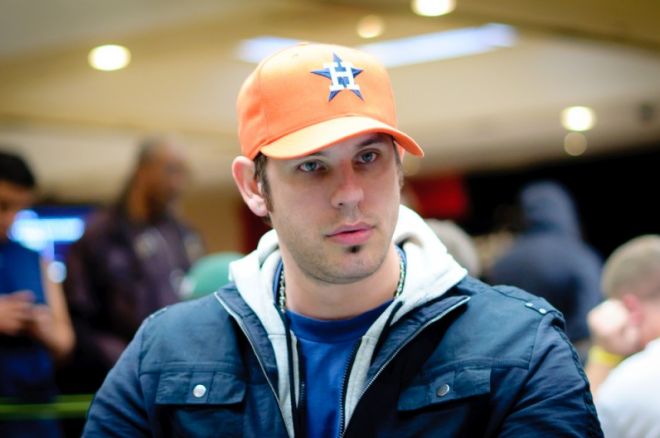 Day 2 of the World Series of Poker Circuit Main Event dawned today at Harrah's Atlantic City. Seventy-one players were slated to return at noon with the goal of playing down to the final table of nine. It took just about 12 hours of poker to get there, but that goal was finally met right around the bewitching hour in the Ballroom. The chip lead was as hard to hold as a slippery fish, but when the final horn sounded, it was Brandon Croft on top of the pack with 1,397,000 chips in his bag.
It was a long road to nine today despite a good bit of action in the early going. During the first level, Table 1 was dealt pocket aces on three consecutive hands, leading to three consecutive eliminations. The last of those saw Paul Volpe's
fall to Josh Brikis'
to push "brikdog24" up near the chip lead. He would seize that top spot a short while later as one-time chip leader Ari Engel began to tumble down the board. Brikis was the victim of some serious bad-beat shenanigans down the stretch, though, and he earned a small cash for his 20th-place finish.
Jonathan Wein was riding the short stack for much of the day before finding his double-up: his
overcame Yervand Boyadjian's
in a battle of the blinds. On the very next hand, Wein had a chance to double up again when his pocket aces found action from Croft's two kings. A third king on the flop was all she wrote, however, and Wein was out without a payday. He was not alone in making that walk of shame. Paul Darden went all-in with
on the turn of a
board but ran top pair into Dany Dalal's
to seal his elimination. Todd Terry went out a few minutes later, and Mike Leah could not ride his short stack into the money. Right behind them went Engel, the one-time chip leader failing to get much going on this moving day. Shortly thereafter, Boyadjian burst the money bubble when he bluff-shoved the river with
and got snapped off by Robert Hwang and his
.
There were three ladies left entering play today, and Taemee Feuer found herself as the chip leader for a good part of this Day 2. Her biggest boost came at the hands of Boyadjian when her
flopped a set against his
. All the money went in postflop, and Boyadjian could only curse his luck as his chips pushed Feuer into the lead at the time with 440,000 and fewer than 50 players left. She would later, however, be the first lady to fall.
It happened with 21 players left after her stack had been cut down to barely 100,000. Feuer three-bet shoved her
into Croft's
, and a board full of blanks ended her day to leave two Joannes to duke it out for the title of last woman standing. It was Joanne Monteavaro who fell next, her
no match for Dave Cubeta's
. She exited in 17th place, just a few spots shy of matching her 11th-place showing in this same event two years ago. That left Dorin all alone with 15 men, and she certainly held her own. It all came crashing down on the final hand of the night, however, as Dorin shoved about 15 big blinds with
from the small blind. Croft woke up with
in the big blind, and the
board ended her tournament and concluded the day with nine stacks left in play.
The biggest of those stacks belonged to Croft, who really owned the majority of Day 2. His first increase came early in the day when his
took care of Mike Hug's
in a preflop all-in. A couple of hours later, Croft tangled up in a big pot with Joe Gradowski that led to a difficult river decision. The board showed
when Gradowski shoved for about 200,000 chips on the river. Croft tanked for a long while before making the correct call with
, and the massive pot pushed him close to 700,000 chips and a 2:1 lead over his nearest challengers. Minutes later, he crested 800,000 when his
eliminated Nelson Robinson's
. A couple of orbits later, another massive pot. In three-way action, Robert Hwang (
), Jeff Pollard (
) and Croft (
) tangled in a preflop raising war that left the former two all-in. Croft's nines held on the
board, and the double knockout put him up to 1.12 million with 21 players left. He disposed of Feuer moments later, as we already mentioned, then took out the final lady on the last hand of the night.
Everyone is chasing Croft and his stack, but it is by no means a runaway. Young pro Matthew Waxman trails by just 63,000 chips, and he may be the betting favorite heading into the final day. Here's how the table will stack up when they return to the felt:
| Seat | Player | Chips |
| --- | --- | --- |
| 1 | Tam Ly | 738,000
 |
| 2 | Dave Cubeta | 434,000 |
| 3 | Chris Bonita | 339,000
 |
| 4 | Mark Sykes | 1,024,000 |
| 5 | Brandon Croft | 1,397,000
 |
| 6 | Mike Summers | 469,000
 |
| 7 | Manish Patel | 194,000
 |
| 8 | Jesus Cabrera | 1,128,000
 |
| 9 | Matthew Waxman | 1,334,000 |
Action resumes at high noon local time tomorrow from Harrah's, and our Live Reporting team will be back inside the ropes to bring you every flopped flush, turned trips, and runner-runner miracle as a champion is crowned in Atlantic City. Tune in to the blog to follow along with the action as it unfolds. You should also follow us on Twitter for up-to-the minute news and information streamed directly to your brain.
Have you seen our new $40,000 Freeroll Series from Lock Poker? Lock Pro Supremacy not only has four $7,500 Freerolls, but it also has 25 $100 Lock Pro Bounties in each tournament so you can boost your bankroll even if you don't make the money.