World Series of Poker Circuit Harvey's Lake Tahoe Day 3: The Championship Ring Goes to Quinn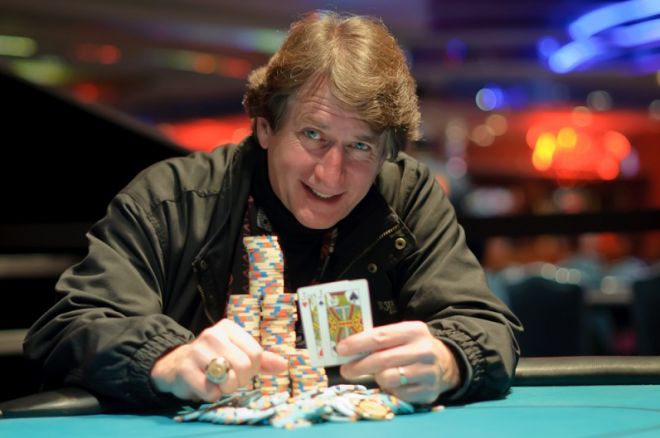 The World Series of Poker Circuit Main Event wrapped up Tuesday evening at Harvey's Lake Tahoe. Congratulations to former IT management worker turned poker professional Stan Quinn for taking down the event and becoming $86,789 richer!
At the start of the tournament, 246 players had shown up for play. On Day 3, only nine were left. Heading those final nine was chip leader Michael Traylor with nearly 37.5% of the chips in play to start the final table and almost double his next closest competitor. Here's how they stacked up to begin the day.
| Seat | Player | Chip Count |
| --- | --- | --- |
| 1 | Dan Black | 585,000 |
| 2 | Donna Jetter | 111,000 |
| 3 | John McNeilly | 263,000 |
| 4 | Joe "13" Mongkol-ua-aree | 287,000 |
| 5 | Michael Traylor | 1,843,000 |
| 6 | Drew Caseri | 164,000 |
| 7 | Grant Hillman | 484,000 |
| 8 | Ned Mantua | 945,000 |
| 9 | Stanley Quinn | 377,000 |
About a half an hour into play, the first player hit the rail: Joe "13" Mongkol-ua-aree. He had just been crippled when his
failed to improve against Dan Black's pocket kings and found the rest of his money all-in two hands later. He was up against Traylor and also Ned Mantua. Both Mantua and Mongkol-ua-aree held
on the
board, but Traylor turned over the
for a straight. He won the pot and eliminated Mongkol-ua-aree in ninth place.
Another half an hour went by before Grant Hillman exited in eighth place. He got his money in on the
flop holding the
for a straight and flush draw. He was up against Traylor who held top two pair in the
. The turn was the
and the river the
to finish things off.
Play stood seven-handed for an hour and a half before Donna Jetter was eliminated. Jetter was the only woman to have final-tabled a WSOP Circuit event this season, but her
couldn't hit against the
for Traylor. She finished in seventh place as Traylor earned his third elimination.
Traylor wouldn't stop there. He busted Mantua in sixth place and then Drew Caseri in fifth place. Mantua went down with
to Traylor's
before Caseri fell with the
to Traylor's
. That chalked up five knockouts for the start-of-the-day chip leader.
Black was eliminated in fourth place — we'll let you guess who did the deed. If you guessed Traylor, you were spot on as he sent the Day 1 chip leader out the door in fourth place after flopping a nine-high straight. Black's top pair plus straight draw couldn't get there even after turning a flush draw to give him some more outs.
Traylor's run wouldn't go any further from there. He battled during three-handed play, but couldn't seem to outdo Quinn when it mattered the most. One key hand that knocked Traylor down below a million happened on the board of
. Traylor had called Quinn's preflop raise, his flop bet and his turn bet, before the two checked the river. Quinn showed the
and Traylor couldn't beat it.
Traylor's final hand came when he attempted to four-bet shove with the
. Quinn held tough with the
and the rest was history. That set up heads-up play, which only lasted a couple of hands between Quinn and John McNeilly.
McNeilly had done well to outperform his finish from last year when he placed ninth in this same WSOP Circuit event. His run this year ended in second place after all the money went in on the
flop between him and Quinn who had the
and McNeilly the
. The turn
did give McNeilly a straight draw, but the
wasn't what he needed on the river. He took home $53,625 for his second-place finish.
Quinn was the only player at this final table who previously cashed in the WSOP Main Event. He did so this year, finishing in 549th place. He can now add this big win to his poker record. A whopping $86,789 goes to him for winning along with a seat in the $1,000,000 National Championship Freeroll at the end of the season. He also claims the shiny gold WSOP-C championship ring.
Final Table Payouts
| Place | Player | Prize |
| --- | --- | --- |
| 1st | Stan Quinn | $86,789 |
| 2nd | John McNeilly | $53,625 |
| 3rd | Michael Traylor | $38,743 |
| 4th | Dan Black | $28,513 |
| 5th | Drew Caseri | $21,361 |
| 6th | Ned Mantua | $16,277 |
| 7th | Donna Jetter | $12,611 |
| 8th | Grant Hillman | $9,929 |
| 9th | Joe "13" Mongkol-ua-aree | $7,942 |
That wraps up PokerNews' coverage of this event from Harvey's Lake Tahoe. We've always got plenty of live reporting going on, so be sure to stay tuned to all of our coverage. Other than that, thanks for reading and hopefully we'll be seeing you on the tournament trail down the road!
Sign up to Everest Poker and earn 25 Summit Points to play in our exclusive €3,000 freeroll to the 3 Lander Poker Tour Grand Final at Montesino Pokertainment Centre in Venice next month.