European Poker Tour Snowfest Day 4: Belgian Domination at the Final Table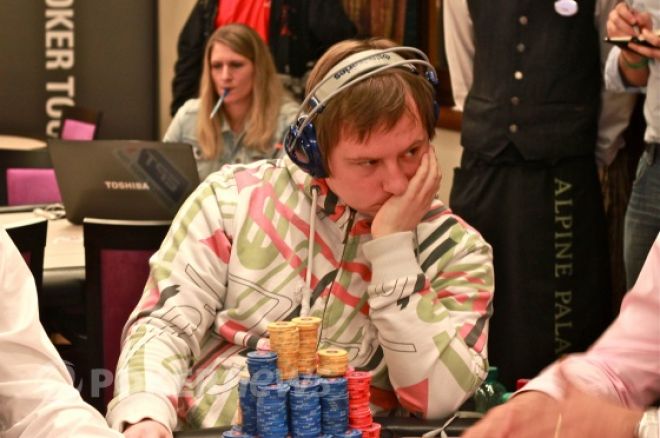 On Day 4 of the PokerStars.net European Poker Tour Snowfest, 24 players returned to their seats in the vast tournament area of the luxurious Alpine Palace Hotel in Saalbach-Hinterglemm. Each player is guaranteed to take home no less than €9,000 for their efforts over the past week.
Leading the way at the start of the day was Giacomo Maisto, the Italian managed to turn his 30,000-starting stack into a more than impressive 1,548,000, which happened to be 267,000 more than his nearest rival, Iulian Ruxandescu. Maisto's stack seemed to be heading the wrong way all day long, but he still managed to make it to the final table with 986,000 chips.
It took just 30 minutes for the first player to be eliminated, and that dubious honor went to Alessandro Speranza. The Italian got into a raising war with Philip Meulyzer that resulted in Speranza being all-in and at risk of busting out. However, he was a substantial favorite to double up, as he held
to his opponent's
. When the flop came down
, Meulyzer was drawing to just a single out, since the
would have given Speranza a diamond flush. The dealer put out the
on the turn, and then the
peeled off on the river to send the Italian to the rail in a hail of expletives.
Belgian player Kevin Vandersmissen must have made some sort of sacrifice to the poker gods before he went to bed last night because he ran better than anyone we've ever seen, flopping sets, making straights and getting his bluffs through with an alarming regularity. In one such hand he flopped a set of nines on a
flop against Ruxandescu's
for a massive pot that put him up to 3,400,000 in chips, which equated to around 25 percent of the chips in play.
Later in the day, he proved that he was not only running well but also playing brilliantly too by running a triple-barrel bluff again Martins Adeniya. Vandersmissen opened the betting with a min-raise from early position, and only Adeniya, seated in the big blind, made the call. The flop came down
, Adeniya checked and then called a 43,000 bet from his opponent. The turn saw the
fall and the action followed the same route except the bet was for a more substantial 94,000 chips. Adeniya then checked the arrival of the
on the river only to see Vandersmissen make a bet of 195,000. This sent Adeniya into the tank and he stayed there for several minutes before he finally folded, although he looked aggrieved to have had to do so. Instead of just mucking his hand, Vandersmissen then turned over
for a complete bluff, much to the enjoyment of his friends on the rail.
A special mention must go to Team PokerStars Pro Alex Kravchenko who was eventually knocked out in 16th place, which happens to be his best finish on the European Poker Tour. His previous best result was in 2007 when he finished 17th in the €7,600 EPT Baden Classic.
One by one the players were gradually being whittled away and the prize money became more and more significant and when Cristian Tardea was eliminated in 10th place, the remaining nine players redrew for their seats on the unofficial final table. They only played nine handed for around half an hour until Manilo Iemina committed his remaining 412,000 chips with
and ran straight into Philip Meulyzer's
. A rather uneventful board of
saw Iemina eliminated in ninth place — and the official final table was set.
The eight final table members, three of whom are Belgian, will all return to the felt on Friday at 1400 CET (1300 GMT) and play down to a winner. Each of the lucky eight are going to leave Austria with at least €35,000, but each has a realistic chance of winning the coveted European Poker Tour trophy and the €390,000 that is awarded to the champion. Join the PokerNews Live Reporting Team on Friday for all the action as it happens at the Alpine Palace Hotel.
Final Table Lineup
Seat 1: Kevin Vadersmissen – 4,512,000
Seat 2: Giacomo Maisto – 986,000
Seat 3: Vladimir Geshkenbein – 1,678,000
Seat 4: Philip Meulyzer – 1,758,000
Seat 5: Denis Murphy – 997,000
Seat 6: Morten Mortensen – 740,000
Seat 7: Cristian Dragomir – 2,293,000
Seat 8: Koen De Visscher – 1,543,000
Follow us on Twitter for up-to-the-minute news.