PokerNews Interview: Kathy Liebert on Hats, Massages, and the Color Purple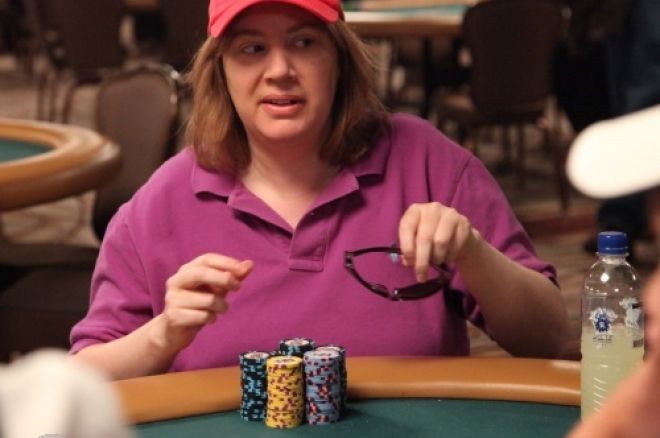 Kathy Liebert is no stranger to poker. Many consider her as one of the best women players in the game, while others take it a step further and insist she is one of the best tournament players overall, rendering gender insignificant. Liebert certainly has the credentials to back it up, including a World Series of Poker bracelet in the 2004 Limit Hold'em Shootout event, winner of the Poker Royale: Battle of the Sexes, $5,772,711 in tournament winnings, and the little fact that she was the first woman to win a $1 million prize, which she captured back in 2002 on the inaugural Party Poker Millions cruise.
The good-humored Liebert, who is an avid Twitter user under her nickname @pokerkat, is easily recognizable on the tournament trail, consistently wearing her trademark purple and pink clothes and accessories. Liebert, who is good friends with fellow poker pros Daniel Negreanu and Tom McEvoy, recently played Day 1b of The Big Event at the Bicycle Casino in Bell Gardens, California. PokerNews caught up with her for a quick interview where she discussed her biggest poker accomplishment, her hat, massages, and the infamous "didn't-quite-happen" prop bet with Phil Ivey. Needless to say, Liebert was in a fun and playful mood. If you want even more on these stories, be sure to check out Kristy Arnett's post-elimination interview with Liebert.
The Big Event had two Day 1s to choose from. Do you have a strategy when it comes to choosing whether to play Day 1a or Day 1b?
I wound up driving from Vegas to Rancho Mirage. I was gonna drive and then come early to play in the tournament yesterday, but I had a two-hour drive [from Ranchero Mirage] and I was a little tired after seven hours of driving so I decided to wait and play today so I'd be a little more rested.
We noticed you're not wearing a hat today, which is very uncharacteristic of you. Any reason for that?
I usually wear a baseball hat, yeah that's true. I put a picture of myself and Carlos [Mortensen] on my Facebook page and I was wearing a hat. Somebody said I should color coordinate the hat and the shirt. It was exactly perfect matching and color coordinated or whatever, so I decided I need to buy some hats. Then today I said, "Well you know, you don't need a hat." So I decided not to wear a hat and go without it.
Speaking of colors, you're always wearing purple. Why is that?
I like the color. I'd say that 90 percent of the things that I buy have some purple in them.
We heard a rumor once that you were offered a freeroll not to wear the color purple for a year. Any truth to that?
Well, you have it slightly wrong. It wasn't a freeroll. Phil Ivey offered me $20,000 to not wear purple for a year, but if I did wear purple I'd have to pay him $20,000. If he had offered me $20,000 to just not wear it, I could have had a freeroll, and I might not have worn it for at least a week or two and tested it out, but I didn't make the bet.
On the tournament trail you're constantly taking advantage of the massage services. How many minutes per year do you think you spend getting massaged in poker tournaments?
In poker tournaments? You know, I usually get massages outside the poker tournaments. I get a lot. Sometimes I go everyday or every other day when I'm home doing nothing. In the tournaments I don't usually get that many. I might average one a tournament.
You have many poker accomplishments, which are you most proud of?
The thing that I'm most known for, the thing that I get the most credit for in a sense, is, I was the first woman to win a $1 million prize, which was on a PartyPoker cruise. That was the year before the WPT started. If that had been a WPT event, I would have been the first woman to win a WPT event. That was actually Steve Lipscomb's first Travel Channel poker show, so I'm not sure that's the one I'm most proud of but I did beat Phil Hellmuth, Chris Ferguson, and Mel Judah at the final table. So I guess in a sense that would be the biggest.
That was a limit hold'em tournament, right?
Yeah, it was a limit hold'em tournament with a million to first.
Your 2004 WSOP bracelet was in a limit shootout. Is limit hold'em one of your best games?
No, I suck at limit, I just play no-limit mostly. Ask Berry Johnston. He was at my table when I played a limit hold'em shooutout last year, and after I reraised like six hands over the course of twenty minutes he said, "How do you get enough money to play these tournaments? What are you doing? Do you ever win?" I was like, no, not really.
Be sure to follow us on Twitter for up-to-the-minute news.
We have one more $15,000 Sunday Million Freeroll with PokerStars left to qualify for, with $1,000 to the winner and 260 tournament tickets, including 45 Sunday Million Tickets on offer.