Year of the Tigress Part I: Vanessa Selbst Announces Return to Tournament Circuit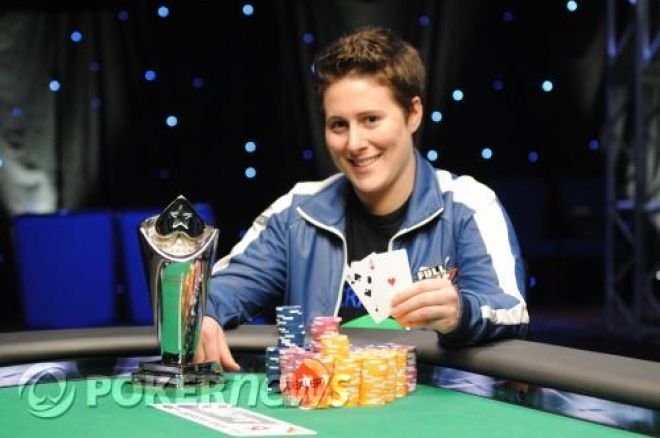 People flocked to Vegas in February to celebrate the start of the Year of the Tiger, but so far, it's more like the Year of the Tigress. Annie Duke won the NBC Heads Up Championship at the beginning of March, improving on Vanessa Rousso's runner-up finish the year before. Yesterday, British rock goddess-turned-poker pro Liv Boeree won EPT San Remo for €1.25 million, defeating the largest EPT main-event field ever. And Boeree's victory came only a week after Fulbright Scholar turned poker pro, turned law school student Vanessa Selbst crushed the competition at NAPT Mohegan Sun, earning $750,000 and a shiny trophy to put next to her WSOP bracelet. Yes, it seems that this is the year women have been waiting for. As Duke tweeted yesterday, "Can boys even play this game?"
PokerNews will check in with Liv Boeree in the next few days, but first, we talked to Vanessa Selbst about winning a major and making a major life decision.
Vanessa Selbst, who plays online and coaches at DuecesCracked.com under the name "fslexcduck", final tabled the ladies event at the 2007 WSOP and finished third in the heads-up championship. A year later, when she made a remarkable return to the heads-up semi-finals, it was just three days after she picked up her first bracelet in a pot-limit Omaha event. And then overnight, Selbst virtually disappeared from the tournament scene. Despite her impressive tournament results, her cash-game success, and her reputation as one of the Internet's best coaches, Selbst decided she wanted a life away from the felt. "Once poker stopped being fun, I knew it was time for a change," she said. After graduating from Yale University and then studying on a Fulbright Scholarship before traveling the tournament circuit, she "missed the intellectual community of school."
Selbst left poker to return to her alma mater and study to be a human rights lawyer at Yale Law School. It was a perfect fit for the socially and globally conscious pro. She explained, "Law school is a natural progression for someone with an analytical, logical thought process that they want to use to solve social justice issues." But a lot can change in two years. Selbst had a string of barely believable victories in the few poker tournaments she played in her spare time. And more importantly, she discovered that poker could be fun again.
Two weeks ago, near the end of her second year of law school, Selbst played the $5,000 no limit hold'em main event at the North American Poker Tour's Mohegan Sun stop, since it was only a short stretch of highway from Yale. And despite being out of practice, her brilliant poker mind devoured the field. She finished Day 1 near the top of the chip counts and never relinquished her position. After outlasting 715 opponents and walking away with the title and $750,000, Selbst was able to introduce poker to the other side of her life. Her friends from Yale and her girlfriend came to watch her shred the final table, and perhaps they also realized how much potential she had turned her back on (or at least how much equity she'd left on the table) when she gave up the life of a poker player.
The Mohegan Sun experience made Selbst rethink her future in poker. After some soul-searching, she decided to take next year off from law school to return to the tournament circuit. She plans to finish her degree a year later and to find a way to make poker and legal work coexist in her life. She hopes to be able to play professionally for six or seven months a year and then spend the rest of her time working on pro bono cases, focusing on public defense and racial discrimination issues. It may be an unusual life plan, but the smart money is on Selbst to make it work.
Selbst has good reason to think a return to poker will be profitable. She only played about 20 tournaments in the last two years, including a few WSOP events, some at Foxwoods, and a trip to the Aussie Millions in January. And of those 20, she cashed in seven. Oh yeah. And she won three of them. Before her NAPT victory, Selbst took down a $2,000 no-limit hold'em event in 2008 for $115,000 and a $1,500 tournament in 2009 for $75,000. She also finished third in the $2,500 prelim won by Kathy Liebert, who currently has more lifetime tournament earnings than any other woman. After her NAPT win (and Boeree's EPT victory), Selbst is now ninth on that list.
Although she's decided to return to the life of a poker pro, Selbst doesn't regret her decision to start law school in the first place. In addition to helping her find the fun in poker again, the break helped her game. "When I'm playing tournaments now, I play so few that everything is fresh and from an outside perspective," she said. "I don't get caught up in preprogrammed lines and thoughts, and I'm able to look at each situation anew." Selbst says that before her hiatus, she spent so much time discussing poker with talented players that she found herself giving opponents in big tournaments too much credit. "I would kind of level myself," she explained. "I needed some distance from the game to see it as it is."
The long breaks between tournaments made her less apt to bust in the first level or two because it might be months before she played another one, but it only took her an orbit or two to settle into her old comfort zone and allow her poker instincts to take over. Despite the constant evolution of tournament poker, Selbst doesn't worry about having to catch up on what she's missed. Her style is too unique, she says, to affected by the latest trends. "I'll be shocked, and probably pretty upset, the day I show up and other players are making the same plays I am. But I don't think that will ever happen," she said. "I feel like I'm ready for whatever state poker is in when I show up at a tournament."
Now that she's back, the real question is: will poker be ready for her? We'll have to wait a few more months to find out. Selbst will only be at the WSOP for two weeks this summer, however. She'll honor her commitment to a summer internship before returning to the circuit in earnest.
Click here to watch Selbst's winner interview, and check back soon as Liv Boeree describes the view from the top of the poker world.