Women's Poker Spotlight: Who to Watch in the WSOP Main Event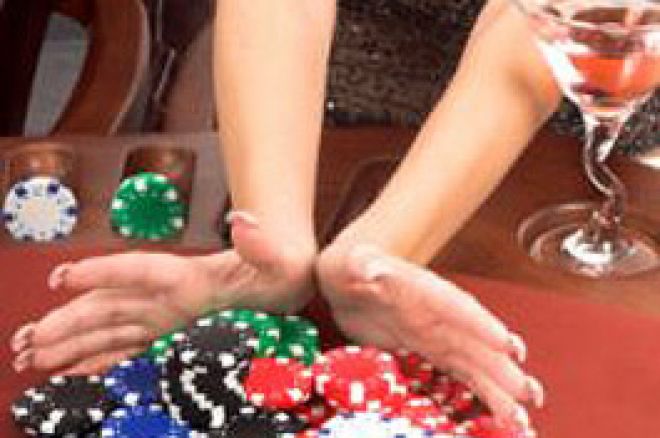 This year more women have streamed into the events at the 2008 World Series of Poker than in any previous year. Many would attribute this to the ever-growing popularity poker has received through television, while others would credit the ongoing efforts of leading women in the poker industry for encouraging women to take up the game. As I've strolled through the rows of poker tables at each of the events, it is difficult not to notice that almost every table has at least one woman playing. The ladies event this year didn't draw more than last year's but less than 100 players short of last years total. If you have been following the chip counts of each event, women are present almost every day among the leaders. Prominent players such as Kathy Liebert, JJ Liu, Kristy Gazes, Sabyl Landrum, Clonie Gowen, Vanessa Selbst and many others have consistently been paving the way for those who may follow.
Kathy Liebert started out the 2008 World Series of Poker with an appearance at the final table in the first event, $10,000 Pot-Limit Hold'em. She finished third, and has gone on to cash in four more events. Kathy is the top-ranked woman tournament player in the world and has over $4.8 million in lifetime earnings. When I asked Kathy if she had any goals to reach in her poker career she replied, "I'm going to win the Main Event at the World Series." I believe she means it, and with her impressive poker resume, it is more than a possibility.
Kristy Gazes, who made a fifth-place finish in last year's NBC Heads-Up Championship, has cashed in her third event this year. Kristy has seven overall cashes at the WSOP, and is the current WPT Ladies Night Champion. Ranked thirteenth on the women's all-time money list, watch for Kristy to go deep in the main event.
JJ Liu recently achieved her first cash in this year's WSOP. Her poker resume is a very long one, with her best cash ever at the 2007 WPT Shooting Star for a second-place finish (against top pro Ted Forrest) for $600,000. JJ also is a past WPT Ladies Night Champion and is ranked fifth on the women's all time money list with just over $1.7 million in lifetime earnings.
Vanessa Selbst has to be the one to watch in this year's Main Event. Among the many newer faces to achieve quick stardom and success in poker, her aggressive nature and style has taken many seasoned players by surprise. In her third year of playing WSOP events she managed to play two tournaments simultaneously, and on top of that, won her first gold bracelet in the $1,500 Pot Limit Omaha event. She finished an impressive third in the $10,000 Heads-Up No-Limit Championship... for a second straight year. Not too bad for a 23-year-old. By her own admission, she plays more heads-up matches online than any other tournament type, and feels this to be one of her strongest elements of her game.
There are so many strong women players out in the tournament rooms and I don't wish to slight anyone. The list includes Vanessa Rousso, Mimi Tran, Katja Thater, Sabyl Landrum, Barbara Enright, Clonie Gowen, Annie Duke, Jennifer Harman-Traniello, Cyndy Violette and so many more I cannot name them all. The list of prominent women in poker has grown three times the number of last year. The women who play every day, striving to be like these accomplished women poker players, salute them and admire the leaders' courage to have accomplished so much in a male-dominated pastime. We look forward to applauding the woman, whoever she may be, as the first to win the World Series of Poker Main Event.