The Big Event Main Event Day 4: Ausmus Out in Front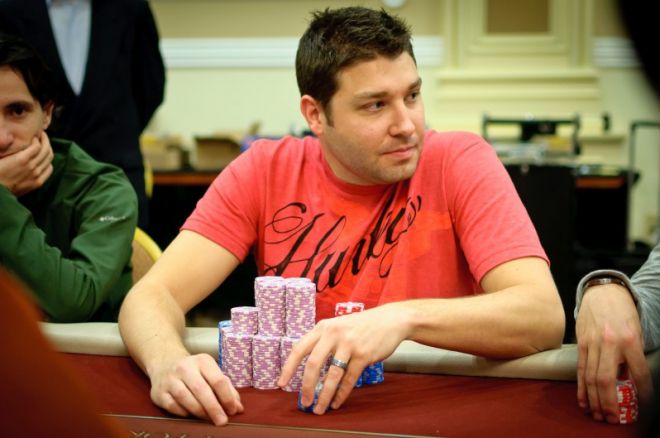 It was an easy day at The Bicycle Casino on Wednesday, with the field of 417 had already been whittled down to just 22. Reaching the final table of eight took just five hours of play, and at the end of one of the shortest tournament days we've seen, Jeremy Ausmus and his stack of more than 4 million chips is leading the charge to the final table.
Play began with Alex "AJKHoosier1" Kamberis and Josh "JJProdigy" Field exchanging a few not-so-pleasant words. Actually, the words mostly went in one direction as Kamberis welcomed Field to the room by saying, "You're a f***ing scumbag." The two men were seated back-to-back at adjacent tables for a good chunk of play, and it's disappointing that they never got to share the same felt. Both men failed to survive the fourth day.
Only a few hands into things, Mike Kucinski was eliminated in 22nd place, and Bryan Barrile lost a race with
to Santiago Nadal's
to join the procession to the payout desk in 21st place. Chris DeMaci was the runner-up at the NAPT event here last year, and he was on a fine course to repeat that performance. A fine course, that is, until his
lost a big flip, too. It was Taylor von Kriegenbergh's
holding strong on the
board, and the last remaining player of last year's final table was out in 20th place. When Fab Gonzalez ran his
into Kamberis'
, the field was shrunk to 18 players, and they were redrawn around the final two tables.
Joe Gualteri and David Baker fell next, both sent packing at the hands of Von Kriegenbergh and his mighty stack. That pulled him up over 2 million in chips and into contention with Victor Ramdin for the chip lead at the time. Jaime Kaplan was eliminated next, followed soon thereafter by Romik Vartzar. By David Peters was getting short on chips, and he shoved all in on three consecutive hands. On the third, his
was called by Field with
who was barely covered (and therefore eliminated) as the board ran
. From the table next door, Kamberis offered an insincere, "Aw, what a shame!" As Field walked away, Kamberis added, "Well, I'll see you online. Oh wait. No, I won't."
Peters won that battle, but the war claimed him as its next victim. Wade Townsend shoved with
from the small blind, and Peters snap-called with
in the big. A jack on the flop was a disaster for Peters, and the dealer ushered him to the payout desk with a board that came
. Kamberis had gotten his kicks at Field's expense, but it wasn't long before he followed his nemesis out the door in 12th place. "AJKHoosier1" was down around 15 big blinds when he ran his
into David Paredes'
to leave with a $21,000 consolation prize — the same payday as the one Field collected.
Townsend was three-outed to the exit in 11th place a short while later. Soft-spoken at the table, Townsend was poised for a double-up with
after the turn of a
board. Jeremy Ausmus was trying for the knockout with
, and the unlucky
on the river drew a loud expletive from Townsend that would have garnered a penalty — if he'd had chips left. But he was out in 11th place, followed by James Dowdy in 10th, and the final redraw of the night brought the nine finalists together to play for one more knockout.
But enough about those who've already been eliminated. Victor Ramdin came into the day with the chip lead and played what seemed like every pot as he embodied the phrase "Table Captain." Ramdin eliminated Barrile early in the day, then tilted and crippled Townsend and Dowdy before their eliminations. At the end of the day, Ramdin bagged up 2,279,000 to put himself in second place overall. His fellow Team PokerStars Pro Joe Hachem had a fine day, as well, turning his 610,000 starting chips into 1,666,000 million by night's end. The majority of that increase came in one big pot against Paredes. On the turn of a
board, Paredes shoved with
to put Hachem to the decision for his full stack. Hachem tanked for ages before making the correct call with
, and a blank on the river gave Hach the big double that he was looking for. Hachem still trails Ramdin in the battle of Team PokerStars Pros.
Ramdin's count would have been good enough for the chip lead if not for one Jeremy Ausmus. Starting the day with just 144,000 chips (12 big blinds), Ausmus got right to work with his
earning him a double up against Townsend's
. He had worked his stack all the way up to 717,000 when he flipped
for his tournament life against von Kriegenbergh's
. The
board secured a double-up, vaulting the one-time short stack over a million. The big suckout elimination of Townsend pushed him into the chip lead for the first time in four days, and he took care of Dowdy just a short time later. On the final hand of the night, Paredes squeezed all in with
behind a raise and two calls, and Ausmus woke up with
to put an end to Paredes' day and Day 4 as a whole.
That leaves Ausmus well out in front of the pack with 4,008,000 chips stuffed into his thin plastic bag for the overnight soak. All that remains is the final table, which is scheduled for a 1 p.m. start. When the players file in, they'll be stacked up this way:
| Seat | Player | Chips |
| --- | --- | --- |
| 1 | Govert Metaal | 149,000 |
| 2 | Taylor von Kriegenbergh | 1,810,000 |
| 3 | Santiago Nadal | 943,000 |
| 4 | Jeremy Ausmus | 4,008,000 |
| 5 | Brian Leskowitz | 1,087,000 |
| 6 | Joe Hachem | 1,666,000 |
| 7 | Jose De Noronha | 568,000 |
| 8 | Victor Ramdin | 2,279,000 |
You can catch up with The Big Event and tournament going on worldwide simply by following us on Twitter and liking us on Facebook.