PokerNews Big Game Interactive: Live Stream + $5,000 in Prizes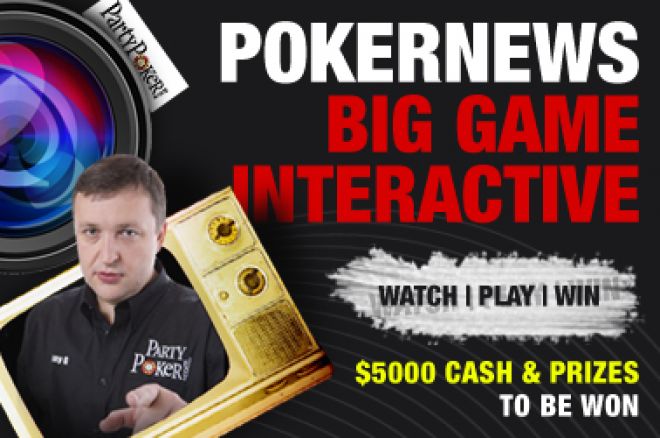 PokerNews is announcing an exclusive interactive live stream of the PartyPoker Big Game V, which starts on Friday, April 15. The live coverage will include hole-card cameras, and, for the very first time, PokerNews viewers will be able to vote players off the show.
The PartyPoker Big Game V takes place at Dusk Till Dawn in Nottingham, England, from Friday April 15 at 2000 BST (1900 GMT) until Sunday April 17 at 2000 BST (1900 GMT). Among those players scheduled for the 48-hour cash game are Tony G, Annette Obrestad, Sam Trickett, Luke Schwartz, Dusty Schmidt, Dave "Devilfish" Ulliott, and David "Viffer" Peat.
PokerNews is taking its Live Reporting service a step further this weekend, as players will be able to watch, play, and interact with the show as it happens. For the first time in poker history, viewers will be able to vote off the players they want to leave the show as they watch it on the PokerNews live stream. The interactive live interface will allow viewers to chat about the show, talk with the players, play along in exclusive promotions, and most importantly, evict the players they like the least from the game.
PokerNews Big Game Interactive: Watch, Play, Win
Not only can you watch the show live on PokerNews and evict players, you can play along while you do it for over $5,000 in exclusive promotions.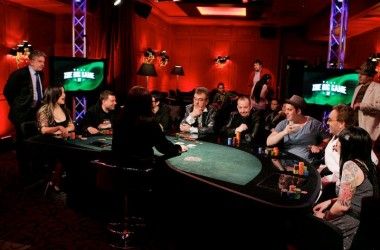 $2,000 Big Game Interactive Freerolls
Saturday April 16, 2000 GMT
Sunday April 17, 2000 GMT
Password Protected – You have to watch the live stream
One $640 PartyPoker Spring Millions seat will be awarded to the first-place finisher, while there will be an additional $1,360 added to the prize pool.
Password Contests
We will be releasing the passwords slowly with a series of clues throughout the day. The first 30 players to figure out each password will win a $10 WSOP step ticket.
Trivia Contests
Throughout the coverage, we will be asking poker trivia questions and contests and will give away 40 $10 WSOP step tickets.
These promotions are open to everyone, no matter where they joined PartyPoker. However, if you are new to PartyPoker, you surely want to get in on our exclusive PartyPoker Free $50, No Deposit Bonus, which is exclusive to PokerNews.
A PartyPoker spokesman said: "The innovation of introducing streaming and evictions will make for engaging viewing. This is no ordinary poker live stream, you will get hole cards, graphics and the TV commentary from Jesse May and a variety of co-commentators over 48 hours – it will be like watching it on TV. Who's a nit? Who don't you like? You have influence! The only exceptions to eviction are that statistically the most active player is exempt and that each of the "PartyPoker.com Wildcard" online qualifiers are guaranteed four hours play. You will be able to watch the stream, get involved with the action, and vote on all PokerNews.com home pages worldwide."
Eddie Hearn, Managing Director of Matchroom Sport said: "The atmosphere on the set of the PartyPoker.com Big Game is like no other. The players play with their own money, and the action is raw and the banter hilarious as the players drift in and out of delirium over the 48-hour period. I'm delighted that poker fans will be able to watch the action as it happens and believe this stream will be one of the most popular ever broadcast within the game."
You will get to have your say this weekend and chat along with our reporters and the pros in the game. We will also be running trivia contests, hosting exclusive freerolls, and Laura Cornelius will be bringing you behind-the-scenes footage of the event as it unfolds.
Be sure to keep it locked on PokerNews for all the action, and as always, follow us on Twitter for up-to-the-minute news.