European Poker Tour Grand Final Day 4: Five Chip Leaders Rise and Fall; Ivan Freitez Leads Final Table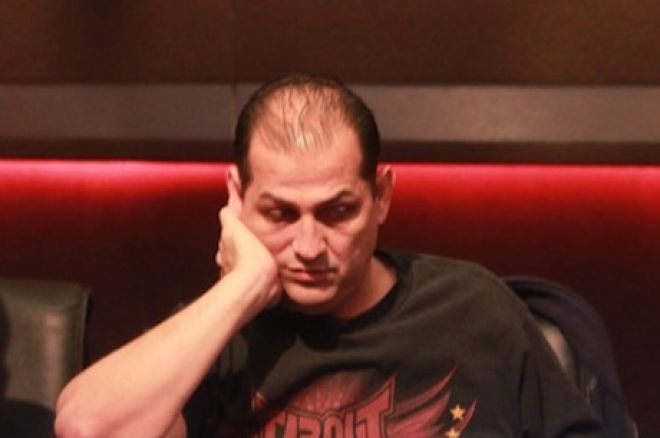 Day 4 of the PokerStars European Poker Tour Madrid €10,000 Grand Final began with three tables of eight, condensed from a pro-filled field of 686 over three tough days. In pole position at the start was American 2-7 Triple Draw cash specialist Eugene Yanayt with over 375,000 more than his closest rival. By the end of a series of dramatic and unpredictable changes, Ivan Freitez had come out on top with over two million more in chips than second-ranked Juan Maceiras.
The trend of the day was for players who'd taken turns leading the field to fall at the final hurdle, leaving a line-up for the last day which would have been hard to predict right up until the moment it was set in stone. Ole Kristian Nergard – Day 1b chip leader – was the first Day 4 casualty, winning €40,000, the minimum guaranteed for a run this deep at one of the most prestigious tournaments of the year.
Following the youthful Norwegian to the rail was PokerStars Team Pro Victor Ramdin and the popular Dutch tennis star Raemon Sluiter, his kings cracked by Tamas Lendvai's
at a painfully late stage. Lendvai followed his elimination of Sluiter by busting Hugo Lemaire (who'd been fourth in chips when the money was reached at 104 players), soon finishing the day in second-to-last position overall.
With 18 players remaining, the top two stacks were those of Eugene "oogee" Yanayt and Torsten Brinkmann. They played "swap the lead" for over a level, showing no intention of shying away from deep-stacked confrontation heads up. These two players were involved in some of the most interesting hands of the early period, and they're still facing off, this time for the big money – eighth place receives €130,000.
Ivan Freitez dodged a pre-final exit in 13th place when his
flopped a flush and subsequently held against Pedro Pellicer's
– he actually tripled through as Juan Maceiras had been squeezed out by Pellicer's re-shove. This was a turning point for the expressive Venezuelan whose railbirds grew gradually more excited as their man finally reached the final.
The day's second most dramatic reversal of fortune was the rise to chip dominance of online qualifier Simon Higgins and his subsequent near-immediate bust-out in 12th. Higgins had been a big stack so long he'd probably forgotten what it was like to run bad, but within only a few hands, he was on the rail, stunned. His major confrontation (which brought Pedro Pellicer a 3.5 million chip stack) was a race –
vs.
– and an ace on the flop changed the dynamic of the feature table for the rest of the day.
Pellicer wins the award for most dramatic fall, however, exiting next in 11th place (€70,000) after first doubling Ivan Freitez to ecstatic cries of "Vamos!" from the rail, then running
into the
of Brazilian Team PokerStars Pro Alex Gomes.
The elimination of Alessandro Limblici (10th for €95,000) brought the Main Event down to one table, although one player was not to make the eight-handed Final Table on Day 5: last Swede standing Thomas Pettersson.
One player on Thursday's final table will be looking to plump up his online bankroll (Yanayt), one to join an elite poker club (triple crown seeker Alex Gomes) and one to perform the sort of comeback seen many times during Wednesday's play (short stack grinder Andrew Li). They have in common, of course, the desire to capture the title and the €1,500,000 first-place prize up for grabs at the Casino Gran Madrid. For the full list of 104 paid finishers as well as the payouts yet to come, visit the Payouts tab on the PokerNews EPT Madrid Live Coverage page.
The final table lineup (in chip order) will be:

| Player | Chip Count |
| --- | --- |
| Ivan Freitez | 5,995,000
 |
| Juan Maceiras | 3,150,000 |
| 
Andrey Danilyuk | 2,645,000 |
| Eugene Yanayt | 2,420,000
 |
| 
Torsten Brinkmann | 1,875,000
 |
| Alex Gomes | 1,670,000 |
| 
Tamas Lendvai | 1,655,000
 |
| Andrew Li | 1,210,000 |
Join PokerNews Thursday for live coverage and tales from the rail as the 2011 PokerStars.com EPT Madrid Grand Final champion is crowned. For the first time, there will be streaming of the last stages of the final table with visible hole cards (and a delay). It all begins at 1400 CEST (0500 PDT), with a break at 1830 until 2300 when the delayed four-handed action will be brought direct from the Casino with all the hole cards visible!
Be sure to follow us on Twitter for up-to-the-minute news.