European Poker Tour San Remo Day Day 6: Rupert Elder Crowned Champion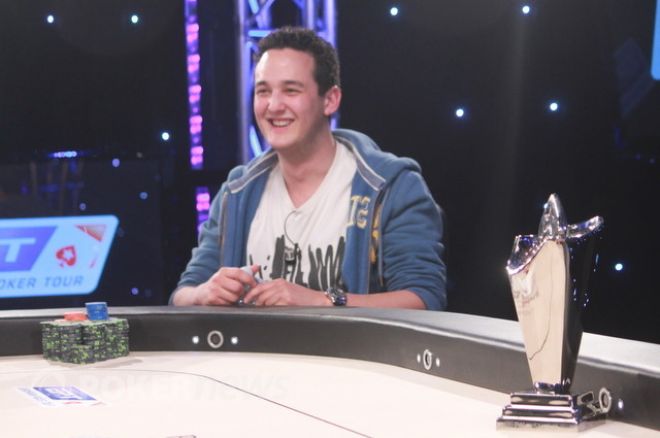 It has been an astounding year for Great Britain in poker - Toby Lewis, David Vamplew and Roberto Romanello have all taken their turns lifting the EPT hardware this season. The U.K. can now claim its fourth European Poker Tour champion of Season 7 and the San Remo title remains in British hands after Liv Boeree's victory last year, as 24-year-old pro Rupert Elder outlasted a 987-strong field to pick up €930,000, a ticket to next week's Grand Final in Madrid, and the official Shamballa Jewels EPT winner's bracelet.
It was a final table with some serious pedigree when play kicked off at Casino San Remo on Tuesday — one previous EPT winner, two previous EPT runners up (one of them, Max Heinzelmann, as recent as a few weeks ago), one IPT side event winner, one dangerous young Brit, and no fewer than four Italians to keep the home nation happy.
The Italians made up roughly half the field for this tournament, and made up exactly half the final table. But things went badly for the host nation once the final got going, and they took the bottom four spots in the payouts.
First to hit the deck was Roberto Spada. The Day 4 chip leader started the day third in chips, but was soon reduced to a short stack after doubling up Xuan Liu twice. In the first double up, Liu's jacks held against Spada's tens preflop, and then the two got it in again with Spada holding
against Liu's pocket kings on a ten-high flop. He was down to just seven big blinds when he pushed with
and was called by Max Lykov holding
. The board ran out
giving Lykov a straight, and Spada went home with €81,950 for eighth place.
Next to go was Naples resident Costantino Russo. He pushed with
to a min-raise from Xuan Liu who called with
. The first card out the deck was the
and when no further nines came on the board Russo departed in seventh place for €125,000.
Russo was followed just moments later by Massimiliano Manigrasso from Milan. He raised with
and made a swift and confident push to a reraise from Rupert Elder. But Elder had picked up
and made the call, and following a
board, Manigrasso had to settle for sixth place and €170,000.
Just a hand or two later, and the last Italian went down. Play folded around to Xuan Liu in the small blind and she shoved with a somewhat lackluster
. Francesco De Vivo called all-in from the big blind with
, but the four on the flop was enough to send De Vivo home, the board ran out
. De Vivo was playing his second EPT final table after finishing second to Anton Wigg in Copenhagen in 2010. This time he had to settle for fourth place and €220,000. With that, the Italians were done and it was a truly international final four — one Brit, one German, one Canadian and one Russian.
Four-way, it was Lykov who was the shortest stack. Max Heinzelmann briefly dropped into last place when he ran into Xuan Liu's Broadway straight for an enormous pot, and he then doubled up Lykov, the Russian's pocket sixes holding firm against Heinzelmann's pocket fours. But a few minutes later, Heinzelmann doubled through Liu, his
spiking a queen against Liu's
to put him back in third place, and Lykov was back to the bottom of the chip counts — although with 30 big blinds, he arguably wasn't in all that much trouble.
It was a nasty cooler that sent the Russian home in fourth place for €290,000. Lykov cold four-bet from the big blind to a raise from Max Heinzelmann and a reraise from Xuan Liu. Heinzelmann folded but Liu called with pocket tens, and Lykov was in a great position to double up with his pocket
. But a ten on the turn, the board running out
, was enough to eliminate our last previous EPT winner and put Liu in the lead ahead of Rupert Elder.
Liu's lead would not last. Rupert Elder reclaimed the top spot when he five-bet Liu preflop, forcing her to fold. She recovered a little when she won a big pot with a rivered flush against Max Heinzelmann, but lost a bigger one when she bet out and three-bet on a
flop but then folded to a shove from Rupert Elder. Already the short stack by now, she was then crippled down to 16 big blinds after calling a massive river bet from Max Heinzelmann only to muck to his
for a flopped set and rivered full house.
She soon got the last of her stack in with
against Rupert Elder's
and looked in excellent shape to double up, but the
board would be her last. The young Canadian, who won the €1,000 side event here at IPT San Remo last December, had to make do with third place for €360,000 — still by far the biggest live cash of her career.
Heads up, Rupert Elder had 70 percent of the chips in play, but virtually all of the early significant pots went to Heinzelmann and the German soon had a 2:1 chip lead. His lead would only last for a few hands. The board read
when the chips went in, Heinzelmann holding
for the flopped straight and Elder holding
for a set. It looked as though it was all over, but Elder filled up on the
river and doubled back up to the chip lead once more.
Another large pot headed to Elder when Heinzelmann mistimed a bluff, and then another when he called a large river bet from Heinzelmann on a
board, Elder looked relieved when his
proved good against Heinzelmann's pocket threes and his chip lead increased to 26 million playing Heinzelmann's 3.4 million.
It didn't take long for Heinzelmann to shove from the button and he found himself dominated with
against Elder's
. The board ran out blank
and Heinzelmann was out. He said before the final table started that he didn't want to be the next Martin Jacobson (the Swede has also come second in two EPTs this season) but that's exactly what happened — Heinzelmann has now been the bridesmaid twice, and must be disappointed not to have gone all the way this time. All the same, €1.1 million in live tournament winnings in the space of a few weeks isn't too bad, and he was as gracious as ever in losing out to Elder.
EPT San Remo Season 7 Results
| Place | Player | Prize |
| --- | --- | --- |
| 1 | Rupert Elder | €930,000 |
| 2 | Max Heinzelmann | €600,000 |
| 3 | Xuan Liu | €360,000 |
| 4 | Max Lykov | €290,000 |
| 5 | Francesco De Vivo | €220,000 |
| 6 | Massimiliano Manigrasso | €170,000 |
| 7 | Costantino Russo | €125,000 |
| 8 | Roberto Spada | €81,950 |
We'll be back on the EPT trail for the Grand Final in Madrid in just a few days and then we're done for another season. The big name pros are expected to turn out in force for the culmination of the European poker year, and it promises to be a great festival. Until then, from San Remo, it's ciao for now.
If you want to check out any of the action from EPT San Remo, head on over to our Live Reporting page, and as always, follow us on Twitter for up-to-the-minute news.