The Nightly Turbo: Online Poker Traffic Report, Champion of Champions Results, and More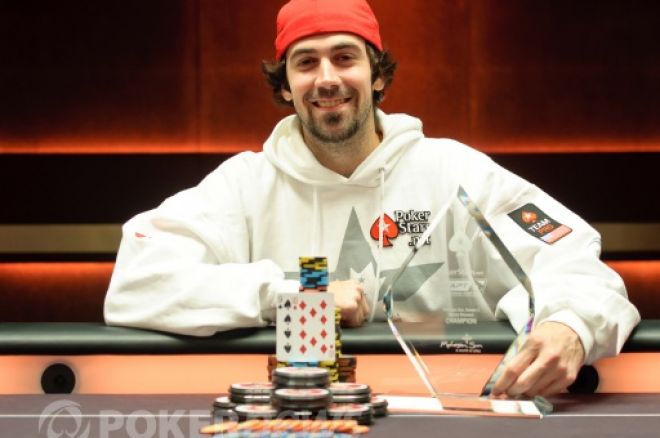 Yes, we know the above photo is Jason Mercier winning the PokerStars NAPT Mohegan Sun Bounty Shootout, but he must have had the same smile on his face when he took down the PokerStars Champion of Champions event in Madrid. We'll tell you more about his win, bring you the online poker traffic report numbers, and more in this edition of the Nightly Turbo.
In Case You Missed It
The Main Event of the World Series of Poker Circuit New Orleans kicked off on Monday with 382 players plunking down the $1,600 buy-in. How many are left and who's at the top of the chip counts? You'll have to check out the WSOP-C recap for that answer.
At the end of Day 3 of the World Poker Tour World Championship, 52 players remained. Sam El Sayed topped the chip counts, but there are a few players hot on his heels. Here's a recap of the Day 3 action at the WPT.
The 2011 PokerStars Spring Championship of Online Poker has passed the halfway point. If you're looking for SCOOP results from Days 8 and 9, you've come to the right place.
We're sure you're following coverage of the Main Event of the WSOP-C New Orleans, but what about last week's eight ring events? Know who won? You can find out in our recap of the results.
Over the weekend, alleged cheater Ali Tekintamgac caused quite a stir by playing the World Poker Tour World Poker Championship. Should he have been allowed to play?
Traffic Report
Every time we do a traffic report, we secretly wish we were in a helicopter like the radio folks, but that is neither here nor there. According to PokerScout, last week online poker traffic dropped 4 percent. Of the top ten sites and networks, only Merge Gaming Network saw an increase, albeit only 1 percent. Merge is up 155 percent this year. The rest of the top ten saw decreases in traffic.
The Cereus Network is down 82 percent for the year, declining another 29 percent last week. PokerStars is down 28 percent this year and Full Tilt Poker has seen a 24 percent drop on the year.
If you want to check out traffic for other sites, or see it in real time, head on over to PokerScout.com.
He's the Champ
Over the weekend, the PokerStars European Poker Tour held its first Champion of Champions event. Fifty past EPT champions took part in the €100,000 freeroll. Jason Mercier, Galen Hall, Mike McDonald, Noah Boeken, Kevin MacPhee, Liv Boeree, Bertrand "ElkY" Grospellier, and Arnaud Mattern were just some of the players who showed up for the event.
The top four finishers won EPT Season 8 buy-ins in various denominations. Vicky Coren hit the rail in fourth place, taking home €10,000, and just after her, Max Lykov was eliminated and received €15,000 in Season 8 buy-ins. That left Mercier and Hall heads up for all the glory.
According to the PokerStars Blog, after about an hour of heads-up play, all the chips went in the middle, with Mercier holding
and Hall holding
. The board ran out
, giving Mercier the win. Hall took home €25,000 in EPT Season 8 buy-ins, while Mercier received €50,000 and the title of Champion of Champions.
"I run better than most," said Mercier after the win.
If you want to see photos of the event, or check out more of the action, you can head on over to the PokerStars Blog.
Kara Scott Joins ESPN Broadcast Team
It was announced Tuesday via Twitter that Kara Scott would be joining the ESPN live streaming broadcast of the 2011 World Series of Poker. According to a tweet from Poker Productions, which includes ESPN, ESPN2 and ESPN3.
Scott also confirmed the news on her Twitter account and may have slipped up a little in the process. In a tweet that has since been deleted from her timeline (but was retweeted by ESPN_Poker), Scott wrote, "And I'm doing the TV shows with @poker_prod but I'm not sure if I'm allowed to announce that yet..."
Scott then tweeted, "@ESPN_Poker oh man, that was a private message. Oops."
Whether the last bit was supposed to have been released or not, congratulations is in order.
Helping Out the Kids
On May 18, a bevy of celebrities, including players from the New York Giants, former NBA player Malik Rose, and 2002 WSOP champion Robert Varkonyi, will will take part in a charity poker tournament in New York. The event was organized by TORCH (Together Our Resources Can Help) and benefits New York teens by providing after-school activities, and on-the-job training.
Besides knowing you're helping underprivileged teens by playing in this charity tournament, you can win a seat to the 2011 World Series of Poker Main Event.
"The evening is shaping up to be a blast, with a great mix of sports stars, poker champs and people who just like to have fun for a great cause," said Debi Deutsch, executive director of TORCH. "We are looking forward to some competitive poker playing—but if that's not your game, we'll also have black jack, craps and roulette."
If you want to find out more, check out all the sponsorship levels on TheTorchProgram.org.
Online to Live - No Big Deal
On May 15, a champion was crowned at the Heartland Poker Tour stop at Soaring Eagle Casino & Resort. In his first live tournament, 20-year-old Jordan Jayne took the title and first-place prize of $165,462.
Jayne was an online player, but Black Friday changed everything for him. "I used to play eight to ten hours per day, five or six days each week," Jayne said. He was considering a career change, but might not have to now.
HPT Soaring Eagle Results
1. Jordan Jayne - $165,462
2. Max Weinberg - $82,732
3. Stan Miller - $49,639
4. Brad Albrinck - $38,608
5. Cody Nguyen - $33,093
6. James Casement - $27,577
For more from the HPT, check out HPTPoker.com.
Are you following PokerNews on Twitter yet? Go ahead and do it. It doesn't take long, and you can keep up-to-date with all the news in poker.