Qualification for the $15,000 Main Event Passport Freeroll has started. To qualify, all you need to do is download PokerStars, and when signing up, use the marketing code POKERNEWS.COM. Then you need to earn 75 VPPs between June 1 and 26, and you'll be eligible to play in the freeroll on June 30 at 1500 EDT.
The 2011 World Series of Poker is in full flow, and you can follow our exclusive PokerNews Live Updates from the Rio, presented by PokerStars. Not only do PokerNews and PokerStars want to bring you all the action from the WSOP, we want to send you there, for free.
Once again, PokerNews referred PokerStars players are in for a real treat, as on June 30 at 1500 EDT we will be hosting a $15,000 Main Event Passport Freeroll. The top prize of which will be a $13,000 PokerStars Main Event Passport Package, with the remaining $2,000 being distributed as per PokerStars standard pay out structure.
To play in this freeroll, all you need to do is download PokerStars via PokerNews, register a new account using our marketing code, "POKERNEWS.COM", and earn 75 VPPs in between June 1 and 26. Existing PokerNews-referred PokerStars account holders are also welcome to play as long as they achieve the VPP target.
Although 75 VPPs may seem steep, it is actually less than $13 in rake paid. That's the equivalent of about 250 hands for a $1/$2 limit hold'em player, less than 400 hands for a $0.25/$0.50 no-limit hold'em player, or 13 $11 SNGs.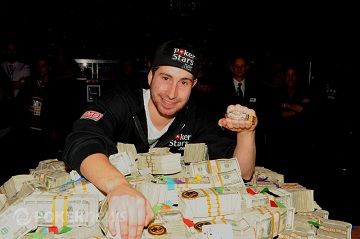 The winner of this freeroll will be able to pick and choose which of the following main events they want to play.

World Series of Poker (WSOP)
PokerStars Caribbean Adventure (PCA)
European Poker Tour (EPT)
Latin American Poker Tour (LAPT)
Asia Pacific Poker Tour (APPT)
Win the Main Event Passport and you'll receive a prize package worth $13,000, which includes Main Event buy-in, hotel accommodation and cash. Then, all you have to do is select which event you want to play, and you'll get more for your money if you choose EPT London or the 2012 PCA, as these packages are worth more than $13,000.
But really, how can you choose anything but the package to play in the World Series of Poker Main Event? The biggest tournament of the year at the Mecca of poker that is Las Vegas. If you haven't got WSOP fever yet you surely will have by the time the $15,000 Main Event Passport Freeroll rolls around.
We have $30,000 in freerolls with PokerStars in June, and $15k freerolls are a regular occurance for players who sign up to PokerStars through PokerNews. So download PokerStars today and earn 75 VPPs before it's too late. Don't forget that marketing code, "POKERNEWS.COM", and the bonus code, "STARS600", for a 100% up to $600 deposit bonus.
If you experience any problems with this or any of our promotions, please contact our Ticketed Promo Support System.