PartyPoker Weekly: All Tournaments are Rake Free!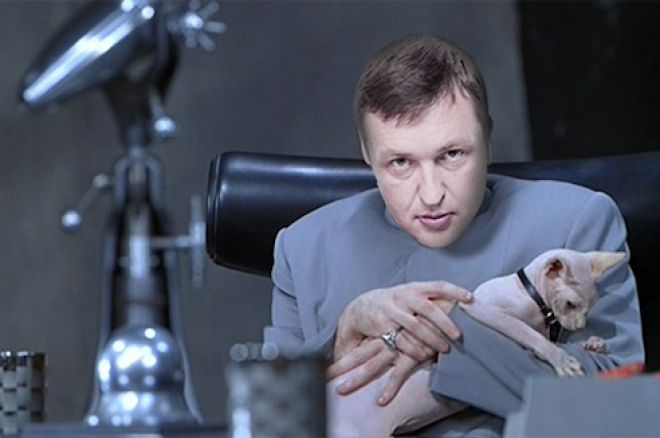 There has never been a better time to play at PartyPoker, for a limited time only you can play in rake free tournaments.
Tony G is a Dominatrix
His words, not ours. Tony G is very excited about the new World Domination promotion we mentioned last week he decided to replicate a suitably evil persona on the Party Poker Blog.
I am not at the WSOP at the moment, as this picture shows I am plotting total world domination and annihilation from my secret underground bunker. Whatever you do, don't touch the cat and don't overplay king jack.

I am going to invade Russia, I am going to take Moscow and all your money while I am at it. I also have Paris in my sights, as the French are the second worst poker players in the world I expect them to fold to the slightest raise.
Bookmark the PartyPoker Blog for more Tony G fun.
Rake Free Tournaments

PartyPoker is doing something spectacular for tournament fans this summer. Until further notice, all tournaments are rake free! Tournaments above $6 will see the total buy-in reduced, so a $20+$2 tournament will instead be a $20+$0 tournament. Events below $6 will see the rake added to the buy-in, so a $2.70+$0.30 tournament becomes a $3 tournament.
So prize pools will be bigger and guarantees will be easier to hit. How long will this last? We don't know, so get playing today because these things do not come around very often.
The Best Bonus in Online Poker
PokerNews has the best PartyPoker bonus in the world, and you can benefit whether you have money to deposit or are starting from scratch.
Reminder: you can get $50 for free when you sign up for a PartyPoker account via PokerNews, follow our walk-through guide and use bonus code PN50Free. You don't need to deposit any money or give any of your bank details. This bonus is exclusive to PokerNews, but if you want to get an even bigger bonus, you can use our Party Free $50 bonus alongside our exclusive reload bonus, to get $100 for just a deposit of $50. Not only do you benefit from this, but the redemption requirements are much easier via PokerNews than anywhere else.
If you were to sign up for a PartyPoker account anywhere else, you would have to deposit $100 to get a $100 bonus. Then, to release that bonus, you would need to earn 600 Party Points. However, with PokerNews, you can get the same bonus for half the deposit and nearly half the points target. Just follow our step-by-step guide.
Wait to receive your first free $25 before doing anything else.
Earn 200 points to redeem the extra $25.
Earn 150 points to redeem the $50 bonus.
Are you following us on Twitter yet? You should be. And while you're at it, like us on Facebook.
If you experience any problems with this or any of our promotions, please contact our Ticketed Promo Support System.