Fellow Pros Air Chino Rheem's Debts Publicly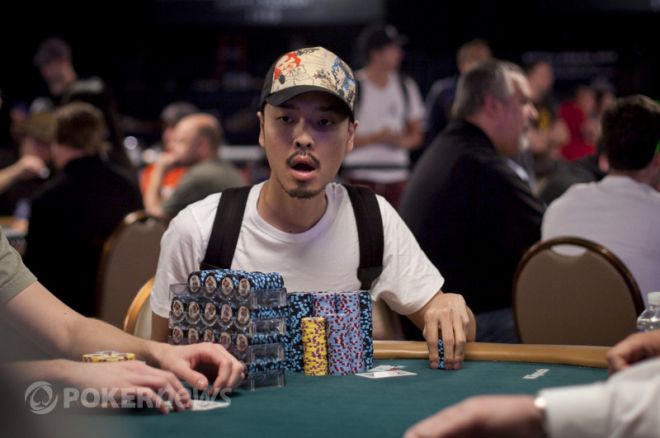 This week the poker spotlight seems to have shined on one man: former November Niner David "Chino" Rheem. The story that will no doubt be remembered by poker fans, especially when it airs on television, is his $1,000,000 win in the inaugural Epic Poker League $20,000 Main Event early Saturday morning. What the cameras won't show is the darker side of the story, namely that Rheem has developed a reputation as a debtor, swindler, and borderline sociopath.
These unflattering characteristics have been associated with Rheem, at least in the public eye, ever since poker pro Will Molson took to TwoPlusTwo last week to air his grievances against Rheem, who he claimed "owes" him $40,000. While you can read the details in the TwoPlusTwo thread, the gist of it is that Molson intended to lend Rheem $20,000 at the 2010 European Poker Tour London, accidentally transferred him $40,000 on PokerStars, and Rheem never paid him back, even after confirming the double transfer and finishing third in the event for $150,000. As Molson stated:
"He flat out stole from me and it's at the point where I don't expect to see my money back. He flat out stole from me and had no intention of swapping FTP money with me. I waited awhile to out this mainly because I thought there would be a better chance seeing the money if I kept it low key for awhile and gave him time."
Now, one man's allegations usually aren't enough to vilify another player, especially one with $4.7 million in career winnings (that was before his Epic win); however, Molson's assertion has quickly been corroborated by others in the poker community. After seeing the aforementioned thread, another former November Niner, Joseph "subiime" Cheong, felt compelled to share his story on how he got "Chino'd:"
"I had no idea so few people knew about Chino. First of all, he's a very charming, nice guy. Second of all, if he ever won the lottery for $10 mil, I guarantee he will pay everyone back (as long as you see him before he sees the pits).
"I also don't want anyone else getting scammed, so I'll say this: he has also scammed me for $40k, and I know others in the same spot. The poker world is full of borrowing and lending money, so when a well-known player comes to you with believable collateral, it's hard not to lend money. For me, the collateral he offered was that he had a piece of the Grinder at the WSOP Main Event last summer. The Grinder confirmed this for me. But clearly it was offered to multiple people and I never saw a dime back. Of course I hate having to eat $40k but there is nothing we can do in this situation. I'm not gonna get money back through violence. I can't sue (and even if I did, he's broke he can't pay). He still plays everything through either more scams or through his numerous connections in live poker so we do have to see him all the time . . . Moral of the story: Do not lend Chino money."
The allegations of Molson and Cheong also lend credence to an earlier tweet by Ben Lamb that claimed Rheem welshed on a bet from this year's World Series of Poker. Add another dozen or so Chino'd stories in various forums, and suddenly the circumstantial evidence against Rheem is pretty damning. The general consensus, at least in the poker community, seems to be that Rheem is broke and that he has dug a hole so deep that he continually has to scam just to stay in the game. Fortunately for Chino, his poker résumé and high-profile friends, namely Michael "The Grinder" Mizrachi, have allowed him to do just that.
Unfortunately for Rheem, his reputation is starting to catch up with him, as a video captured at the Aria Poker Room surfaced from when someone known only as "Harley" called Rheem out. Since the publication of that video, it has since been deleted.
According to the forums, people are hoping that by coming forward, they'll help others avoid being scammed in the future. In other words, many creditors want to spread the word that Rheem is in arrears and should not be loaned any money. Others have taken it a step further and suggest that Rheem should be exiled from the poker community, starting with the EPL, which has prided itself on their Code of Conduct.
The EPL is clearly aware of the situation involving Rheem, which was acknowledged by Standards of Conduct Committee member Michael "Timex" McDonald when he informed the TwoPlusTwo community:
"We compiled a list of all players who we believed had previously conducted themselves in a way that if continued would lead to their elimination from the league and personally reminded each individual that they will not be allowed to participate in the league if their future behavior is the same as their past behavior.
"I don't want to talk about any specifics, but I will say that people who are poor representatives of the game of poker will not last very long in this league and the EPL will publicly 'out' people who are kicked out of the league rather than simply tell them not to show up and keep it hush-hush."
Assuming McDonald speaks for the EPL, it's apparent that Rheem will not be punished for his past transgressions, but will be if he continues to exhibit the same behavior in the future. That means if Rheem continues to either scam people or welsh on debts, he will likely be kicked out of the League. That would certainly be an interesting situation given Rheem will forever be associated with the EPL as the inaugural $1 million winner.
While I'm all for Rheem getting his comeuppance, I hope that he is able to leverage his EPL win into buying back, or should I say paying back, some goodwill in the poker world. While he has already done irreparable harm to his name, paying back what he owes is a good start toward redemption, a sentiment echoed by many on Twitter:
Randy Dorfman: Will Chino Rheem payback Will Molson and J. Cheong $40k each with his Epic League cash? Hope they wait at cage while he cashes out!
Brent Hanks: Congrats to Chino and his 5k profit... #lostinpitswithin15minutes....and a serious note, congrats to everyone who's collecting their loot
Even The Micros took a jab at Rheem through the Twitter account of its fictional character, Rose Ballenger: Hey Chino, where's my money?
Now, before getting too far ahead of myself, I realize that while Rheem technically won a million dollars, he will not be taking home that amount. More likely, Rheem was either backed in the EPL or sold a significant amount of his action. Unfortunately, those details remain unknown. As I understand it, the EPL rules state that a player need only disclose backing arrangements once they're in the money and only when it involves another player who is also in the money. Even when that is the case, the EPL does not release the information to the public.
We may not know the specifics regarding Rheem's EPL win, but it seems to be a safe assumption that his actual take-home amount will be far less than $1 million; nonetheless, I hope he'll use whatever cash he does have to make good with Molson and Cheong, among others.
The good news is that Rheem seems to have already taken that course of action. According to Ben Lamb's Twitter, Rheem immediately settled their WSOP bet: "Omg Chino won $1 million and paid me my money (most people got 10 percent paid) I got all. #hardass." If that Tweet is any indication, a 10 percent down payment was paid to those who came to collect. Whether they'll get the other 90 percent from this score, or will have to wait for another, remains to be seen.
By paying Lamb, at least Rheem is backhandedly acknowledging that he is on debtor's row, and apparently will pay back what he owes when he's able, which is a step better than ignoring the issue and welshing on a debt. However, that doesn't change the fact that this whole situation happened in the first place. Unfortunately, it may be too little, too late. If Rheem hopes to redeem himself, he'll need to not only make some changes, but reexamine his priorities and core values as well.
As he said in his post-win interview: "It's just surreal, it's just crazy, like, cause it's not only a good feeling just to win it, it's a good feeling because, like, it means a lot to me personally. There's a lot of like . . . nothing could be bad for me right now, you know what I mean, it's just everything is good."
Maybe he's right, perhaps everything is good. Perhaps his big win will help gloss over his misdeeds. Unfortunately, the poker world tends to work opposite the real world in that people may never forgive, but they often forget. I hope that doesn't turn out to the case here.
What's your opinion on the Chino situation? Use the comments section below to let us know your thoughts. In the meantime, be sure to follow us on Twitter and like us on Facebook.
Executive Editor US, PokerNews Podcast co-host & 2013 WSOP Bracelet Winner.