PartyPoker Weekly: VIP Oktoberfest Promo & See How Lithuanians Roll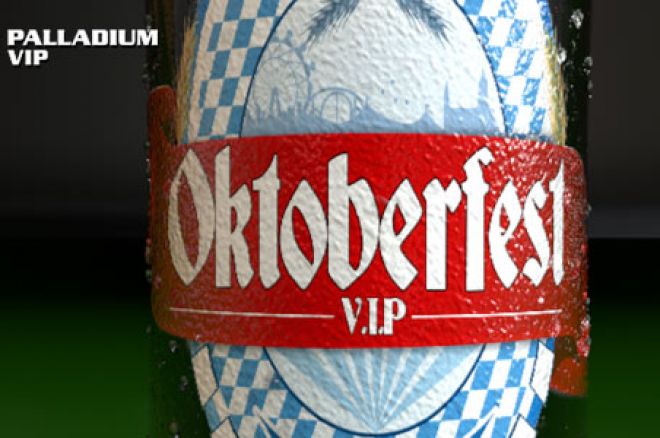 Play on PartyPoker this month to win an exclusive package to Oktoberfest in Munich, to see how Lithuanians deal with parking offenses, and to get a free $50 bankroll without having to deposit.
VIP Oktoberfest
PartyPoker is treating VIPs just like, well, VIPs, once again. This month, 16 players will be winning packages to Oktoberfest, the legendary beer festival in Munich. There will also be cash prizes and over 100 Apple gadgets to be won.
All you have to do is place high in one of two points races this month. Finish in the top seven of each race for a direct package, plus anyone who finishes in places 76-400 will win a ticket to play in an exclusive VIP Oktoberfest and Super Gadget Freeroll.
Race 1
Starts: 0000 ET (0700 GMT), August 12
Ends: 2359 ET (0659 GMT) , August 21
Race 2
Starts: 0000 ET (0700 GMT) August 22
Ends: 2359 ET (0659 GMT), August 31
If you miss out on a direct package, you can still win one, or a number of Apple products, in the VIP Oktoberfest and Super Gadget Freeroll on September 4. Finally, if you finish in the top 25 of both races, you will win an iPad 2, and finish in the top 75 of both to win an iPod Touch.

See How Lithuanians Roll
Ever wondered where Tony G gets his no-nonsense, big personality? That's what they are all like in Lithuania. Just take a look at how Arturas Zuokas, the Mayor of the Lithuanian capital Vilnius, deals with illegal parking.
To quote Tony:
"He knows how to silence his critics. If Hellmuth illegally parks his limo this is what happens! This is how Lithuanians sort things out and what to expect from me. Check out the mayor at Full Tilt."
For more fun with Tony, check out the PartyPoker Blog.
The Best Bonus in Online Poker
PokerNews has the best PartyPoker bonus in the world, and you can benefit whether you have money to deposit or are starting from scratch.
Reminder: you can get $50 for free when you sign up for a PartyPoker account via PokerNews and follow our walk-through guide and use bonus code PN50Free. You don't need to deposit any money or give any of your bank details. This bonus is exclusive to PokerNews, but if you want to get an even bigger bonus, you can use our Party Free $50 bonus alongside our exclusive reload bonus, to get $100 for just a deposit of $50. Not only do you benefit from this, but the redemption requirements are much easier via PokerNews than anywhere else.
If you were to sign up for a PartyPoker account anywhere else, you would have to deposit $100 to get a $100 bonus. Then, to release that bonus, you would need to earn 600 Party Points. However, with PokerNews, you can get the same bonus for half the deposit and nearly half the points target. Just follow our step-by-step guide.
Wait to receive your first free $25 before doing anything else.
Earn 200 points to redeem the extra $25.
Earn 150 points to redeem the $50 bonus.
Are you following us on Twitter yet? You should be. And while you're at it, like us on Facebook.
If you experience any problems with this or any of our promotions, please contact our Ticketed Promo Support System.