Breaking Down the 2011 PokerStars World Championship of Online Poker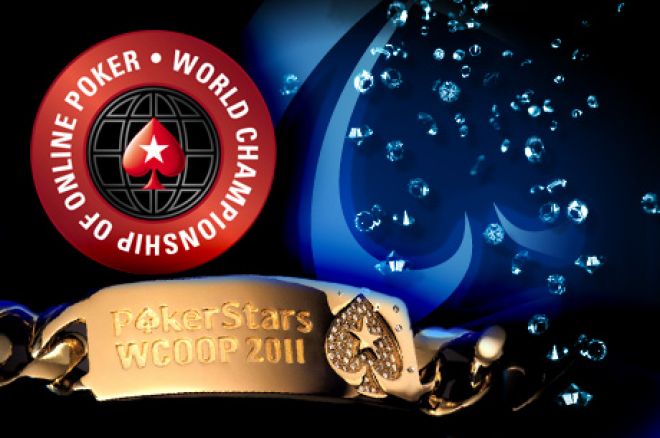 The 2011 PokerStars World Championship of Online Poker concluded early Tuesday morning after an exciting 23 days of tournament poker. Although many people thought the series would greatly suffer from the circumstances that online poker faces in the U.S., we think the 2011 WCOOP did rather well. With the second-most number of entrants and third biggest prize pool in its history, it provided many impressive results from players around the world, as well as a plethora of numbers we found interesting.
Total Entries — 119,832
As the most prestigious tournament series on the online calender, the WCOOP offers a little something for everybody. Across 62 events, there were 119,832 total entrants. Sure, it was down from the 141,126 entrants in 2010. Still, don't forget how the U.S. dominated the WCOOP in the past. Even without any U.S. participation this year, there is still about a 16,000 difference in number of cashes between the U.S. and second-place Canada.
Total Prize Pool — $47,120,800
The 62 WCOOP events this year created a prize pool of $47,120,800. For three weeks of tournament poker, that's quite the sum of money to generate. Consider this: four Major League Baseball teams (Pittsburgh Pirates, San Diego Padres, Tampa Bay Rays, Kansas City Royals) spend less in team salary over a six-month season. Hey Boston Red Sox, how's that $160,000,000 team salary been working out lately?
First-Place Prize Totals — $7,789,589.29
Hypothetical situation: Let's say you played in all 62 WCOOP events. On top of that, let's imagine that you ran amazing and won all 62 tournaments. Well played, you would have earned $7,789,589.29. You know who else runs pretty well? Alex Rodriguez. Sure, the poker part of his life is a bit shady and unclear. What's perfectly clear is that while nursing a knee injury for six weeks this season, Rodriguez still earned $8,000,000 of his $32,000,000 salary for this season.
Team PokerStars Cashing Rate — 15.7%
Team PokerStars is consisted of 97 players. From that total, 92 had the ability to participate in the WCOOP because five members of Team PokerStars USA (Barry Greenstein, Chris Moneymaker, David Williams, Jason Mercier, Joe Cada) opted not to relocate for the WCOOP. Throughout the 62 tournaments, members of Team PokerStars played 1,580 events and cashed 248 times for a solid 15.7 percent cashing rate.
Leading the way (among those who played a high volume of tournaments) were Daniel "KidPoker" Negreanu and Bertrand "ElkY" Grospellier. Second in total cashes, Negreanu went 15/52 for a 28.8 percent cashing rate. "ElkY," tied for fourth in cashes, went 13/48 for a 27.1 percent cashing rate.
Bracelets by Country
Leading the way in the bracelet race was Russia with 10. They had several huge six-figure wins by with "Flying Smile" ($293,512.31), "K_0_S_T_Y_A" ($288,660.78), "z81ima" ($225,384.96), and "Ostrov" ($210,000) taking home monster wins for Mother Russia.
| Country | Bracelets |
| --- | --- |
| Russia | 10 |
| United Kingdom | 8 |
| Netherlands | 7 |
| Canada | 6 |
| Poland | 4 |
| Denmark | 3 |
| Norway | 3 |
| Australia | 2 |
| Brazil | 2 |
| Finland | 2 |
| Sweden | 2 |
It was a one-man show for Brazil, with Quentin "MiPwnYa" Lae winning both bracelets for his country. In addition, he was the only double-bracelet winner of the entire series.
Other countries with one bracelet apiece are Austria, Belgium Colombia, Cyprus, Czech Republic, Greece, Lebanon, Lithuania, Malta, Mexico, Romania, Spain, and the United Arab Emirates. Although, it should be noted that several bracelets were won by Americans who are now living abroad. Among them were Malta's Dan "djk123" Kelly and Cyprus' Mike "munchenHB" Telker.
For more information regarding WCOOP statistics, you should check out Wcoop.com.
For news, updates, and more, follow PokerNews on Twitter and Facebook.