Making Dreams Come True: Clint Robinson and the All-In for CP Charity Poker Tournament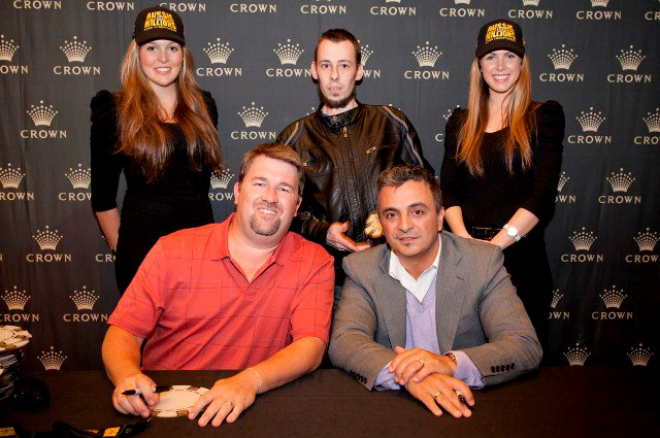 The Fourth Annual All-In for CP charity poker tournament will be held at the Venetian on Dec. 9, 2011. The event, hosted by the One Step Closer Foundation and the Sam Simon Foundation, aims to raise funds to ease the lives of those with cerebral palsy.
The All-In for CP charity poker tournament features a $500+$40 buy-in, and players will be able to purchase $200 rebuys for the first 90 minutes. Among the celebrities and poker pros scheduled to attend are Sam Simon, Jennifer Tilly, Shannon Elizabeth, Montel Williams, and Mekhi Phifer. Antonio Esfandiari, Dan Fleyshman, Dennis Phillips, Phil Laak, and Barry Greenstein, .
Australian Clinton Robinson, 27, also hopes to attend the event. Robinson was born with cerebral palsy, a neurological disorder that affects body movement and muscle coordination. He is unable to work, cannot drive, and is on a pension for life. Robinson first watched poker in 2005 when he caught an episode of Celebrity Poker Showdown. He instantly fell in love with the game and for the next couple of years watched poker on TV. Eventually he began playing online with play money on Full Tilt Poker.
 
In 2007, Robinson decided to begin playing pub poker, which was organized by the National Poker League in Australia. He ended up watching one of his friends play, because he was too nervous, feeling as though he didn't have the social skills to play. In the same year, he fell into a heavy depression. For around eight months, he didn't speak. In fact, he only spoke for about five minutes total in eight months. He didn't want to eat or drink and was on various medications. After many visits to doctors and psychologists, no one knew what was wrong with Robinson, and nothing worked. On New Year's Eve 2008, Robinson came out of his depression, and to this day, no one knows what he was feeling.
After looking back at his depression, Robinson believes the reason he came back was poker. He remembered how much he loved watching and playing it. That was when he decided he was going to play and not let his disability stop him.
In June of this year, Robinson had been having vision problems. On Friday, June 24, 2011, he found out he had a tumor behind his eye and was admitted to the Royal Melbourne hospital that night. 

On Tuesday, June 28, he had an operation to remove the tumor. The operation was successful and Robinson was released from the hospital on July 2.
 Even though the operation was successful, remnants of the tumor remain, so Robinson has to monitor regularly to make sure the tumor does not grow.

Robinson's dream of getting to Las Vegas for the All-In for CP charity tournament are inching closer to becoming a reality each day with generous donations from people around the world, including poker pro Vanessa Rousso. Robinson feels that poker has saved his life. He is sociable, has a great time, and loves life as best he can.
 He's a great person and is proof that a disability such as CP doesn't have to affect him anymore.

If you'd like to help Clint Robinson make his dream a reality, check out his Facebook page and then donate at ClintsAllInForCP.com.
To find out more about the All-In for CP charity poker tournament, including how to register, head on over to OneStepCloserFoundation.org.
Follow PokerNews on Twitter for up-to-the-minute news.