Black Friday: Ballin' on FTP's Budget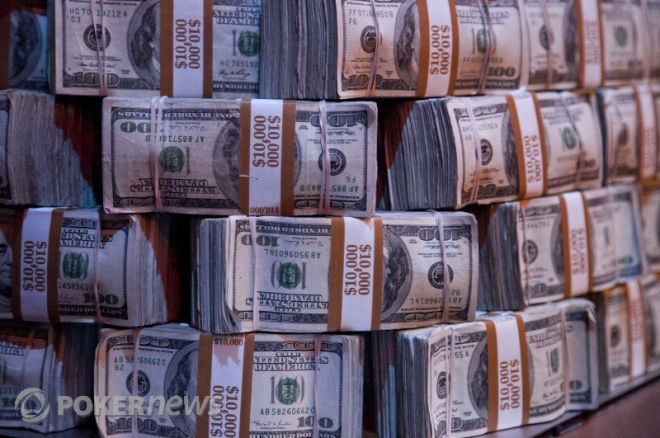 On Friday, hoards of shoppers will battle hangovers and full stomachs to infiltrate stores across the U.S. before the sun rises. Black Friday, which actually starts on Thursday at some stores this year, isn't only the busiest shopping day of the year — it's a retail holiday.
On Friday, April 15, the poker industry was affected by its own Black Friday — wherein the Department of Justice indicted 11 high-profile figures in the poker community, including Raymond Bitar and Nelson Burtnick of Full Tilt Poker. To date, FTP has failed to pay back the approximately $150 million it owes to American players, which got us to thinking: What could we buy on Black Friday with $150 million?
Perhaps this was Bitar's plan all along.
1. 100,134 Samsung – 60" Smart HDTVs ($1,497.99, originally $2,799.99)
Best Buy is cutting the price of these babies in half, and although we can't play that much online poker anymore, we can watch sports and play video games. With over 100,000 sets, we could even build a screen comparable to the giant scoreboard in Dallas Cowboys Stadium.
2. 176,474 Canon EOS Rebel bundles ($849.98, originally $1,162.96)
This is a fantastic deal. Not only do you get the Canon EOS Rebel T2I DSLR camera, you also get a 55-250 mm IS zoom lens, a memory card, and a bag. With the T2I you can document all of the things you're doing without online poker, using either high-resolution stills or 1080p HD video.
3. 3,191,489 copies of WWE '12 ($47, originally $59.99)
Even if you don't like wrestling, or video games, this is a great way to get your frustration out. It would be wrong to actually take a chair to someone's head because your money is frozen online, but in WWE'12 you can mercilessly punish your animated opponents until your blood pressure returns to normal. If your imagination is limited, don't worry — you can create a wrestler who looks exactly like the person you want to beat up in real life.
4. 25,041,736 Cars toys ($6.99, originally $9.99)
Perhaps you've been neglecting your kids since Black Friday because you've been depressed. Well, here's a great opportunity to show them that you love them. The Cars franchise is awesome and every kid loves Lightning McQueen, making this a no-brainer for parents. If they don't like Lightning McQueen, then don't fret — Toys "R" Us is giving you 40 percent off on ALL Cars toys.
5. 459, 530 Hampton Bay Ariel Collection 8-Light Hanging Chrome Chandelier ($326.42, originally $859)
In the market for a ballin' chandelier? Neither are we, but this chromed out beauty jumped out at us. First, you're saving more than 60 percent, making it a great deal, and second, it's chrome! Who doesn't want chrome hanging from their ceiling?
6. 1,704,545 Sportcraft Table Tennis Sets ($88, originally $129.99)
Red Solo Cups are not included. Shop accordingly.
7. 93,750 Kenmore French-Door Bottom-Freezer Refrigerators ($1599.99, originally $2,729.99)
This is a perfect complement for your new beer pong ping-pong table. With 17.6 cubic feet of capacity, you can store copious amounts of food and beer for the holidays, parties, or a lazy Sunday afternoon without MTTs. If you aren't looking for a refrigerator, then take a spin around the Sears website — all Kenmore appliances are up to 20 percent off.
8. 833,379 Beats by Dre Solo (This is the original price, but each set of headphones comes with a $50 Target gift card = $41,668,981)
We firmly believe that Bose sells a better priced, more functional pair of headphones, but who doesn't want $40 million worth of Target gift cards? Your Christmas-Hanukkah-Kwanza-Insert-holiday-to-keep-this-politically-correct shopping would be complete. For a lifetime.
9. 3,492,433 Da Vinci Poker Sets ($42.95, originally $77.99)
Shame on you if you don't already own a poker set, but if you're ready to finally host your own home game this is for you. This 500-chip set comes with a case, dealer button, cards, cut cards, and, when you want to do your best Phil Ivey impersonation, a pair of dice.
10. 789,515 Yamaha YPT-330 Premium Keyboard Packs ($189.99, originally 393.95)
Perhaps it's time for you to pick up a new profession or hobby altogether. This keyboard pack, which includes headphones, power supply, and a stand, is equipped with high quality voices, styles, digital effects and a music database — making it a great value. Learning how to play the piano is a different story.
Happy Black Friday!
Follow PokerNews on Twitter for up-to-the-minute news.