Daniel Negreanu and Other Pros Lend Helping Hands During the Holidays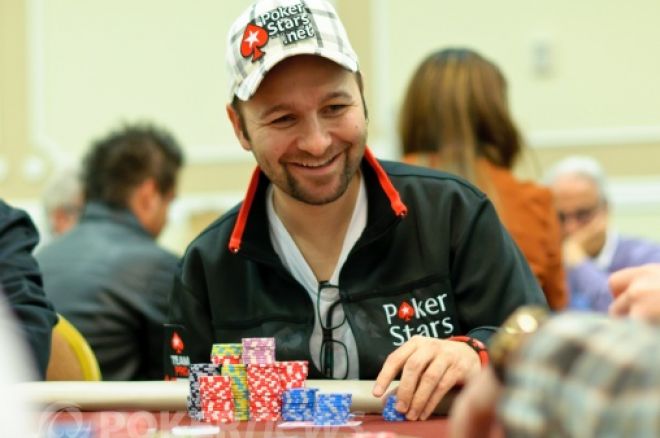 As tournament series in Las Vegas, Jacksonville and Atlantic City wrapped up this week, poker players in the U.S. made their way home to celebrate Thanksgiving with friends and family. The holidays provide a great way for poker players to not only step away from the stress and demanding schedule that go along with playing professionally, but also to reflect on how fortunate they are to be able to do something they love for a living.
One way players can express their thankfulness is by lending a hand to those less fortunate. Whether it's donating to a charity or helping in other ways, poker players have really stepped up to the plate over the years in raising money for worthy causes.
Daniel Negreanu, for example, has been very eager lately to lend a hand to those in need. After returning from an exhausting two-month trip to Europe this fall, Negreanu decided to expand his horizons and do some good for the community. He has long been a generous contributor to charitable organizations, but this year he decided to get more involved and experience more of what some of these organizations really offer.
Negreanu began volunteering at Three Square, a hunger relief program based in Las Vegas. The organization collects food donations and distributes the items to food pantries, soup kitchens, shelters, and after-school programs across Southern Nevada.
"I decided I wanted to get my hands dirty so I've been volunteering in the Kids Cafe 9 a.m. to 12 p.m. a couple of days a week," Negreanu told PokerNews. "I also went on a day trip to one of the schools where 98 percent of the kids attending qualify for assistance and saw firsthand how much the kids appreciated the food. It was about 3 p.m., and for most of those kids, that will be their last meal of the day before they go to bed."
Negreanu's favorite feature of the organization is that it provides healthy, nutritious meals that kids wouldn't normally receive. It's something that really hits home with Negreanu, who is very conscious about his diet.
"One of the problems in this country is that it can be pretty expensive to eat healthy, and much cheaper to take a family of four to El Pollo Loco where they'll get low quality, fattening food. When I went to the school to watch the kids eat, what amazed me most is how much they loved eating the salads and fresh produce, stuff that they wouldn't normally get because it's a bit too expensive for their families to provide."
Like Negreanu, poker pro Maria Ho also rolls up her sleeves and gets involved with hands-on work around the holidays.
"Every Thanksgiving for the last few years I have been involved with several different organizations that make home-cooked Thanksgiving meals and serve it to the homeless," Ho told PokerNews. "I also collect and donate a ton of goods during the holiday season and donate them to several shelters and organizations. I feel so extraordinarily blessed to have a job that allows me to do what I want, when I want, and it would be a real shame to not take advantage of that to help others whenever I can."
For Ho, Thanksgiving represents just how blessed many of us are to be able to choose how we occupy our time.
"The holidays are a very special time for me as I am traveling so much during the rest of the year that this is the time when I get to be at home for an extended period of time and spend some real quality time with my family and friends," she said. "I think it's extremely important as a professional poker player to not take for granted the many freedoms and liberties we get to enjoy due to the flexibility of the schedule we have."
Poker pro and ESPN Inside Deal host Bernard Lee is one of the game's most selfless figures, working closely with several charitable foundations over the past decade. Earlier this year, Lee teamed up with Cabot Cheese to form the The Full House Charity Program to benefit numerous children's programs throughout the greater New England area.
For every full house that Lee makes while playing tournament in the U.S. and abroad in 2011, he will donate $500. Lee says it's only natural that he give back to the community.
"We're just very fortunate to be able to wake up every day and do this for a living, so earlier this year we decided to give back," Lee told PokerNews. "The Full House Charity Program was born out of my love and desire to combine two of the things that mean the most to me. One, my children and my family, and then also my love for playing cards."
Lee's goal was to raise $20,000 for the charity this year. He hasn't gotten there yet, but says he will help raise a minimum of $20,000 regardless of whether he hits the desired number. "It's hard to believe how difficult it is to get 40 full houses," says Lee, who has cashed 14 times on the tournament circuit this year.
Poker players can also give back simply by playing cards during the holiday season. Several charity tournaments take place every week around the country, and many can be found at a nearby casino this weekend. Ho says she encourages all of her fellow poker players to take up a cause that is important to them and devote some time to furthering that cause.
"We have no excuse to not do more," says Ho. "We have all the means in the world to do something outside of ourselves; not just during the holidays but all times of the year."
The PokerNews staff would like to wish all of our readers a Happy Thanksgiving!
Follow PokerNews on Twitter for up-to-the-minute news.