The Latest Poker Fad: Chinese Poker on the iPad feat. David Williams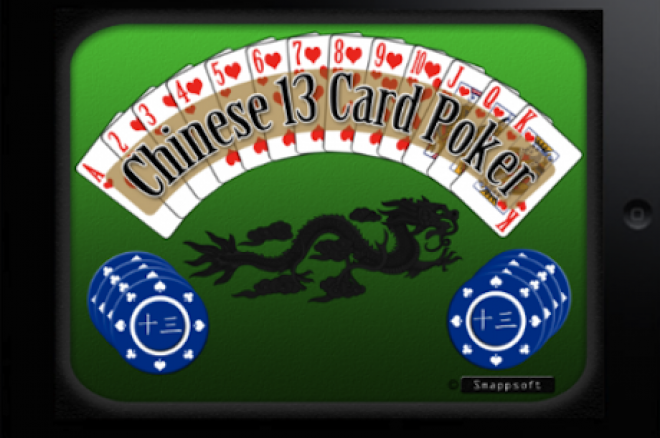 Let's face it, tournaments can be boring. As someone who often travels the circuit and live blog events, I can tell you that players find dozens of ways to stay occupied in between hands. Listening to music, reading, and playing Words With Friends are a few examples of popular preoccupations, but all are quickly becoming eclipsed by what is becoming the most popular pastime — playing Chinese poker.
Sorel Mizzi, Nenad Medic, Chino Rheem, Jean-Robert Bellande, and Jason Mercier are just a few of the pros who are regularly found playing Chinese poker against one another during poker tournaments. How do they do it? Obviously they can't break out a deck of cards since they're playing a tournament, and usually not seated near each other; instead, technology allows these players to connect on their iPad, iPhone, and iPod Touch while in close proximity to one another, like sitting in the tournament area at the World Series of Poker. Another player who enjoys the app, 2004 World Series of Poker runner-up David Williams, explained that most players now prefer the app over a traditional deck of cards:
"Its much better. You don't have to shuffle or have misdeals or any other mistakes. We actually use the iPad when we are next to each other now instead of decks. Not just when we are across the room during a tournament. No one likes to shuffle or deal."
What's more, the Chinese Poker app has replaced the traditional Chinese poker cash games amongst top pros. "We gamble for a living, there is no way we play games for just fun," Williams said. He elaborated on playing while in a tournament: "We all love action and need it so it's either, play Chinese or play every hand [in a tournament], and that's not really a good option. It's a good distraction to keep you tight and focused on the tournament."
Even though it has been around for decades, the popularity of Chinese poker has grown in recent years. Smappsoft, a company that "develops a wide variety of unique, high quality apps for mobile devices" developed the app that is used by most of the pros. Late last month, Smappsoft released an updated version of its popular Chinese 13 Card Poker App — version 2.0.
"The latest update will make it really easy for poker enthusiasts to challenge one another and they don't even have to be in the same room anymore," explained Smappsoft Creative Director Steve Pogatch. "We're introducing online play through Apple's GameCenter. Players can now invite up to three of their friends to play from anywhere, and they can also chat during a game."
The original Chinese 13 Card Poker used Bluetooth to connect players, but the new version will increase the scope of the game by allowing players to connect with their friends around the world using the Internet. "Its pretty easy [to connect] but it's not without its problems," Williams offered. "There is the occasional disconnect and it always seems to happen when I have a royalty and it doesn't save hands. But there has been a new update that allows you to play over the Game Center so maybe the disconnects will be fewer, or at least save your hands."
Additionally, players who purchased the previous version of the App can update for free.
"Online play has been the most requested enhancement to us from players of Chinese 13 Card Poker. We are very excited to introduce this and many other new features in this major update," said Smappsoft's Chief Engineer, Mark Rubin.
Other new features of the latest version include:

In-game text chat for online and Bluetooth play.
New and improved game setup.
Choice of Easy and Hard levels for Computer AI Players.
Game Center Achievements.
Improved graphics & new icon.
PokerNews recently caught up with Steve Pogatch, Smappsoft Creative Director, and Mark Rubin, Chief Engineer, to talk about their Chinese Poker App and the new, updated version.
Why do you think Chinese 13 Card Poker has proven so popular with poker pros while playing tournaments?
Partly it's because the card game itself is so fun and addicting. With the app, we've made it really easy to set up and play a game, since no cards or chips are necessary. The app takes care of all of the dealing and scoring, so the players can focus on the fun part — setting hands and showing down. So when they've only got a minute or two to play while they're out on the tourney floor or wherever, they can just pull out the app and start playing.
Who are some of the pros that have used your App?
We've heard about a bunch of pros using the app, including Phil Hellmuth, the Mizrachis, Chino Rheem, Tommy Vedes, Bryan Micon, Jason Mercier and Jennicide.
What inspired Smappsoft to release version 2.0? Did they take any advice from users or pros?
Version 2.0 has been in the works for several months. From the beginning, we have always felt that the real strength of the app is multi-player. Version 1.0 allowed players to connect with Bluetooth, but it quickly became obvious that adding online play would be a huge step forward — we heard this from many users and players. At the same time, doing a major update gave us a chance to completely revamp the computer AI, improve the look a bit, and add some new features like in game chat.
Does Smappsoft have any plans for other poker-related apps? If so, can you give us some details on that?
We are currently working a new poker based app that takes some elements of video poker and adds in a whole new strategic element. We're pretty excited about this one — look for it to come out in a couple of months. At the same time, we're thinking of some more updates to both Chinese 13 Card Poker and our Poker Tourney Timer app.
Will the Chinese 13 Card Poker App be released on any other platforms or devices, or will it be limited to Apple products?
That's a good question. At the moment we are focusing mainly on the Apple iOS platform for a couple of reasons. First, Apple iOS has some great technology like Game Center built in which really helps when building a game like this. Second, the iPad is still dominating the tablet market, and since our app runs on iPhones, iPod Touches, and iPads, tablets are a big segment of our market. But, as more and more Android tablets are released, that platform becomes more interesting so we are definitely thinking about it, although we haven't started development yet.
In the world of mobile apps, is there anything that prohibits a competitor from releasing a Chinese 13 Card Poker App? If not, do you feel Smappsoft's App will remain the industry standard?
In terms of copyrights or legal issues, no. But we have used some fairly sophisticated software techniques in developing the app, and have put in a lot of development time to create a solid app with a very user friendly and responsive user interface. So potential competitors would have some catching up to do, and of course we are still moving forward at the same time! I should point out that there are already a couple of good competitors on the iPhone, but none yet on the iPad.
Can you describe how players connect with your app? For instance, would someone at the WSOP be able to find a pro on the app and play a game of Chinese?
There are two main ways to connect: First is online (WiFi or cellular 3G) using Apple's Game Center technology. Anyone with the app and a free Game Center account can kick off a game against any of their Game Center friends, or can choose to be auto-matched against a random player. So, if a pro is willing to make their username available, anyone can send him a friend request and then start a game.
Or, if someone gets lucky they may be auto-matched to a pro! The second way to connect is with Bluetooth. In this case there are no accounts, but the devices need to be fairly close to each other. When someone hosts a game in this mode, anyone within Bluetooth range can try to join, and the host decides who plays.
Can you discuss why Smappsoft decided to add a chat feature?
Once we added online play, the chat feature was a no brainer. While testing out playing online, we constantly found ourselves texting other players to comment on our hands, or just to see why someone was taking so long. It was a pain to have to leave the app every time we wanted to do this, so adding the in game chat feature solved that.
One review said: "Against computer play, the computer plays high card on top but plays it with two lowest cards. This needs to be changed, as no one would set their hand this way. I can't believe the recent update didn't fix this." Is this something Smappsoft will take a look at?
In Version 2.0 we added a brand new computer AI, which was a complete rewrite of the previous version (the old one is still available as "Easy AI" while the new one is the "Hard AI"). The new version works by statistically analyzing all hand possibilities and is based on ideas originated by Don Smolen in his excellent book, Chinese Poker. Since the AI is so new, it will naturally need a bit of fine-tuning and will evolve over time as we get more feedback. We are already working on updating this particular behavior, and are definitely committed to improving the AI and the app in general. We really appreciate feedback like this — it definitely helps us to improve the app. The best way to reach us with more ideas or suggestions is to contact us at info@smappsoft.com. We really enjoy hearing from and interacting with players!
Smappsoft's Chinese 13 Card Poker is available in the iTunes App Store.
Stay up to date on all the latest news by following us on Twitter and liking us on Facebook.