PartyPoker Weekly: Magical Venice Experience, Card Rush Promo, Tony G Trash Talk and More!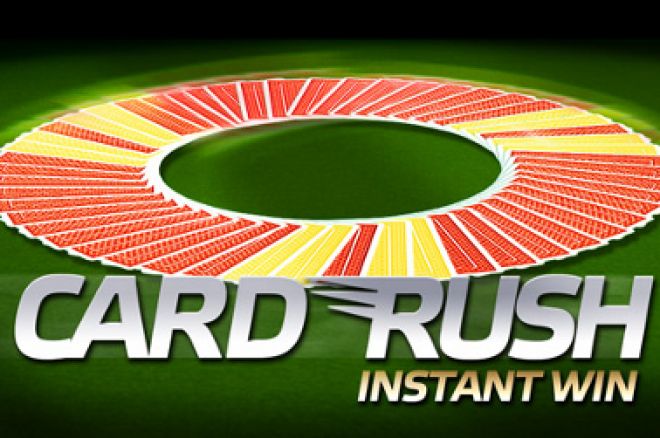 It's that time again folks, time for the PartyPoker Weekly. What has been going on, and what is about to take place in the world of PartyPoker? Keep reading to find out!
Dynamo To Perform At WPT Venice
The €4,950 buy-in World Poker Tour Venice Main Event gets under way on Monday, Feb. 6 at 1300 CET and it promises to be one of the most memorable tournaments in Europe. Some of the biggest names in European poker are expected to descend on the most romantic city in the world, but there will be no love lost between the likes of James Akenhead, John Eames, Roberto Romanello, Jake Cody and PartyPoker sponsored pros Tony G, Kara Scott and Giovanni Rizzo.
In fact, the entire World Poker Tour production team, complete with the beautiful Royal Flush Girls, has gotten the city buzzing, but it's a young man from Bradford, West Yorkshire, England who is causing an even bigger stir. Steven Frayne, better known to millions as Dynamo, is regarded as one of the very best magicians in the entire world and has performed for the likes of Jay Z, Diddy, Will Smith and Chris Martin of Coldplay!
By the end of the week the WPT Venice participants will be able to add their names to that exclusive list, because Dynamo is going to give them a private 90-minute performance absolutely free! Check out the short clip below to sample some of Dynamo's mind-blowing trickery!
The PartyPoker team will be reporting on all the action from the WPT Venice Grand Prix Main Event so if you want to follow the progress of your favourite poker players then head over to the PartyPoker blog right now.
Card Rush Returns!
The superb Card Rush promotion is unde way and PartyPoker players have until midnight on Feb. 28 to get their hands on as many of the 1,800,000 available cards as they can. Players will receive an instant win card for every 15 PartyPoints they earn and PartyPoker is giving every player their first card for just 5 PartyPoints!
Prizes range from 10 to 25,000 PartyPoints, freeroll entries worth between $2,000 and $20,000 and even instant cash prizes of between $1 and a staggering $5,000! That's right, you could have $5,000 put into your account for earning just 15 PartyPoints!
In addition to these amazing prizes players can also be awarded Card Rush Race points that could win a $9,000 cash prize! There is a Card Rush Race points leader board that will pay out the top 200 Card Rush Race points earners between $200 and $9,000! Also, PartyPoker will also be awarding $50 to every 20th spot between 220th place and 2,000th place so everyone stands a chance of some free cash!
Tony G Winds Up Max Pescatori
During the PartyPoker Premier League Mixed Game Championship last November Tony G and Max Pescatori shared plenty of banter and trash talk at the tables and it seems to have continued in the run up to WPT Venice.
Pescatori, who is affectionately known as "The Pirate," starred in a short video replying to Tony G's comments but it seems to have fallen on deaf ears as Tony G almost instantly replied stating he was going to make Pescatori walk the plank and even use Dynamo to make him disappear all together!
For the fill story be sure to check out Tony G's latest blog.
Fancy a Free $50 Bankroll?
They say the best things in life are free and thanks to the special relationship between PartyPoker and PokerNews new customers can help themselves to a free $50 bankroll. All you need to do is follow the simply steps below and the $50 is all yours to keep!
Download the PartyPoker software through PokerNews
Create a new PartyPoker account and enter the bonus code "PN50FREE"
Fill in the registration form in the PartyPoker cashier
DO NOT make a deposit when prompted
Return to PokerNews and fill in our small registration form
Check your email inbox for a confirmation email from free50@pokernews.com
Once you have received the confirmation email $20 will be placed into your PartyPoker account. You must earn at least 40 PartyPoints before you will be able to withdraw the free $20. If you do not earn 40 PartyPoints within 60 days the initial $20, or whatever remains of it, will be forfeited. PartyPoints are earned at a rate of two (2) PartyPoints per $1 in rake or tournament fees so earning 40 of them within a 60 day time frame is quite an easy task.
Once you have earned 40 PartyPoints a further $30 will be deposited into your account bringing the total free cash amount to $50. You must then generate another 160 points before you can cash out any of the the $30 and must do so within 120 days otherwise the $30 or the remainder of it will be forfeited.
If you experience any problems with this or any of our promotions, please contact our Ticketed Promo Support System.