World Poker Tour on FSN: Legends of Poker Season X — Part II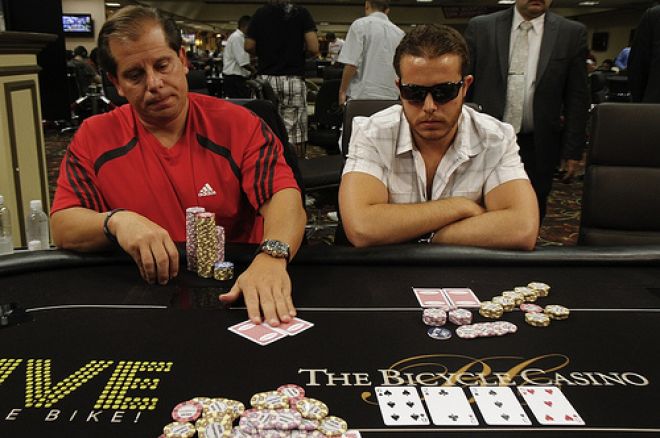 Fox Sports Network's coverage of the World Poker Tour Season X continued on Sunday night with Part II of the Legends of Poker final table from the Bicycle Casino in Bell Gardens, California.
Last year, Andy Frankenberger topped a field of 462 to claim the $750,000 first-place prize but did not repeat that performance in Season X. There were five players remaining after Owais Ahmed was eliminated in last week's episode. Remaining were a mix of pros (Will "The Thrill" Failla and Josh Pollack) and amateurs (Adam Aronson, Ken Aldridge and Jeff Vertes).
The $3,500+$200 buy-in Main Event had attracted 757 entrants, creating a prize pool of $2,570,015. Here's what the counts looked like at the top of the broadcast:
WPT Legends of Poker Final Table
| Seat | Player | Chips |
| --- | --- | --- |
| 1 | Josh Pollack | 6,025,000 |
| 2 | -EMPTY- | |
| 3 | Will "The Thrill" Failla | 4,325,000 |
| 4 | Adam Aronson | 3,775,000 |
| 5 | Ken Aldridge | 4,550,000 |
| 6 | Jeff Vertes | 5,050,000 |
First Hand: Jeff Vertes looked down at
from the cutoff and raised to 375,000. Will Failla responded by three-betting to 850,000 from the small blind, and much like he did in a hand in Part I, Vertes gave an acting performance before four-betting to 1.575 million.
"I think you're bluffing me," Failla said before eyeing up his opponent. He thought for a brief moment, but ultimately laid down his hand. "Bluff me, Jeff? You have a pair?"
"One of the best," Vertes admitted as he raked in the pot.
Gangster Poker: "The people from the East Coast play gangster poker," Will "The Thrill" Failla said in an interview. "I believe that the East Coast people growing up in the tougher neighborhoods really have a big advantage in reading people in situations most people can't. It doesn't always work 100 percent, but when those hairs stand up on the back of my neck, I'm pretty sure."
Aronson Eliminated in Fifth Place: Action folded to Adam Aronson on the button and he moved all-in for 1.7 million holding
, only to run into the
of Jeff Vertes, who was in the big blind. Aronson was clearly dejected as he got out of his seat. "A lot of black cards," he said after removing his sunglasses.
While the flop only held one black card, it gave Aronson something better as it came down
and delivered him a set. Aronson obviously had quite a few supporters in the crowd as the noise level increased after an eruption of cheers. Aronson had gone from a big dog to an 85 percent favorite, but that dropped to 74 percent when the
appeared on the turn to give Vertes a flush draw.
"Gotta be a sweat," Aronson said with a smile. Indeed it was, but Aronson was not so pleased when the
spiked to give his opponent the flush. Vertes clapped his hands and let out a shout in celebration as Aronson was sent packing in fifth place for $102,800.
Back to Back: In the next hand that aired, Jeff Vertes was first to act and opened for 400,000 with
, the very same hand he had used to eliminate Adam Aronson. Josh Pollack was on the button and wasted little time in three-betting to 1,050,000 with
.
Pollack and Vertes engaged in a little chitchat before the latter announced a reraise to 2.1 million. Pollack was having none of it and released his hand. "That was a good spot to bluff," Pollack said, despite Vertes showing one of his aces.
Five Questions: Hostess Kimberly Lansing sat down with former WPT Player of the Year Jonathan Little to ask a few questions, including, "When did you actually realize you could make a living being a poker player?"
"That's a tough question. I'm not sure I think I can make a living now," Little admitted. "It's a tough game and poker is always getting tougher. You just have to stay better than the competition and learn faster than the competition."
When asked if he fears anyone at the poker table, Little said: "I fear a lot of people, but I don't let it affect my play. I tend to try to avoid the good players at the table. There are a lot of young guys, that try to go after everyone at the table. In reality, they're going to be losing money or breaking even against good players, and that's going to cause a lot of unnecessary variance most of the time."
Pollack Eliminated in Fourth Place: From the button, Josh Pollack opened for 425,000 with
and was called by Ken Aldridge holding
in the big blind. The
flop was interesting because it gave each player a little something. Aldridge checked, Pollack bet 500,000, and Aldridge immediately announced a raise before making it 1.2 million.
With action back on Pollack, he eyed his chips and announced he was all-in for 4,075,000 more. Aldridge leaned back in his chair, sighed, and then made the call. "Nice call," Pollack admitted, knowing he needed a diamond to stay alive. Unfortunately, when neither the
turn nor
river helped, he was dispatched in fourth place for $128,500.
"It's a bit disappointing," Pollack told Matt Savage in his postelimination interview. "I felt I didn't need to shove on that last hand. It was kind of a tricky spot. Could have just folded. We were all pretty close in chips with four to go, it was anyone's game."
What a Thrill: With the blinds at 1250,000/250,000, Will "The Thrill" Failla moved all-in from the small blind for 2.425 million. Ken Aldridge asked for a count from the big blind, thought for a minute, and then called. "I'm ahead," Failla said even before the cards were turned up.
Showdown

"This is huge," Failla told his rail before the flop came down
. "Spade, spade, spade," Failla requested. The
turn wasn't a spade, but it didn't hurt him either. When the
peeled off on the river, Failla briefly celebrated before retaking his seat, stacked his 4.925 million, and prepared to get down to business — though that business must wait until next week because the broadcast came to an end.
To Be Continued: Who'll be the next player to join the prestigious list of Legends of Poker winners and take home the $758,085 first-place prize? Will it be Will "The Thrill" Failla or one of the two amateurs still remaining in the field? Part III is set to air on Sunday, March 3, on FSN, so be sure to check your local listings. As always, you can check back next week for the latest recap of all the action right here on PokerNews.
Past Legend of Poker Champions
| Season | Player | Earnings |
| --- | --- | --- |
| 1 | Chris Karagulleyan | $258,000 |
| 2 | Mel Judah | $579,375 |
| 3 | Doyle Brunson | $1,198,290 |
| 4 | Alex Kahaner | $1,125,900 |
| 5 | Joe Pelton | $1,577,170 |
| 6 | Dan Harrington | $1,635365 |
| 7 | John Phan | $1,116,428 |
| 8 | Prahlad Friedman | $1,034,500 |
| 9 | Andy Frankenberger | $750,000 |
| 10 | ??? | $758,085 |
If you love poker, be sure to follow us on Twitter and like us on Facebook for all the latest updates on the World Poker Tour.
*Picture courtesy of World Poker Tour.