World Poker Tour on FSN: Legends of Poker Season X — Part I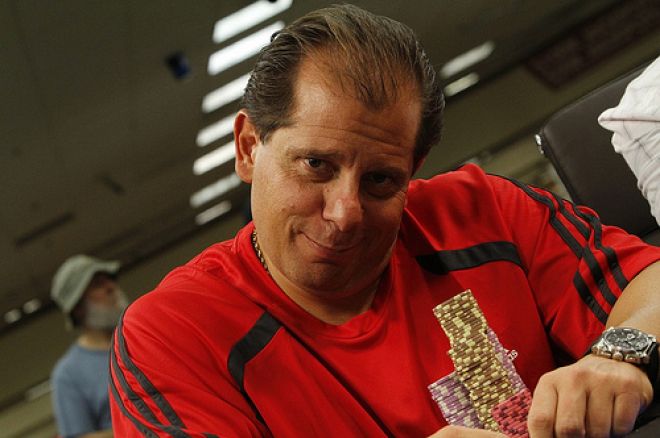 On Sunday night, Fox Sports Network aired its first tournament of Season X of the World Poker Tour — the Legends of Poker from the Bicycle Casino in Bell Gardens, California. The Legends of Poker is one of the most prestigious titles in all of poker and has been on the WPT schedule from its inception.
Last year, Andy Frankenberger topped a field of 462 to claim the $750,000 first-place prize, joining the likes of Doyle Brunson and Dan Harrington as past Legends of Poker champions. In Season X, the tournament, which was originally held Aug. 25 through 30, 2011, featured a $3,500+$200 buy-in and attracted 757 entrants, creating a prize pool of $2,570,015.
This year, the WPT's television coverage was expanded and now includes three hours of airtime from each event, including in-depth coverage of the tournament's early days, and more comprehensive coverage of the final table.
Prelude: The broadcast got under way with footage of Day 1a, which drew 322 players including Dwyte Pilgrim, Faraz Jaka, Matt Affleck, Phil Hellmuth, and of course the defending champ. "No one's ever won the same tournament in the WPT twice," Frankenberger said before the start of the action. "So I wouldn't say there's a lot of pressure to do it, but I put a lot of pressure on myself anyways. I always put pressure on myself to win. I hate losing."
Not everyone was able to avoid defeat on Day 1a as Gavin Smith, Kathy Liebert, and Matt Mafafioti hit the rail, though each had the option of reentering on Day 1b. Likewise, Frankenberger busted late in the day and was not among the 141 Day 1a survivors. A few players who were, included chip leader Matt Berkey (248,500), Will "The Thrill" Failla (148,300), and Zach Clark (126,400).
On Day 1b, 435 players showed up and brought the total field up to 757 entrants. Among the entries was Chris Karagulleyan, who won the Legends of Poker in Season I, and Season V champ Joe Pelton. By the time action ended, only 197 players remained, meaning 338 returned for Day 2, with JC Tran leading the way with 265,000.
The eliminations mounted quickly on Day 2 including Frankenberger, Maria Ho, and Michael Winnett. After a long day, the field had been reduced to 99 with Ken Aldridge (659,500) leading, though Cody Slaubaugh (658,000) was hot on his heels, followed by Failla (550,500) and Berkey (502,000).
On Day 3, the money bubble loomed as 81 players were slated to be paid, meaning 18 players would leave disappointed. "Titan" Tom Braband and Dylan Hortin were among the early eliminations, and Joe Ressler earned the unfortunate distinction of being the bubble boy.
Once in the money, the eliminations came furiously. Jamie Gold scored his first WPT cash with a 67th-place finish for $7,300, and WPT Season IV Player of the Year Gavin Smith followed him out the door a short time later in 57th place for $7,710. Tran (39th - $9,250), Jonathan Little (38th - $9,250), Slaubaugh (35th - $10,280), Pilgrim (33rd - $10,280), Berkey (30th - $10,280), Allen Kessler (28th - $10,280), and Keith Kozar (23rd - $14,135) all hit the rail before play ended with just 21 players and Jeff Vertes leading the way with 2,712,000.
Day 4 saw the final 21 reduced to six, losing Dan Heimiller (20th - $14,135), Brent Hanks (16th - $19,275), Christina Lindley (15th - $24,415), Buchanan (13th - $24,415), Matt Kay (10th - $29,555), and James Carroll (8th - $51,400) along the way. Ray Henson (7th - $64,250) ended up being the final-table bubble boy.
Here is a look at the seating assignment at the start of the final table:
WPT Legends of Poker Final Table
| Seat | Player | Chips |
| --- | --- | --- |
| 1 | Josh Pollack | 5,315,000 |
| 2 | Owais Ahmed | 1,720,000 |
| 3 | Will "The Thrill" Failla | 6,775,000 |
| 4 | Adam Aronson | 2,185,000 |
| 5 | Ken Aldridge | 3,640,000 |
| 6 | Jeff Vertes | 4,085,000 |
First Hand: With the blinds at 50,000/100,000 with a 10,000 ante, action folded to Owais Ahmed on the button and he moved all-in holding
. Adam Aronson looked down at
in the big blind and had a decision to make. He removed his sunglasses, asked for a count, and eventually folded. "I can't wait to see that, Owais," Aronson said. "I can't wait."
Ugliest Hat in History: Jeff Vertes opened for 325,000 with
only to have Owais Ahmed move all-in for 1,630,000 with
. The rest of the field folded and as Vertes was contemplating his options, Will Failla told Ahmed, "That has got to be one of the ugliest hats in history."
"I don't want to play from behind," Vertes said before laying down his hand, allowing Ahmed to swipe another pot without so much as a flop.
Action Flop: In the very next hand, Jeff Vertes opened for 325,000 with
and received a call from Will Failla, who was on the button holding
. Ken Aldridge also came along for the ride from the big blind holding
, and there was three-way action to the
flop. The players checked to Failla, who put out a bet of 300,000. Aldridge folded, and Vertes gave a bad acting performance before making the call.
When the
hit the turn, Vertes checked and surprisingly Failla did the same. The
river saw Vertes give another bad acting performance, sighing deeply and acting conflicted, before he put out a bet of 500,000. Failla seemed to know something was up, but felt compelled to make the call nonetheless. Even though he lost the hand, it almost seemed like a win for Failla as both the crowd and commentators acknowledged that he could have lost a lot more on the hand.
Ahmed Eliminated in Sixth Place: Action folded around to Owais Ahmed in the small blind and he once again moved all-in. Will Failla was in the big blind and took a peek at his cards before making the call.
Showdown

Failla was a 54 percent favorite, and tried to get the crowd pumped up before the flop fell
. Failla still wasn't convinced that he was going to win the hand and proceeded to stare down the board and chant, "Ace of diamonds, ace of diamonds, ace of diamonds." Wouldn't you know it, the
spiked on the turn to fulfill his request and leave Ahmed drawing dead. The meaningless
was run out on the river for good measure as the short-stacked Ahmed was eliminated in sixth place for $77,100.
"Don't Listen to Anything He Says:" Will Failla opened from the cutoff for 300,000 only to have Adam Aronson move all-in from the button for 1,895,000. Both blinds got out of the way, Failla stood from his seat, and announced a call.
Showdown

"I want you to think of the queen of hearts," Failla told the dealer.
"Don't listen to anything he says," Aronson joked. In this case, the dealer, or rather the cards, favored Aronson as the board ran out
. With that, Aronson chipped up to 4,070,000.
To Be Continued: Who'll be the next player to join the prestigious list of Legends of Poker winners and take home the $758,085 first-place prize? Part II is set to air on Sunday, Feb. 26, on FSN, so be sure to check your local listings. If by chance you miss it, check back next week for the latest recap of all the action right here on PokerNews.
Past Legend of Poker Champions
| Season | Player | Earnings |
| --- | --- | --- |
| 1 | Chris Karagulleyan | $258,000 |
| 2 | Mel Judah | $579,375 |
| 3 | Doyle Brunson | $1,198,290 |
| 4 | Alex Kahaner | $1,125,900 |
| 5 | Joe Pelton | $1,577,170 |
| 6 | Dan Harrington | $1,635365 |
| 7 | John Phan | $1,116,428 |
| 8 | Prahlad Friedman | $1,034,500 |
| 9 | Andy Frankenberger | $750,000 |
If you love poker, be sure to follow us on Twitter and like us on Facebook for all the latest updates on the World Poker Tour.
*Picture courtesy of World Poker Tour.