Black Friday Chronicles: Online Poker Decisions with Andrew Seidman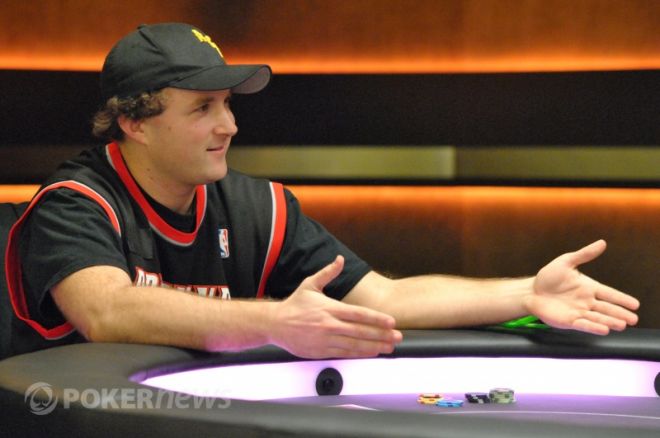 For a little over a year, poker players in the United States have been unable to play online at the world's largest poker sites. Black Friday instantaneously took away a favorite recreational activity to tens of thousands of players, while some even lost their livelihood. One such man was Andrew Seidman, better known as "BalugaWhale" online.
Seidman is the stereotypical online poker player and has a big presence in poker forums. Given that he made his name online, the poker masses may not be as familiar with him as some of the more visible players; nonetheless, he was impacted by Black Friday in a dramatic way.
For those unfamiliar with Seidman, let us fill you in. On March 26, 2011, he outlasted a field of 403 players and won Full Tilt Poker's $100,0000 Guarantee for $26,598. He also came in 42nd out of 45,232 in the MiniFTOPS Main Event on March 20, turning a $75 investment into $5,383. With that said, Seidman's primary income came primarily from online cash games, most notably at the $5/$10 stakes, where he finished as one of the year's biggest winners in 2008.
Seidman has also created two training video series for DeucesCracked: "The Coaching Tree" and "Coaching Kristy," the latter being with our own Kristy Arnett. Finally, he has written his own poker strategy book titled Easy Game, which we reviewed here on PokerNews.
We had the opportunity to catch up with Seidman, who was more than happy to talk about life after Black Friday.
What has life been like over the past year?
My life is night and day different than before Black Friday. Before Black Friday, I was traveling all over the world playing live poker tournaments while playing online on the road. Cash flow was never an issue, I could work from the convenience of my own home, and everything was smooth and easy like it had been since I became a pro in 2006.
After Black Friday, I wasn't sure what I was going to do. I had enough money to last about a year, maybe about a year and a half with my book, something like that without all the crazy expenditures. It was the first time since I became a high-stakes poker pro that I actually had to watch my budget, I had to pay attention to how much things cost, and the other thing that was much harder was determining if poker was really in my future. Online poker was my gateway and when that closed, it was not so clear as to what I wanted to do anymore.
Are you still wrestling with the decision whether or not to keep poker as a major factor in your life?
No decision has been made, but God knows my parents want me to make it. It's one that I'm pulled in very different directions. On the one hand, I really like poker and have a lot of experience in the game. The poker lifestyle is great. You get to play a fun game with your friends and if you think, well, you make money, it's a great proposition.
On the other hand, there's a little more to life than poker, and I try to remember that. Black Friday really shed a light on what I want to do. Where do I want to be when I'm a 40-year-old? Do I really want to be a 40-year-old poker player or do I want to be something else? The other thing is that post-Black Friday, it's not easy anymore to exist in the poker world the way it was before.
It makes it uncomfortable being involved in a world where the U.S. government is taking explicit action. One thing I'll never do for the rest of my life is to have a career in an industry that is considered to be in a legal grey area.
I hope that it gets legalized and we all get our money back from Full Tilt, all of those things. If it's anything that we've learned, it's that you just don't know. You don't know how things are going to work out. There's a much more uncomfortable feeling surrounding being an online poker player right now than there is being something else, anything else, it's probably more comfortable being a drug dealer than it is being an online poker player right now.
Do you have a lot of money trapped on Full Tilt Poker?
Yeah, I had actually moved a bunch of money over for FTOPS. Brilliant me, I moved all my Stars rollover to Full Tilt about a week before. The whole thing was just absurd. I played in the Bay 101 Shooting Star last year, and I had a wire transfer there delayed by FTP. It was like three weeks, and every time I tried talking to them, they said it'd be there in a few days. I was a little bit cash short waiting for this transfer, so I had my brother spot me $3,000 to buy into the tournament on the assumption this money was coming. All of a sudden, I was left in debt as obviously that transfer never arrived. I can only imagine other things people had riding on their Full Tilt money and what they had to deal with.
My brother is a pretty reasonable guy, but I can't imagine the hardships of people who had mortgage payments or sports-betting debts that couldn't pay because their money was gone. But yeah, I have a significant chunk that is currently in limbo on both Full Tilt and UltimateBet.
Did you move in order to continue playing online?
I actually did. I moved to Vancouver, Canada. I basically went there, got all set up with an address and Internet connection, and then I started traveling once I got my accounts opened. The truth is, I don't want to move to Canada, you know, I want to live where I just moved in San Francisco. I kept the residence in Canada in case I ever want to go back and play a bunch online. I did do the Canada thing for a number of months but it just sucks, I don't want to move to Canada, I want to be able to play here in the United States. That's why I'm trying to decide whether or not I want to be done with online poker and play live, which is more stable, or just be done with poker in general. These are things I would never have thought of before Black Friday.
What are your thoughts on the online situation in the United States? Do you feel it will become legalized?
I keep an eye on it every day, mostly because I'm trying to find out whether or not I'm going to get my money back. I think it's very likely to be legalized in some form relatively soon. Essentially, the government cleared out a billion-dollar industry from the United States, which is the world's largest poker market, and now there's just a huge power vacuum. It makes sense to me that a number of parties are interested, either the federal government, which I think is less likely, or a lot of states individually legalizing it and then sharing player pools, which I think is more likely to happen.
What's been the biggest surprise for you from the Black Friday saga?
There's obviously a lot of surprises. I think the biggest surprise, by far, would have to be the fact that FTP was a sham. These guys were the faces of the industry. They had television commercials, you knew all their names. When this whole Erick Lindgren thing came to light about him owing money and not being able to pay it off, I told my friends who plays poker and they were like, "Oh, not Lindgren too." These guys are famous.
The fact that these guys had the best software, were playing in big tournaments and cash games, it was unfathomable for me how they could not run it like PokerStars. Have players' money on the side, it's not like PokerStars is ever lacking in income. That was the big surprise.
The other big surprise for me personally was life without online poker. I haven't lived in a non-online poker world since I started playing poker in general, which was back in around 2005. It's been seven years since I didn't play online regularly. That's a big shock.
Stay up to date on all the latest news by following us on Twitter and liking us on Facebook.