PokerNews Book Review: Easy Game 3rd Edition by Andrew Seidman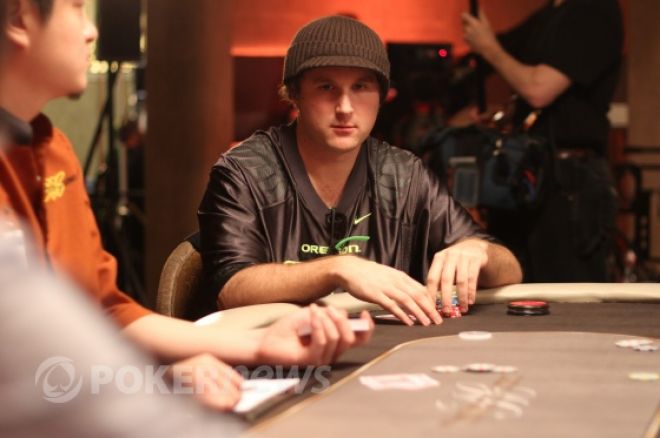 I'd like to preface my latest book review by recognizing that my previous reviews have been overwhelmingly positive. I'm happy the books I've read have proven worthwhile, but I eagerly look forward to reading my first lackluster book and writing a scalding review. I thought I may have found that book with Andrew Seidman's Easy Game 3rd Edition, but alas, I stumbled upon yet another great poker book.
Admittedly, I had not read either of Seidman's first two books before picking up the third edition, which was released on Oct. 24. The latest installment covers the same material as Volumes 1 and 2, with the exception of Matt Colletta's Heads-Up section and Steve Cesaro's Playing Against Short Stacks section.
"I wanted full ownership of the book, and I felt more comfortable publicly criticizing my own work than that of my friends," Seidman explained on TwoPlusTwo.
With Easy Game 3rd Edition, you get all of the information found in previous editions, plus some new material. As Seidman explains: "What I had thought was a comprehensive guide to all elements of poker now seems full of gaping holes . . . So, it is with this in mind that I have written more on a number of subjects previously covered, as well as adding new content not originally discussed . . . Additionally, I have added new chapters where they are appropriate (or where a simple comment at the end of a chapter would be insufficient). I don't want to remove content — even content that is outdated or incorrect — because above all else, I want to demonstrate the process of how I arrived at each new level of thought."
Before reading Seidman's book, I decided I wasn't going to like it. I thought no poker book could be worth $900, the price tag for the early editions of Easy Game, so I was ready to lambaste the latest edition. Seidman heeded player requests and lowered the price of the 3rd Edition to $69.99 for the paperback version, which was still a bit high compared to mass-market strategy books. That being the case, I felt there needed to be some high-quality material to justify the outlay.
It didn't take long for my cynicism to fall by the wayside. As a first-time reader of Seidman, I was hit with a heavy dose of poker theory and advanced concepts. It was a lot to take in, but much like a college textbook, once you understood the material, it was like having an "aha" moment. Not only does he lay out the theories that have come to characterize today's game, the same theories many pros have had trouble grasping, Seidman discusses how these concepts came to be, how they've changed in recent years, and how they're likely to change in the future.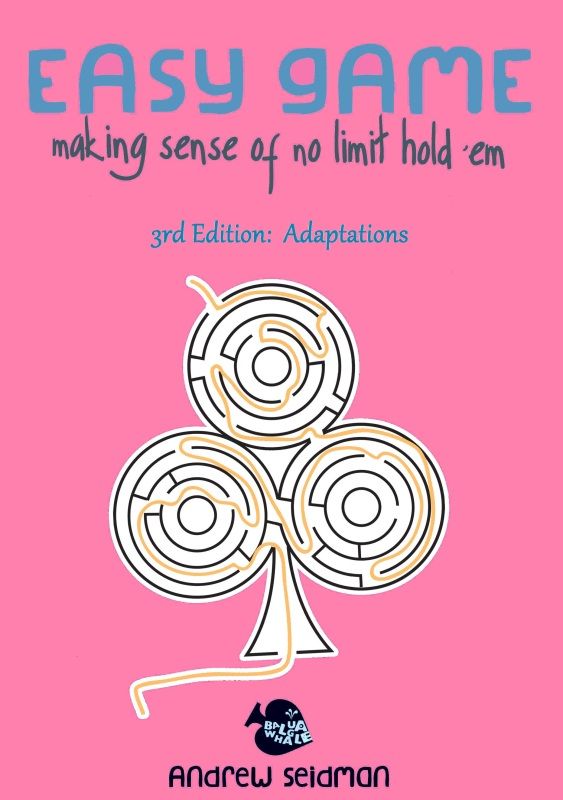 Here are just a few of the chapters you'll find in Easy Game 3rd Edition, which spans 216 pages and boasts 52 chapters:

Preflop Hand-Ranges and Postflop Equities
Nuts vs. Air Ratios
Equity Distributions
Advanced Street Projection and Two-Way Bets
Game Theory Optimal vs. Practically Optimal
The Diminishing Medium Value Category
I will admit that my game is stuck in the past and outdated (a hard truth to admit and accept). Like so many people, I miss the days in 2006 when I could sit down at a table, completely dominate it, and cash out several hundred dollars ahead. Unfortunately, the game has changed and become much tougher.
Players like Seidman have figured out the science of the game, and while poker will never be a game of complete information like chess, it is about as close to being solved as it can be. That being said, I didn't keep up with the game's evolution. I've been trying to bring myself up to speed, and feel Seidman's book did a great job of doing just that; in fact, I put this on par with Annie Duke and John Vorhaus' Decide to Play Great Poker as being the most influential strategy book I've read in recent years.
With Easy Game 3rd Edition, I feel much more comfortable understanding equity, game dynamics, and several advanced theories. Not only did I discover a lot of new material in this book, but reading it revealed that I have a lot left to learn. Poker is constantly evolving, and even though Seidman will bring you up to speed, he is quick to point out that you need to continue to learn and adapt to keep pace with an ever-changing game.
I wouldn't recommend Easy Game 3rd Edition to someone just learning the game. The book assumes the reader knows the rules and basic concepts of poker, so it's important to have those before trying to tackle the advanced concepts found in its pages. However, if an experienced poker player were to ask me what book they should read if they're looking to take their game to the next level, I wouldn't hesitate in recommending Seidman's text. I still don't think I'd ever pay $900 for a poker book, but I feel the material in this book (and how it improved my game) was worth every cent of the $69.99 price tag. Of course I say that as a first-time reader of Seidman.
Even though I did not read the first two editions of the book, it seems to me that there is enough new material to warrant buying the third edition. Moreover, the game has changed considerably since Seidman released his first book in 2009 (and the subsequent second edition in November of 2009), so the updates in the third edition are crucial for those hoping to survive today's poker shark tank.
I'm not a big fan of books releasing new editions to encourage people to buy a book considered "the latest and greatest" when, in fact, very little has changed (I was subjected to that with college textbooks each and every year). That is not the case here because Seidman has shown care in crafting an updated and worthwhile book.
The one major disadvantage Seidman faces with his book is name recognition, specifically a lack thereof. He is not nearly as popular as the aforementioned Annie Duke or Phil Gordon, so the average poker player may be weary of paying $69.99 for a book by a relative unknown.
I should note that Seidman is well-known in the poker community, playing online under the screen name "BalugaWhale" (he plays on Pokerstars under "Bwhale28"). He also has a very loyal following in the poker forums. Seidman, a consistent online grinder, most recently outlasted a field of 403 players and winning Full Tilt Poker's $100,0000 Guarantee on March 26 for $26,598; and also coming in 42nd out of 45,232 in the MiniFTOPS Main Event on March 20, turning a $75 investment into $5,383. However, Seidman's bread and butter comes from the online cash games — in 2008, he was one of the top winners in the $5/$10 games. To top things off, Seidman has created two training video series for DeucesCracked: "The Coaching Tree" and "Coaching Kristy," the latter being with PokerNews' very own Kristy Arnett.
*Click here to listen to Seidman discuss Easy Game 3rd Edition with Arnett.
Seidman's live results aren't anything to brag about either; in fact, a quick search on Hendon Mob turns up just two cashes: a fifth-place finish in the 2010 Aussie Millions A$5,000 Heads-Up Challenge for AUD$15,625 and a fourth-place finish in the 2011 PokerStars Caribbean Adventure $5,000 NAPT Bounty Shootout for $10,000. These facts will make it difficult for Seidman to reach the poker masses and gain a foothold in an already crowded market, but it is not insurmountable, especially considering the quality of the book.
On a final note, I am pleased to see Seidman actively participating in the promotion of his book, as well as his persistence in trying to improve it. He has started a thread in the TwoPlusTwo forums where he actively posts, listening to fan suggestions and answering questions, and taking steps to ensure that he has a quality product. This is refreshing in a time when many players simply pump out a book and hope it makes money. Like his poker game, Seidman is demonstrating commitment and taking the necessary steps to ensure success.
In addition to being available in paperback, Easy Game 3rd Edition is offered in eBook (PDF) for $59.99 and on Kindle for $79.99. To obtain your copy of the book, and to explore coaching and seminar opportunities, visit balugawhale.com.
Get all the latest PokerNews updates on your social media outlets. Follow us on Twitter and like us on Facebook today!