PokerNews Book Review: Phil Gordon's Little Gold Book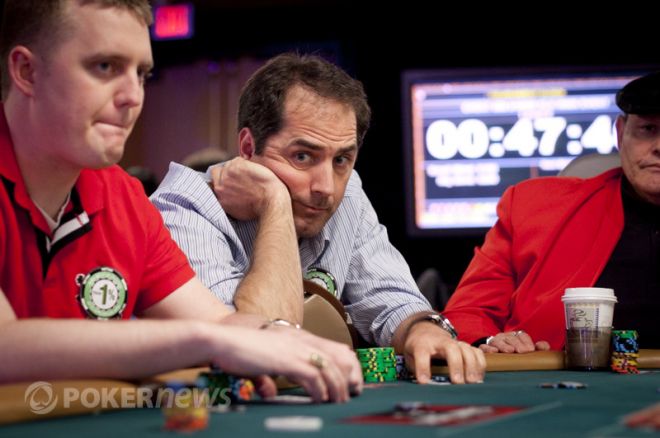 When my editor asked if I'd be interested in reviewing an advanced copy of Phil Gordon's new book, Phil Gordon's Little Gold Book (PGLGB), I couldn't resist. Six years after his Little Green Book was published, I was anxious to see if Gordon had kept up with the evolution of the game. "I'm ancient in the poker world," Gordon admits in the book, "The kids are now dominating."
Indeed, Gordon is a relic when it comes to the poker world. Although he has results dating to 2000, Gordon burst onto the poker scene shortly after the poker boom by winning the World Poker Tour 2004 Bay 101 Shooting Stars for $360,000. Since then, he has served as a commentator for 42 episodes on the now defunct Celebrity Poker Showdown, wrote numerous books, and racked up over $3 million in tournament winning. Nevertheless, Gordon has fallen out of the poker spotlight in recent years.
He has 11 cashes since 2009, the most notable being a first-place finish in the Ante Up for Africa Charity Event at the 2010 World Series of Poker. Admirably, he donated the entire $129,086 first-place prize to the charity. Regardless, Gordon still catches a lot of flak from poker fans, many of whom question his relevance in the game, and most recently whether or not he deserved a spot in this year's NBC National Heads-Up Championship.
As far a playing poker was concerned, I thought Gordon's best days were behind him, considering his preference for spending time with his family in Newport, Washington, pursuing various business opportunities, and dedicating a large part of his time to charity, most notably PreventCancer.org and Bad Beat on Cancer.* To be completely honest, I wasn't expecting much out of PGLGB.
*10 percent of Phil Gordon's share of his new book is donated to PreventCancer.org and Bad Beat on Cancer.
As it turned out, I learned quite a bit from the book and found it very useful, although I still had some reservations. First, I was impressed with the quality of the material. Gordon's goal was to describe poker in today's world, which he termed "Poker 2.0." This "new" game was characterized by "very high aggression, off-the-charts variance, and relentless pressure." Since the poker boom, which happened eight years ago, there is no doubt the game has transformed. Players who used to find success failed to keep up with the evolution of the game and were consequently left behind. It was refreshing to see Gordon admit that he was one such player and show his willingness to seek out and learn what was missing from his game.
To get to that level, Gordon set about exploring post-flop play, the underlying math, range combinatorics, expected value (EV), and all the intricacies of pot-limit Omaha. There is a lot of challenging material in PGLGB, but most of it is what sets the premiere players apart from the masses. This point was driven home toward the end of the book when Gordon sat down with three young superstars of the game: Phil Galfond, Annette Obrestad, and Daniel Cates. Not only was he able to get their thoughts on various games and concepts, he was able to get them to elaborate by describing various scenarios in detail and get their reactions. Without a doubt, this was one of the most informative and satisfying parts of the book.
I also enjoyed the little tidbits I discovered throughout the book. For example, in one section Gordon talks about his "Ace-X Rule," which was the result of combined probability and combinatorics in regards to moving all-in with a weak ace: "Count the number of players left to act behind you. If your kicker is greater than the number of players remaining, you are a favorite to have the best hand or be at worst a coin flip against an underpair." I found these little Gordonisms helpful, thought provoking, and easy to remember.
As previously stated, there is some challenging material in this book. The relentless mathematical breakdowns can be daunting and may be a turnoff to some readers, but understanding the formulas and concepts laid out in PGLGB are crucial if you want to stay on par with poker's top professionals.
Gordon does his best to present the material in a simple and approachable manner, but there is little doubt this book is geared toward an experienced poker player. In other words, I wouldn't recommend this book to someone who is just learning the game, but would to an experienced player with a basic understanding of poker. Put another way, this is one of the texts you'll want to study if you're looking for your doctorate in poker.
Here is a brief overview of the sort of things covered in PGLGB:
Examines the foundations of Poker 2.0
Introduces readers to heads-up displays
Re-examines no-limit hold'em
Looks at pot-limit Omaha
Speaks with three poker "whiz kids:" Phil Galfond, Annette Obrestad, and Daniel Cates)
Let me be clear, PGLGB contains quality material that I found improved my game. Unfortunately, I think there are a few things that are going to hurt this book, most notably its timing. It is apparent this book was written pre-Black Friday, considering that Gordon talks about various online tools like heads-up displays (HUDs) and range simulators. While these tools are obviously crucial to online poker success, they're not exactly applicable at this time, at least in the United States. Even so, this isn't detrimental to the book in and of itself.
What may prove detrimental to the book is Gordon's close association with Full Tilt Poker, which is occasionally mentioned in the book, and a section devoted to Chris "Jesus" Ferguson's Bankroll Challenge. If ever there was a time for a late edit, this was it. Unfortunately, it appears the book was already at the press by the time details surrounding Black Friday came to light, including Ferguson's indictment.
Additionally, Gordon has remained silent regarding Full Tilt Poker, as have many pros. Consequently, some poker fans have turned against these "Red Pros" and question their credibility. Gordon is not immune, and it'd probably help book sales if he was more forthcoming in regard to FTP. Given today's poker landscape, there are some politics involved with this book, which could ultimately have some unintended consequences.
Minus a few sections, namely those affected by Black Friday, PGLGB is one of the best advanced poker books on the market, at least as it applies to poker today. While a lot of poker strategy books repeat the same information, much of which proves useless to an experienced player, PGLGB offers some challenging material and concepts. The game is constantly changing, which will eventually render this book obsolete (a fact Gordon readily admits), but PGLGB does the job it intends — bringing you up to speed on the game's current evolutionary state.
Phil Gordon's Little Gold Book, which is also available electronically, hit the shelves on Tuesday, Oct. 11, 2011. To get your copy, visit Amazon.com today.
Have you read Phil Gordon's Little Gold Book? If so, give us your thoughts in the comments section below. In the meantime, be sure to follow us on Twitter and like us on Facebook.