U.S. Attorney Claims Full Till Poker a Ponzi Scheme; Lederer, Ferguson, & Furst Accused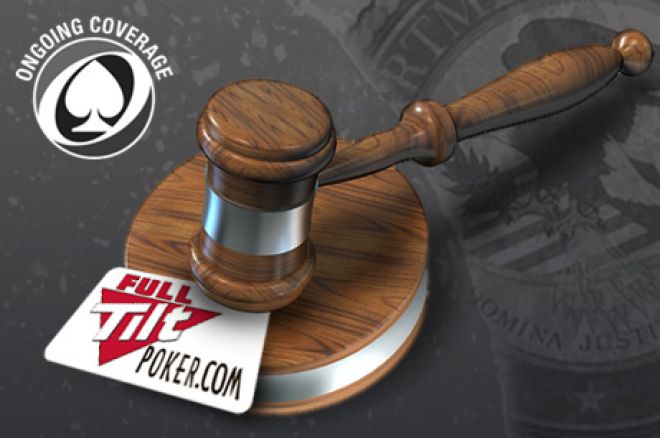 The poker world was no doubt anxious to hear news about Full Tilt Poker and the Alderney Gaming Control Commission (AGCC) hearing that began again Monday at the Riverbank Park Plaza Hotel in London, but it was shocking news from the Manhattan U.S. Attorney's Office that set the poker world ablaze. U.S. Attorney Preet Bharara announced on Tuesday that prosecutors were amending their original complaint, unsealed on Black Friday, as part of a money-laundering complaint against some of FTP's biggest names.
The amendment alleges that Full Tilt Poker and board members, including CEO Ray Bitar, Howard Lederer, Chris "Jesus" Ferguson and Rafe Furst defrauded players in what Bharara claimed was nothing but a Ponzi scheme: "Full Tilt was not a legitimate poker company, but a global Ponzi scheme. Full Tilt insiders lined their own pockets with funds picked from the pockets of their most loyal customers while blithely lying to both players and the public alike about the safety and security of the money deposited."
According to the complaint, "At all times relevant to the Amended Complaint, Bitar, Lederer, Ferguson, and Furst were among the founders of Full Tilt Poker, as well as part-owners of Tiltware, LLC, a California Limited Liability Company that was the beneficial owner of all other Full Tilt Poker entities."
"In total, approximately 23 individuals owned shares in Full Tilt Poker. The FTP Insider Defendants specifically owned the following approximate percentages of Tiltware LLC: Bitar (7.8%), Lederer (8.6%), Ferguson (19.2%), and Furst (2.6%). The FTP Insider Defendants were also, at all relevant times, members of the Board of Directors of Tiltware LLC, and Ferguson was Chairman of the Board of Directors."
The amended complaint, goes on to lay out details, including assertion that as of March 21, 2011, FTP owed approximately $390 million to players around the world, with $150 million owed to U.S. players. FTP only had $60 million on deposit in its bank accounts, however, meaning over $300 million is owed to players worldwide.
This was the result of FTP's payment processing channels becoming so disrupted that "the company faced increasing difficulty attempting to collect funds from players in the United States. Rather than disclose this fact, Full Tilt Poker simply credited players' online gambling accounts with money that had never actually been collected from the players' bank accounts. Full Tilt Poker allowed players to gamble with — and lose to other players — this phantom money that Full Tilt Poker never actually collected or possessed."
Not only that, but the complaint alleges that between April 2007 and April 2011, Bitar, Lederer, Ferguson and Furst lined their own pockets with approximately $443,860,529.89 of players' money.
A press release regarding the amended complaint claimed: "Bitar received approximately $41 million, Lederer received approximately $42 million, and Furst received approximately $11.7 million. Ferguson was allocated approximately $87,486,182.87 in distributions, and received at least $25 million, with the remaining balance characterized as "owed" to him. Much of the money that was distributed was transferred by the board members and owners to accounts in Switzerland and other overseas locations."
If amended, Ferguson, Lederer, and Furst would be added to the civil complaint, which does not suggest that they would be wanted men. A source with intimate knowledge of the complaint explained that while a criminal complaint could result in arrests, a civil complaint would result in the parities being sued. If a warrant were to be issued, it would be "in rem," which refers to a legal action directed toward property. In other words, the property of the men would be at risk; more specifically, five bank accounts associated with these men that were discovered by the DOJ in addition to those listed in the original complaint.
Updated 9/20 12:00 PDT: Full Tilt Poker is also accused of misleading players, with the complaint referencing specific examples, such as emails and even posts made in popular poker forums. In particular, on page 68 of the complaint, the DOJ points out a post on TwoPlusTwo by Full Tilt spokesman "FTPDoug," who explained to players on July 19, 2008:
"Trusts are legal vehicles whereby funds are deposited into a trust account under the control of a trustee who manages the funds in accordance with the instructions of the trust settlor (you). Given the thousands of deposit and withdrawal transactions Full Tilt has to process each day, the variety of methods used to deposit funds, and the delays in actually receiving funds which are deposited by credit card or check, a trust is simply not practical for our purposes."
"Players' funds at Full Tilt Poker are kept in several deposit accounts throughout the world, all of which are separate and distinct from our operating accounts. Funds are transferred from the players' deposit accounts to Full Tilt Poker's operating accounts only after we have earned them. This is not done each time we earn rake or even daily, but as our earnings accumulate, we make periodic transfers of those earnings from the deposit accounts to our operating accounts."
Updated 9/20 1:30 PDT: Poker Players Alliance Executive Director John Pappas released the following statement: "This is a sad and disappointing day for American poker players. If true, these allegations detail a massive betrayal of player trust which will cause financial hardship for thousands, if not millions, of individual poker players, none of whom are accused of doing anything wrong. We call on the Department of Justice to certify that the proceeds of any settlement or seizure that may result from this action will first be dedicated to reimbursing players. We further call on Full Tilt Poker, its management, directors and owners to take all available steps to ensure the prompt payment of players as their first priority."
Updated 9/20 2:20 PDT: PokerNews contacted the Epic Poker League for a statement regarding the recent developments: "Epic Poker League is aware of the action taken today by the Department of Justice to amend the civil complaint to name and seek assets of certain individuals. This matter has already been referred to the League's Standards & Conduct Committee."
This is a breaking story and PokerNews will be here to bring you any and all updates as they happen.
In the meantime, don't forget to follow us on Twitter and like us on Facebook.
Executive Editor US, PokerNews Podcast co-host & 2013 WSOP Bracelet Winner.