Black Friday: Online Poker's Big Three Indicted

Elaine Chaivarlis

Matthew Kredell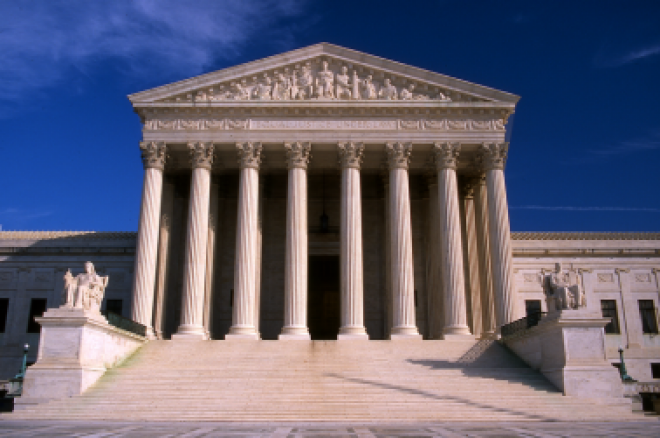 On Friday, an indictment against the founders of online poker's "big three" was unsealed by federal authorities. According to MarketWatch.com, the founders of PokerStars, Full Tilt Poker, and Absolute Poker were indicted on charges of bank fraud, money laundering, and illegal gambling. There were also restraining orders issued against over 75 bank accounts used by the online poker companies and their payment processors, as well as five Internet domain names.
The U.S. Department of Justice released a press release on the indictment, and in it, 11 defendants are named: Isai Scheinberg, Raymond Bitar, Scott Tom, Brent Beckley, Nelson Burtnick, Paul Tate, Ryan Lang, Bradley Franzen, Ira Rubin, Chad Elie, and John Campos. Scheinberg and Tate are identified in the indictment as representing PokerStars, Bitar and Burtnick of representing Full Tilt Poker and Tom and Beckley of representing Absolute Poker. Lang, Rubin, Franzen and Elie are identified as people who allegedly ran payment processors.
The charges are based on the Illegal Gambling Business Act of 1955 and the Unlawful Internet Gambling Enforcement Act of 2006. These are the same charges previously brought against payment processors used by the sites that have been shut down.
The allegations center around poker companies allegedly using fraudulent methods to circumvent federal law and trick U.S. banks into processing payments after the passage of UIGEA.
In the press release, Manhattan U.S. Attorney Preet Bharara said, "As charged, these defendants concocted an elaborate criminal fraud scheme, alternately tricking some U.S. banks and effectively bribing others to assure the continued flow of billions in illegal gambling profits. Moreover, as we allege, in their zeal to circumvent the gambling laws, the defendants also engaged in massive money laundering and bank fraud. Foreign firms that choose to operate in the United States are not free to flout the laws they don't like simply because they can't bear to be parted from their profits."
FBI Assistant Director-in-Charge Janice K. Fedarcyk said, "These defendants, knowing full well that their business with U.S. customers and U.S. banks was illegal, tried to stack the deck. They lied to banks about the true nature of their business. Then, some of the defendants found banks willing to flout the law for a fee. The defendants bet the house that they could continue their scheme, and they lost."
At least $3 billion in civil money-laundering penalties from both the poker companies and defendants is being sought. According to the indictment, Campos and Elie were arrested Friday morning in Utah and Las Vegas, Nevada, respectively. Franzen is expected to appear in court for his arraignment on April 19, 2011. Those who are not in the U.S. — Scheinberg, Bitar, Burtnick, Tate, Tom, Beckley, Rubin, and Lang — have not been arrested, but the U.S. Attorney's Office in the Southern District of New York is working with foreign law enforcement agencies and Interpol to arrest the defendants.
Read the indictment. Thanks to Pokerati.
11:55 a.m. PDT: PokerNews has attempted to contact all three online poker sites, and thus far, only UB/AP has replied and has no comment at this time.
12:26 p.m. PDT: PokerStars has blocked U.S. players from real money games.
1:00 p.m. PDT: If there is any bright side to this black Friday, it could be that this DOJ affront makes it clear to Congressional leaders like Senate Majority Leader Harry Reid that federal legislation to officially legalize online poker must move quickly.
"At Safe and Secure Initiative, we've always fought to give every American the right to gamble online," said Michael Waxman, executive director of the industry trade association Safe and Secure Internet Gambling Initiative. "Since the government is seeking to crack down on the freedom of the internet, we need Congress to act more than ever now to legalize and regulate the activity. This is a major development that will bring more attention to this issue. I hope it encourages Congress to move more quickly, especially as concerned Americans look for answers and a solution."
It could also spark online poker players, with their livelihood attacked, to band together more than ever before and make their voices heard.
"Clearly there are millions of Americans who enjoy gambling online," Waxman said. "If the opportunity to engage in the activity is taken away, they should focus their attention on encouraging their elected representatives to act on this issue and regulate online gambling."
1:25 p.m. PDT: "On behalf of the millions of poker players across the country, we are shocked at the action taken by the U.S. Department of Justice today against online poker companies and will continue to fight for Americans' right to participate in the game they enjoy," said former Senator Alfonse D'Amato, chairman of the Poker Players Alliance. "Online poker is not a crime and should not be treated as such. We are currently gathering all of the information around today's announcement and will offer detailed analysis when the full facts become available."
1:57 p.m. PDT: PokerNews has contacted Bodog for a comment on the recent events, and according to a Bodog representative it is "business as usual at Bodog for U.S. customers."
2:00 p.m. PDT: The Courier-Mail newspaper in Australia is reporting that it is believed that Daniel Tzvetkoff is assisting federal lawyers in the Southern District of New York, the branch of the DOJ behind today's affront. Tzvetkoff was arrested April 16 of last year in Las Vegas and charged with the same counts the site owners are being charged with today for allegedly processing $523 million in Internet gambling earnings through his payment processing company Intabill. Though he was originally denied bail as a flight risk, the Courier-Mail reports he was released on bail in August after cooperating with federal authorities, and is living in a secret location in New York City. The arrests today of the people who allegedly ran payment processors could be a move to get more people knowledgeable of the business transactions of the Internet poker sites to co-operate against the sites.
2:40 p.m. PDT: The 11 defendants listed above are each being charged with four counts — violation of the Unlawful Internet Gambling Enforcement Act, operation of an illegal gambling business, conspiracy to commit bank and wire fraud and money laundering conspiracy. These charges can carry hefty penalties. The maximum penalty for violation of the UIGEA and operating a gambling business is 5 years in prison and a fine of $250,000 or twice the gross gain or loss for each charge, for conspiracy to commit wire fraud is 30 years in prison and a fine of $1 million or twice the gross gain or loss, and for money laundering conspiracy is 20 years in prison and a fine of $500,000 or twice the amount laundered.
5:30 p.m. PDT: According to a tweet from Alexandra Berzon, a reporter for the Wall Street Journal: "Fertitta spokeswoman said the partnership with Full Tilt - announced late March - had 'expired.'"
Also Associated Press reporter Oskar Garcia tweeted: "Wynn pulls out of alliance with PokerStars, while Fertitta's says theirs was contingent on Full Tilt getting a gambling license."
6:52 p.m. PDT:: Full Tilt Poker has shut down real money gaming in the U.S. stating, "Unfortunately, as a result of this action, Full Tilt Poker has decided that it must suspend "real money" play in the United States until this case is resolved. However, Full Tilt Poker will continue to provide peer-to-peer online poker services outside of the United States."
The release from Full Tilt also said "Mr. Bitar and Full Tilt Poker believe online poker is legal – a position also taken by some of the best legal minds in the United States. Full Tilt Poker is, and has always been committed to preserving the integrity of the game and abiding by the law."
Ray Bitar, who was listed on the indictment added "I am surprised and disappointed by the government's decision to bring these charges. I look forward to Mr. Burtnick's and my exoneration."
9:52 p.m. PDT:: PokerStars' first statement has come via a notice that pops up on their poker client. The core message, is that player balances are safe.
"As you may have heard, we have had to suspend real money poker services to people based in the US due to legal developments there. The developments are confined to the US and do not have any impact on your ability to continue using our services. Please be assured player balances are safe. There is no cause for concern. For all customers outside the US it is business as usual."
"The PokerStars website has been moved to www.pokerstars.eu and our support email address is now support@pokerstars.eu. We apologise to our players for any inconvenience caused by this disruption. Please be aware that we are currently experiencing a very high volume of emails, so response times are delayed. We will answer player emails as soon as possible. Thank you for your patience and understanding in this matter."
April 16, 2011 9:00 a.m. PDT: We've contacted Moneybookers for a statement regarding the Friday's indictment, and we've been told that, "Moneybookers is not part of this investigation and have not been approached by any authority. As a general principal we never process transactions for online gambling purposes including poker for US citizens."
April 16, 2011 10:40 a.m. PDT: PokerNews has just received confirmation from a spokesperson at Full Tilt Poker that in light of recent events, the Onyx Cup poker series has been cancelled.
April 16, 2011 11:10 a.m. PDT: As of now, the ESPN's poker page has removed all PokerStars advertising.
April 16, 2011 2:50 p.m. PDT: John Pappas, Executive Director of the Poker Players Alliance, recently released the following statement.
"Millions of Americans across the country today are outraged over the U.S. Department of Justice's clear attack on Internet poker. While the government's focus may be on the companies who operate these games, this is plain and simple a declaration of war on poker players and poker players' freedoms. Not only are the over 10 million online poker players left without a place to play the game they enjoy, and from which many earn their livelihood, but they also have concerns over the availability of their funds. The PPA believes that no players' money should be jeopardized by this prosecution.
"Let me be clear, online poker is not a crime and the honest poker players across the country will not stand to be restricted from one of America's greatest pastimes. On behalf of over one million members, the PPA is working hard to protect the interests of our players and is committed to U.S. citizens' right to play online poker."
April 16, 2011 5:00 p.m. PDT: At 2:02 p.m. PDT, the Las Vegas Sun reported that former U.S. attorney Greg Brower has called for both state and federal probes of PokerStars political activities. Here's what Brower had to say.
"In light of the recently announced federal indictment of several PokerStars principals, as well as the revelation of PokerStars-sponsored foreign trips by Nevada Legislators, and news of nearly $300,000 in political contributions by PokerStars to Nevada legislators who are currently considered proposed legislation introduced on PokerStars' behalf, I am calling for federal and state investigations into PokerStars' political activities in Nevada. The fact that a foreign company which has been charged with operating a criminal enterprise could play such a large role in Nevada campaigns is troubling. Federal law clearly prohibits foreign contributions to federal, state, and local campaigns. Nevada law is not so clear, but should be. I am reviewing this issue with legislative counsel and plan to introduce legislation, if necessary, to ensure that any loopholes in our state law are closed immediately. In addition, I will be discussing this matter with both the U.S. Department of Justice and the Nevada enforcement authorities to determine whether federal and state investigations into PokerStars' activities in Nevada are warranted. Nevada's gaming industry and regulatory regime are the very best in the world, and it is critical that we take swift action to ensure that we maintain the unquestioned integrity of both."
April 18, 2011 10:10 a.m. PDT: According to Bloomberg.com, defendant Bradley Franzen surrendered to the FBI Monday morning in New York. He pleaded "not guilty" in front of the U.S. Magistrate Judge Frank Maas on Monday and was released on $200,000 bond that was secured by his parents' home and their signatures.
April 18, 2011 11:00 a.m. PDT: CNBC's Darren Rovell tweeted a statement from ESPN: "We are making efforts to remove related advertising & programming pending further review." Also, according to an article from USA Today, the NAPT on ESPN presented by PokerStars.net will not air Monday night as previously planned.
April 18, 2011 11:05 a.m. PDT: PokerNews has confirmed with a World Series of Poker spokesperson that the 2011 World Series of Poker will air on ESPN and the 2010-2011 WSOP Circuit will be aired on Versus.
April 18, 2011 2:30 p.m. PDT: PokerNews has confirmed via a source close to the shows that both the PokerStars.net Million Dollar Challenge and PokerStars.net Big Game have been cancelled.
April 18, 2011 3:20 p.m. PDT: In an interview to the TheHill.com regarding Friday's indictments, Barney Frank said, "Go after the people responsible for empty houses, not full houses. I'm not saying violate the law, but to give this priority in law enforcement over some other things I think is a terrible idea and I think the administration is wrong on this."
April 18, 2011 4:45 p.m. PDT: According to an article from the Las Vegas Review Journal, the members of a PokerStars funded Committee for Political Action in Nevada that received campaign contributions from PokerStars last year, totaling close to $300,000, will return the money.
"As soon as we realized that there was a question, that this wasn't a U.S. owned company and was a foreign owned company we returned the money," Assembly speaker John Oceguera said. Oceguera was given $10,000 by the PokerStars PAC.
As more information becomes clear, PokerNews will be there to bring it to you, so keep it locked on PokerNews.com and follow us on Twitter for up-to-the-minute news.