Is Poker legal in Nevada (
nv

)? Online Poker Laws in Nevada Explained



Nevada
Online Poker is allowed
Online Poker is legal since April 1, 2013
Sports Betting is allowed
In Las Vegas for the World Series of Poker? Vacationing with the family in Mesquite? On the Las Vegas Strip for a friend's bachelor party?
If you are an avid poker player and have found yourself doing any of these things, chances are you've found yourself wondering if Nevada online poker is legal.
Here at PokerNews, we know that many of our readers (and staff members) want to know how to play online poker in Nevada, and if they can play online poker legally when they're in Las Vegas for the World Series of Poker.
The answer is yes, you can! And, in this article, we're going to tell you how.
Legal online poker sites are not always easy to distinguish from their illegal counterparts. It's important to stay vigilant when gambling online to ensure a safe and enjoyable gaming experience on 100% reputable sites.
At PokerNews, keeping our poker fans safe is always our number one priority. It's why we've spent countless hours compiling the ultimate guide on Nevada online poker for you.
Keep reading to learn everything about important topics such as:
In short, if you need to know where you should be playing poker online in Nevada and where your money is safe and secure, PokerNews is there to help you on your way.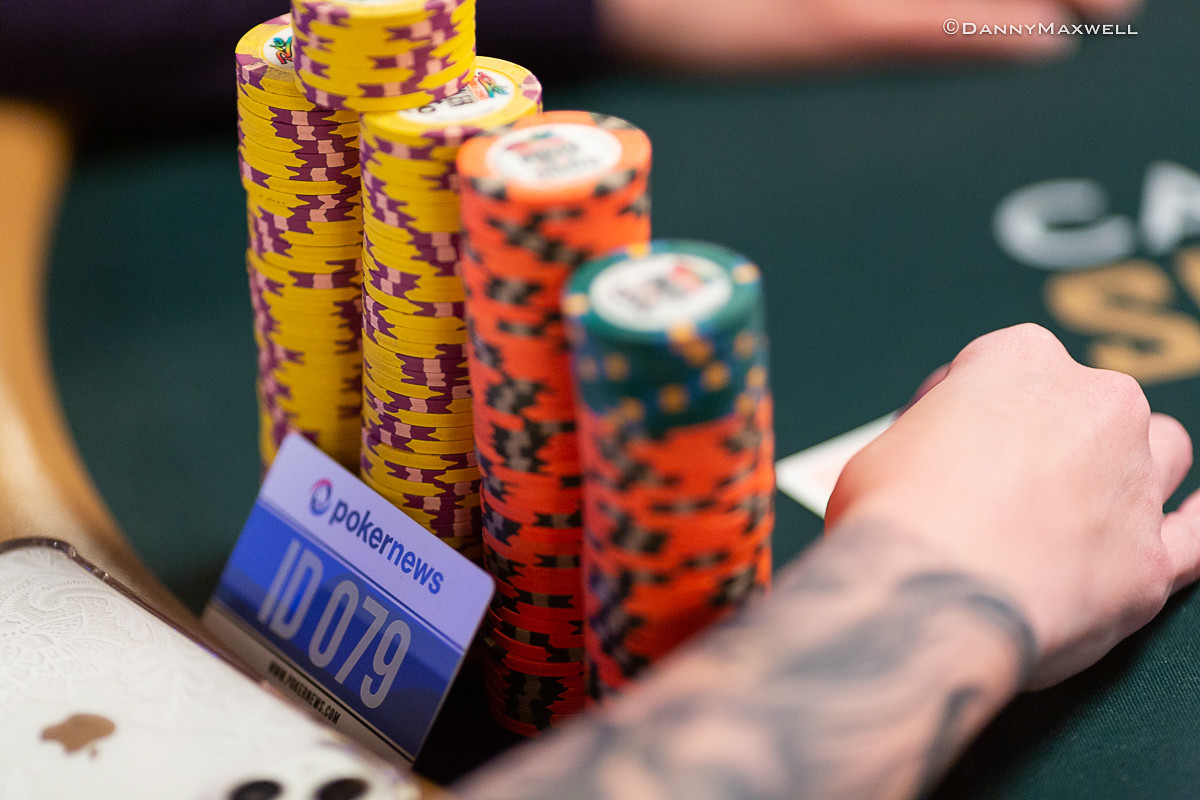 ---
Regulated Online Poker in Nevada
Nevada is one of the few states in the US that allows for legal, regulated online poker. This means that the state has set forth some rules regarding who can and cannot play online poker, as well as how it will be controlled and monitored (more on this below).
Given the fact that playing real money online poker games over an internet connection are not exactly straightforward, you may be wondering what makes Nevada's approach different.
The answer can be found in the fact that Nevada's laws surrounding online gaming are some of the most stringent in the country, focused on keeping things safe and secure for both players (i.e., they must be 21 years old to play) and ensuring that proper safeguards are in place to protect everyone involved.
Regulations were also put in place to limit access to minors, and make sure that no one is able to use the state's laws for their own personal gain.
Now onto the nitty-gritty details of how you can play online poker in Nevada!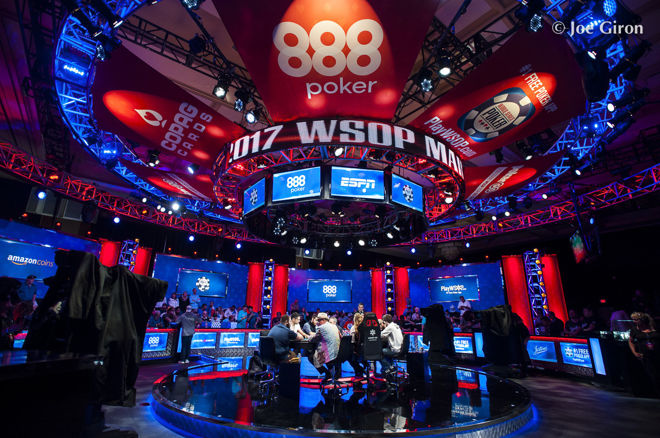 ---
The Best Online Poker Rooms in Las Vegas
There are a number of legal online poker options in Las Vegas, with most of the action taking place at Nevada's regulated online poker sites.
Those sites offer a wide variety of games, stakes, and tournaments around the clock, seven days a week.
The following are some of the top online poker sites in Nevada, starting with our highest-rated option: WSOP.com.
WSOP.com
WSOP.com, which boasts the title of "America's largest online legal poker room," is the only current legal online poker site for players in Las Vegas and the state of Nevada!
Poker players looking for the best legal online poker sites to play on in Las Vegas, therefore, need to look no further: WSOP.com is where you can find regulated online poker and real money play to scratch your poker itch and offers the ultimate online poker experience in the State.
The online poker platform allows players to compete against a player pool filled with users in Nevada, New Jersey, and Delaware, and offers real money cash games and tournaments at various stakes and in various formats.
Like other legal poker sites across the world, WSOP.com Nevada online poker sites are regulated and safe (in Nevada's case, by the Nevada Gaming Commission), offering you a safe and trusted gaming experience.
Play Safe Online Poker on WSOP.com
World Series of Poker Online Events
Did you know you can compete in online bracelet events for a chance at poker's biggest price: a coveted World Series of Poker bracelet
If you've ever thought about competing in these online bracelet tournaments or online circuit events and play for poker's ultimate prize in online poker tournaments, WSOP.com is the only one of the Nevada poker sites offering you the chance to do so.
The World Series of Poker (WSOP) is the most famous poker brand in the world, outshining the likes of the World Poker Tour (WPT) and European Poker Tour (EPT) as the place where poker's best of the best test their strengths.
Simply put, for Nevada online poker, it's WSOP.com where it's at. Either start at the small stakes, or jump straight into the action to play that first online bracelet event. Perhaps you'll be poker's next world champion?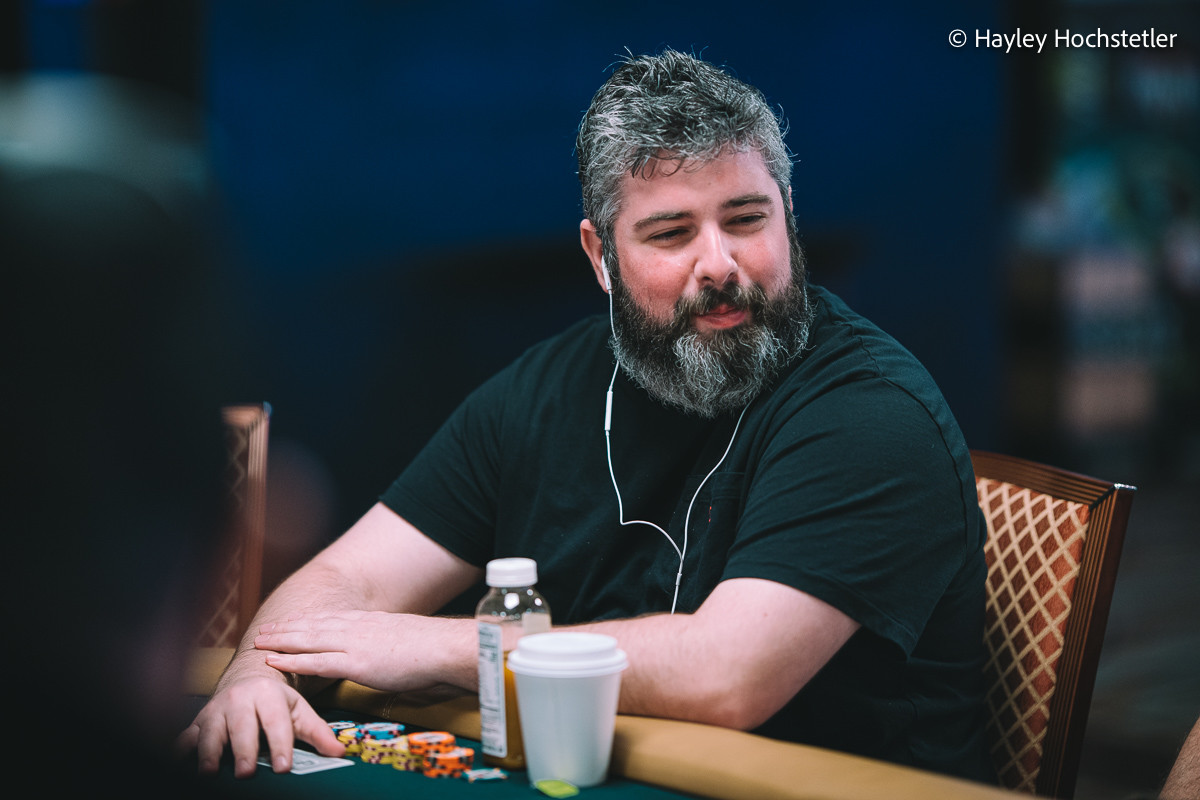 Despite the Nevada online poker market being limited with only a handful of online casinos and one active poker room to play online, WSOP.com should still be among your favorite poker rooms to play simply for being affiliated with the world's most-popular poker brand, security, and trustworthiness, as well as offering the best poker games to play. Joining WSOP NV is not hard to do.
To play on WSOP.com in Nevada, poker players must be physically located in the state and "meet all geo-location requirements". However, poker players may access their accounts or add funds from outside of Nevada.
WSOP.com operates on user-friendly software developed and used by 888Poker and is available on both PC and Mac as well as other iOS and android devices. It should come as no surprise that it's widely considered the ultimate poker room in Nevada and boasts the best poker software among online casino games in the state.
The site offers a wide variety of poker variants, including Texas Hold'em, Omaha, and 7-Card Stud, as well as Sit & Go's and multi-table tournaments. The buy-ins for tournaments on WSOP.com vary from just $1 up to $25,000 with guaranteed prize pools which are often surpassed.
WSOP.com is easily accessible through its homepage, Mac and PC users can download the client in just a few simple steps.
Real Gaming Online Poker
Real Gaming Online Poker, which is an online poker site owned by South Point Hotel, Casino & Spa in Las Vegas (one of the many Nevada casinos), launched in 2014 after re-branding from the free-play site SouthPointPoker.com.
PokerNews reported in 2014 that the site had a unique operation model for an online poker room, which allowed players to play directly from a browser rather than downloading software.
Even though it's a licensed place to play online poker and one of the only two legal online poker sites in Nevada, the site appears to be inactive, leaving WSOP.com as the single option among Nevada online poker rooms as of now.
Meanwhile, the Nevada Gaming Commission remains vigilant in ensuring that only regulated and licensed sites are able to offer games to players in the state. Players can rest assured that their money is safe when playing at WSOP.com NV, as this site is one of the most reputable in the industry.
---
Getting Started on WSOP.com
Downloading Software and Creating Account
Joining WSOP NV is easy-peazy. The first step to get playing on WSOP.com is to download the software onto your computer. Players 21 years and older and physically located in Nevada can visit WSOP.com and download the real money poker apps, whether for PC or Mac devices. Just pick your favorite poker app to play from.
In order to set up an account, players must provide their first and last name, date of birth, gender and email. They also must answer a security question, such as mother's maiden name, favorite sports team or city of birth.
Additionally, players must choose a username and a password, the latter of which must be 6-12 characters with no spaces or commas. Vulgar or profane usernames are not permitted and usernames cannot be changed once they are selected.
After making an account, players have the option of entering contact information with a valid postal address. WSOP's privacy policy is available for review here.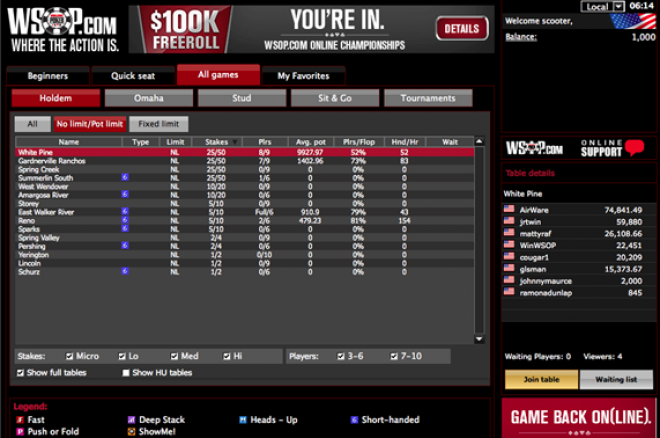 WSOP.com Mobile App
The WSOP.com mobile app is available on Android operated devices, iPhone and iPad.
You can enjoy WSOP.com on your Android, iPhone or iPad so long as you have a WiFi of mobile internet signal. The mobile app allows you to play cash games, sit and go tournaments and multi-table tournaments while you're on the move.
WSOP.com fast-fold poker SNAP Poker is also available on the mobile app, as is a full suite of casino games.
Some of the WSOP.com mobile app features include:
A large player pool of opponents
A selection of fun and exciting avatars to choose from
A "Quick-click" lobby that makes it simple to be seated at your favorite games
Getting Into The Action
Once you download the poker client and sign in to your account, choose "Cash Games" from within your app as the main menu choice. There are cash games available around the clock at a variety of stakes, which you can see by selecting "Stakes" on the Cash Games lobby.
Texas Hold'em and Omaha Poker are the two most popular variants offered in cash games. In order to join a game, click on any table that has an open seat and then select the number of seats you want to buy-in for. The table will populate with the required number of seats, as well as the average amount of the pot.
You can also observe a game before joining it by clicking on "Watch" and then selecting the table you want to watch. This is a great way to learn about the nuances of a particular table before committing any money to it.
Once you feel comfortable with the game, just click on "Sit" and you're ready to play.
7 Tips to Take Your Poker Game From "Meh" to Amazing
Check out this helpful article with top tips on how to improve your poker play!
WSOP.com Rake Tiers & Guarantees
You can find relevant information about game types, stakes, and guarantees by clicking the "Game Details" button for any cash game listed in the Cash Games lobby or by clicking the "Game Type" button when watching a game.
You'll be brought to an overview table that lists the relevant information about each game you've selected. Below is an example of what you might see for $1/$2 No-Limit Texas Hold'em:
While this will give you an idea of what games are available at WSOP.com, it won't tell you how much is raked from each hand or what the site's guaranteed weekly tournaments are. To find this information, just click on either "Rake Structure" (time and date of the raked hands) or "Tournament Details."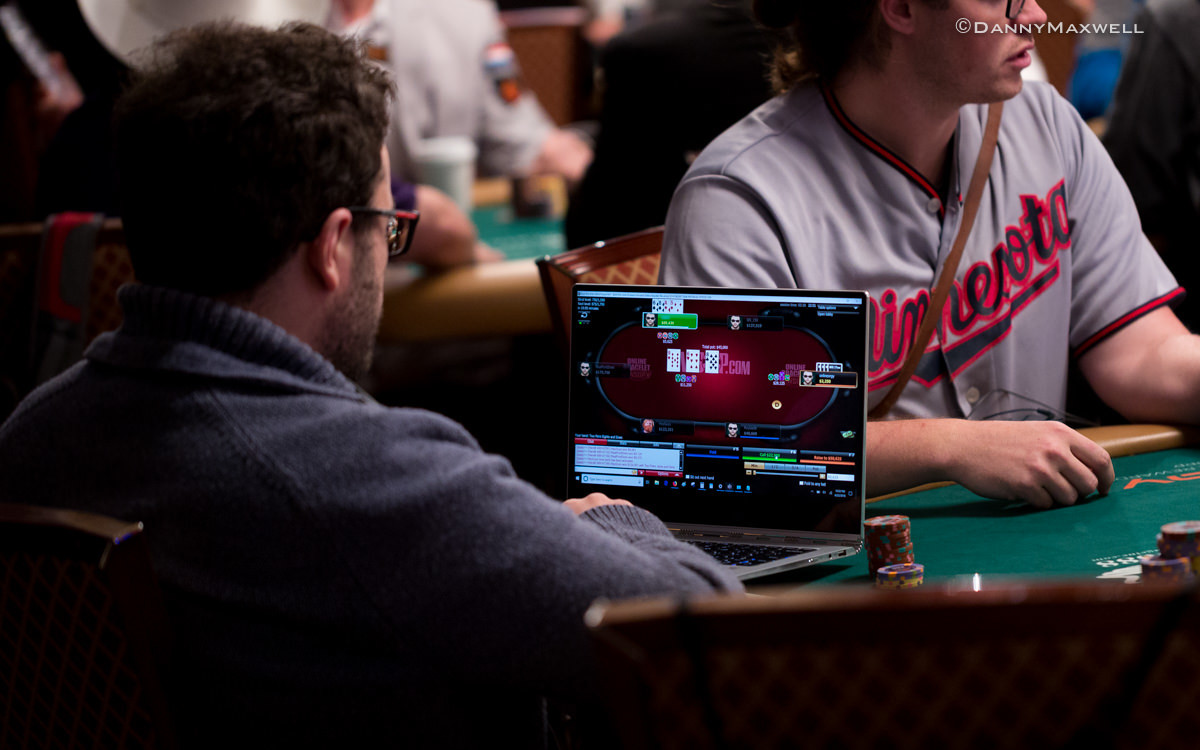 How to Deposit and Withdraw Money on WSOP.com
After setting up an account, players can deposit money through a variety of methods, including bank payments, credit or debit cards, prepaid cards, cash cage deposits at Caesars Entertainment properties, PayPal, or using a Caesars Online Play+ Card.
Players should note that credit card deposits may be considered a cash advance option and therefore may be subject to additional costs and fees, according to WSOP.com.
Players should also know that WSOP.com "utilizes the most advanced security and encryption technologies available" in order to ensure transactions are secure.
Withdrawing funds from WSOP.com is really simple too, just head to the cashier's page and choose the withdrawal option. Funds usually take 5-7 days to appear in your personal bank account once approved by a security review.
Needless to say, WSOP.com is a standout in the online poker industry and one of PokerNews' favored poker rooms when it comes to safe poker sites.
If you've made it this far, you're ready to play and can start exploring the different games available on the site.
---
Playing Poker Games on WSOP.com
Cash Games
If you are hoping to get in a quick cash game before starting or ending your day, WSOP.com has you covered. Playing poker is a lot of fun, especially in live poker games in Las Vegas, but cash games on this online site offer a viable alternative and boast plenty of action for an entertaining night from the comfort of your own home.
A glance at the cash game lobby at most times of day shows a few dozen full or nearly full no-limit and fixed-limit Hold'em tables running, as well as a handful of players waiting for a table. Omaha and Stud games are also available.
The site offers ring games in No Limit Texas Hold'em, Pot Limit Omaha, Omaha Hi/Lo, 7 Card Stud and 7 Card Stud Hi/Lo. The stakes offered start at $0.01/$0.02 for NLHE and PLO, with stakes moving up to $25/$50 as players climb the ranks.
Most notably, WSOP offers a number of shorthanded tables available most of the time throughout its lobby at all cash game levels (although there are more at some than others). Players looking for a quick game without waiting for a table can jump into any of the shorthanded games and be seated in seconds.
Cash Game Stakes on WSOP.com
Texas Hold'em cash games on WSOP.com operate at various limits, beginning at $0.01/$0.02 all the way up to $100/$200. The fixed-limit cash games offered, meanwhile, start as low as $0.05/$0.10 and reach stakes as high as $200/$400.
The WSOP.com lobby also provides players with table information that will prove crucial for any serious grinder, including the average pot size, percentage of players seeing a flop and the number of hands per hour.
The rake for all cash games is one cent for every 18 cents in the pot, with various maximums depending on the betting limits and stakes.
Looking to sharpen your game before sitting at the online tables? Subscribe to the PokerNews newsletter to receive a free copy of the Ultimate Beginner's Guide to Texas Hold'em, as well as the latest poker strategy, news and special offers.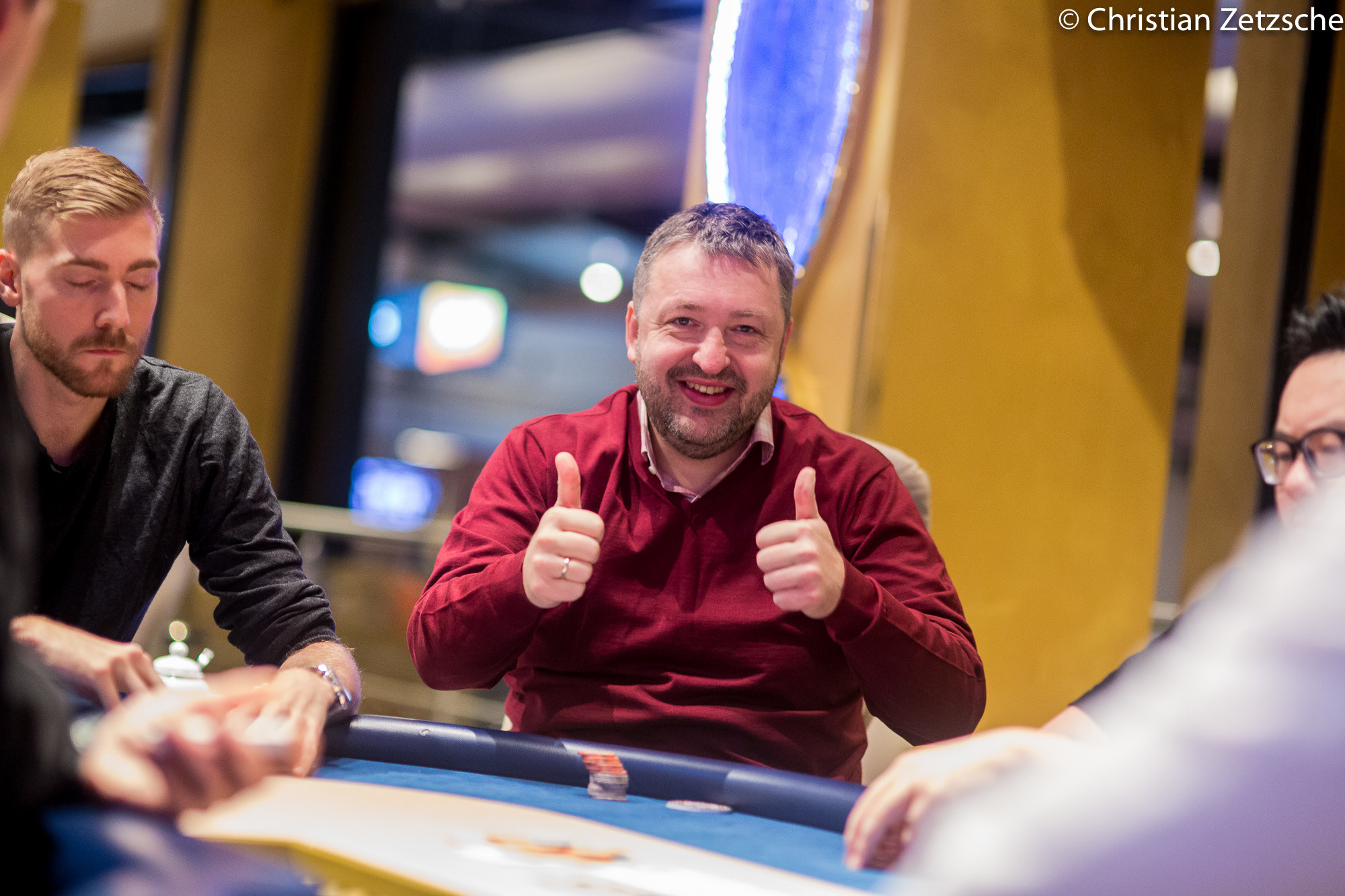 Tournaments
The WSOP.com tournament lobby is always buzzing with plenty of action, as the site offers a variety of tournaments that run regularly, with buy-ins starting as low as $1.10 and going up to $5,000. There are also a number of daily tournaments that offer big guarantees.
WSOP.com has a comprehensive schedule of tournaments, including a daily tournament schedule that often includes games with large guarantees.
Whether you're a low-stakes grinder or a high-stakes crusher, if you want to play poker online, WSOP.com offers both multi-table and Sit & Go tournaments that should satisfy your craving.
Sit & Go's, which are offered in heads-up, turbo, and super turbo formats, start with buy-ins as low as 25 cents and that climb up to $100 and $200.
Online poker players should definitely check the daily, weekly, and monthly multi-table tournaments at various stakes, including a $25,000 monthly High Roller and weekly Sunday tournaments at $3,000, $5,000, and $10,000 buy-ins.
Additionally, WSOP.com offers both poker freerolls and satellite tournaments for its players, including satellites into weekly tournaments for as little as $5 or $10.
Mixed Games
If you have an itch to step away from Hold'em and switch to mixed games, you are in luck. That is an itch you can scratch with WSOP.com.
Firstly, WSOP.com offers Pot-Limit Omaha in both cash game and tournament formats, including cash tables with stakes ranging from $0.01/$0.02 to $25/$50. Additionally, Omaha Hi-Lo 8 or Better is available in pot-limit and fixed-limit formats.
Fixed-limit Seven Card Stud and Seven Card Stud Hi-Lo cash games at low to high stakes are also available on the site.
Unfortunately for fans of more obscure poker variants like Razz, 2-7 Triple Draw and Badugi, these games are not currently available on WSOP.com.
Whether you're new to mixed games or consider yourself an expert, you'll likely benefit from checking out the PokerNews mixed games page filled to the brim with beginner, intermediate and advanced poker mixed game strategy and tips.
WSOP.com Bonus Offer
Something else players should consider before playing online poker on any site is the kind of poker bonus offer that is available. Luckily, for players in Nevada, WSOP.com has a variety of bonus offers that offer fantastic value on your first deposit.
When a player makes their first deposit, they are eligible for a 100% up to $1,000 WSOP.com Deposit Bonus, which is released in $10 increments for every 250 Action Player Points (APPs) earned.
You must then earn 100 APPs for each $10 of bonus. Once this total is reached, $10 is transferred from your bonus account to your actual account balance. Keep in mind: you have 60-days from the time the bonus is awarded to release the full bonus amount or any unreleased bonus is forfeited.
Another perk of making the first deposit of at least $10 is that you will get tickets to seven daily $100 freeroll tournaments exclusive for new players.
There are also a variety of reload bonuses available, as well as a tiered VIP rewards program. The site also offers special seasonal promotions, such as the current $10,000 Winter Warm-Up promotion.
The tournaments run at 4 p.m. Pacific Time on Monday, Wednesday, Friday and Sunday and at 7 p.m. on Tuesday, Thursday and Saturday. The tournament tickets expire after seven days, so use them quickly.
Poker Loyalty Program
The site also features a Poker Rewards loyalty program that rewards players for every hand played, allowing grinders to work their way up the ranks through the Bronze, Silver, Elite and Champions Club levels.
Players earn two "APPs" for every one dollar in rake or tournament fee paid, and these APPs are then converted into WSOP Points that can be redeemed for real money.
The higher the level, the more benefits players receive, including cash back, priority support, and access to exclusive tournaments.
History of Legal Online Poker in Nevada
The state of Nevada passed its first gaming law back in 1931. That law, called the Nevada Gaming Control Act, is still in effect today and sets the framework for gambling in the state.
One of the key aspects of the act is that it allows for any type of casino gambling that is not specifically prohibited. This includes games like blackjack, roulette, baccarat, and craps, as well as slot machines and video poker.
But, it also includes sports betting, off-track wagering, and pari-mutuel racing. This has been a boon for the state's casinos, which receive a significant portion of their profits from games that fall under the "other gaming" category.
Additionally, according to NRS 463.0177, no person can conduct or assist in conducting an unauthorized game. Another subsection states that only the state and its political subdivisions may own, operate, or otherwise control gambling devices as well as games such as blackjack and roulette played with cards and dice.
Any other form of gaming is considered prohibited without expressed consent from the Nevada Gaming Commission.
2011: "Black Friday" in Poker
The legality of online poker in the U.S. has been an evolving issue since 2011's Black Friday, when the U.S. Department of Justice seized hundreds of millions of dollars in player funds and effectively shut down the online poker market in America.
That decision shook the poker industry to its core and the effects of Black Friday are still felt to this day. Since then, the first question any poker player in the U.S. must ask before even thinking about playing online poker is whether it is legal to do so where they are located.
Nevada online poker is no different in that regard, and it's important to know which online poker sites are trusted.
Black Friday was the result of the enactment of the Unlawful Internet Gambling Enforcement Act of 2006 (UIGEA), which prohibits banks from processing payments to and from online gambling sites. The law created a de facto ban on online poker in the U.S., as it was nearly impossible for players to make deposits or withdrawals without using a third-party payment processor.
The legality of online poker in Nevada specifically has been a topic of debate for many years. Proponents of the game argue that poker is a game of skill, and that as such, it should be exempt from the UIGEA.
Detractors claim that poker is a game of chance, and as such, should be considered a form of online gambling, which is illegal under the UIGEA.
Nevada Legalizes Online Poker With Assembly Bill 114
The federal action on Black Friday put the onus on states to pass laws regulating online poker. In 2013, the Nevada Legislature passed Assembly Bill 114, a bill legalizing online poker in Nevada absent of federal action.
Fortunately for poker players in Nevada, the state's gaming authorities have taken a lenient stance on the game. In 2012, the Nevada Gaming Commission issued a ruling that declared poker to be a game of skill, and as such, not subject to the provisions of the UIGEA.
The bill, signed into law by then-Gov. Brian Sandoval, also allowed Nevada to enter compact with other states with legalized online gambling, including New Jersey and Delaware.
As a result, in 2013, Nevada became the first U.S. state to offer legal online poker.
Regulated Online Poker
Playing poker online in Nevada is 100% legal and regulated by the Nevada Gaming Control Board. There are a number of licensed and regulated online poker sites that operate in the state, and all of them offer games such as No-Limit Texas Hold'em, Omaha, and more.
The 2013 law gave the Nevada Gaming Control Board the ability to grant licenses to interactive gaming operators, and paved the way to regulate online poker. To legalize online poker, Nevada lawmakers handed out a handful of licenses for online gaming.
Only two sites are currently licensed by the Gaming Commission: WSOP.com, owned by Caesars Interactive Entertainment, Inc., and Real Gaming, owned by South Point Poker LLC.
In summary, it is legal to play online poker in Nevada. But, it is only legal to do so on a regulated online poker site, which significantly limits the site options for players, in addition to limiting the player pool.
Nevada Online Poker Frequently Asked Questions / FAQs
Is Nevada online poker legal?

Yes, online poker is legal in Nevada. However, players must play through sites that are regulated and licensed by the Nevada Gaming Commission, leaving players with only one online option at the moment with WSOP.com.
Is Nevada online poker safe?

As PokerNews has noted elsewhere, playing online poker on regulated sites is indeed safe. Regulated sites generate millions of dollars in revenue annually and therefore have a strong incentive to keep players' money safe.

Additionally, these sites use random number generators to deal cards in order to keep the games fair and to ensure that online poker is not "rigged."

But... remain vigilant! Only play poker on the Nevada online poker sites that are regulated! Currently, these are WSOP.com and Real Gaming Online Poker (with the latter currently offline).
Can I play on PokerStars in Nevada?

PokerStars is considered a "bad actor" by Nevada regulators and therefore is not a licensed option for players in Nevada. However, that could change in the future, as online gambling laws might expand and regulated online poker becomes more widespread.
Can I play on America's Cardroom in Nevada?

No, America's Cardroom is an unregulated site and therefore not a legal option for players located in Nevada. PokerNews strongly advises against playing on unregulated and/or offshore poker sites.

If you need more help finding a legal online poker site, don't miss PokerNews' guide to the Top Poker Sites in 2021.
Do I have to be a Nevada resident to play online poker?

No, you do not have to be a Nevada resident to play online poker in the state. As long as you are 21 years old or older and physically located in Nevada, you can play online poker (or other forms of online gaming, such as online sports betting).

It's no different than entering the popular live Las Vegas casinos on the Strip.
How does an online poker room detect your location?

Online poker rooms use location devices to detect if you are playing within the allotted jurisdiction. Your IP address shows where your internet connection is coming from. Cell phone triangulation is another method used to determine your location as well the mapping of wireless internet connections.
How precise is Nevada location verification?

It's not 100% accurate, some players located within one mile of the state border may not play.

This is due to the margin of error for methods used to determine a players location. The cities within one mile of the Nevada state line include Jackpot, Laughlin, Mesquite, Primm, Stateline and West Wendover
Who am I playing against when I play Nevada online poker?

Nevada is in a compact with New Jersey and Delaware to combine online poker player pools from the three states. You will potentially be playing against players located in Nevada, New Jersey and Delaware.

The Delaware Poker Network isn't in full swing yet, but both the Nevada and New Jersey online poker room offer plenty of opposition coming from all walks of life.
Can I compete for online World Series of Poker bracelets in Nevada?

Yes! WSOP.com NV offers the opportunity to compete for online World Series of Poker bracelets, which boast similar recognition to their live counterparts.

WSOP.com has an online poker site in Nevada, New Jersey, and Pennsylvania where the coveted wristbands can be won in online bracelet events.
Where can I play legal Nevada online poker?

WSOP.com is now the only place to go if you want to play poker online in Nevada as of September 2015, as all other sites were shut down for not being regulated and licensed by the Nevada Gaming Commission.
Where else can I play regulated and legal online poker in the United States?

Going forward, we can expect more states will join Nevada in regulating online poker, so be sure to check PokerNews for the latest updates on this developing story.
A former professional poker player with a background in sports marketing and journalism. Yori has been a part of PokerNews since 2016 and manages the content team.