BetMGM Poker New Jersey Review
BetMGM Poker NJ Review -- Bonus Code and Download
Not available in Virginia
Notify me when BetMGM Poker NJ becomes available in Virginia
Virginia Legal Online Gambling
Poker
Not Currently Available In Your State
Casino
Not Currently Available In Your State
Sportsbook
Not Currently Available In Your State
Check out the available free online games in your region
About BetMGM Poker NJ
BetMGM Poker NJ launched its online poker site for New Jersey players back in 2017 with the goal of bringing an 'unprecedented poker offer' to all NJ poker players. This made it one of the first online poker operators in the state, and that goal, as you're about to learn in this review, has been achieved.
MGM Poker NJ, Borgata Poker NJ, and partypoker NJ share a New Jersey player pool. This player pool now makes up roughly one-third of the online poker traffic in the Garden State.
The people who work on this online poker platform believe they have what it takes to take more players from PokerStars NJ and become the dominant poker network in the Garden State.
In this in-depth review of BetMGM Poker NJ, we look at the site's game offerings, poker software, and promotions to discover if it can become one of the state's poker leaders.
In a rush? Jump to these sections to find what you're looking for:
Pros and Cons of BetMGM Poker New Jersey
Pros
Up to $75 in bonus play for first deposit
Probably the best site for beginners in NJ
Shares liquidity with party and Borgata
High-quality poker software
Cons
Only available in NJ
No online mixed games
Low cash game volume
BetMGM Poker New Jersey Mobile App Review
The BetMGM Poker New Jersey poker app is well put-together with all the features of the desktop poker client.
We have completed a BetMGM Poker app review for both versions of the BetMGM Poker NJ app. The table below provides a quick look and comparison between BetMGM Poker NJ poker apps for iPhone and Android.
| Aspect | iPhone App | Android |
| --- | --- | --- |
| Ready To Play? | DOWNLOAD AND PLAY | DOWNLOAD AND PLAY |
| Regions Available | New Jersey | New Jersey |
| App limitations v. Desktop | None | None |
| Games available | NLH, PLO, & other poker games | NLH, PLO, & other poker games |
| Minimum deposit | $10 | $10 |
| Minimum withdrawal | $20 | $20 |
| Deposit methods | Bank, card, & more | Bank, card, & more |
| 3 Key Features | Large deposit bonus, wide range of games, high quality UX | Large deposit bonus, wide range of games, high quality UX |
| Rewards | BetMGM Rewards points | BetMGM Rewards points |
| Sign-up Bonus | 100% deposit bonus up to $1,000 | 100% deposit bonus up to $1,000 |
Key BetMGM Poker New Jersey App Features
The BetMGM poker app comes with plenty of features that make it stand out in the competitive New Jersey market. Here are some key reasons to choose BetMGM Poker NJ.
Large player pools: When BetMGM poker moved into the New Jersey market it signed an agreement with the New Jersey branches of partypoker and WSOP.com. Since all three sites also share player pools across state lines thanks to MSIGA, you get to play a huge population of poker fans when you sign into BetMGM Poker New Jersey.
Multitabling: You may just be playing online poker on your phone, but the BetMGM Poker NJ poker app is designed to allow you to play multiple tables at once with relative ease. The software moves seamlessly between tables and expertly manages a smaller screen's constraint.
Wide range of games: The BetMGM app design team have made sure you won't miss out on your favorite games by programming in a bewildering variety of poker variants. You can play spins (the BetMGM version of SpinNGos), fast-forward poker (the BetMGM version of Zoom), cash, and poker tournaments.
Differences Between BetMGM Poker New Jersey App and Desktop
The main differences between the BetMGM Poker NJ app and the BetMGM Poker NJ app desktop client are visual.
BetMGM has done an excellent job of keeping the same features. Allowing for touchscreen inputs instead of a mouse and keyboard is a challenge in itself. Doing so while also adjusting the interface to fit on a smaller (and portrait-oriented) screen is truly impressive.
These differences will impact poker players in different ways. We recommend you try both, and pick the one that suits you best.
3 Reasons Why You Need to Download the BetMGM Poker New Jersey App
The sheer convenience of having your poker room in your pocket is particularly compelling. With a swipe of the thumb, you can play a few hands wherever you are in the state.
Smaller storage size than the desktop version means you have more room on your devices for your poker soundtrack.
The BetMGM Poker NJ app is one of the best apps in the market. With myriad features and high-quality software this poker app puts a modern spin on all the more traditional poker formats.
Poker Games at BetMGM Poker New Jersey
While software and poker apps are essential details for anyone looking to play online poker, the real meat and potatoes of a BetMGM Poker review must be the games offered on the BetMGM poker website.
Getting the right type of poker action for you is crucial to enjoying yourself. That's why we'll now examine all the different types of poker games available on BetMGM Poker NJ, which include traditional poker formats like:
Texas Holdem Poker
Omaha Poker
Seven Card Stud
Seven Card Stud 8 or Better
Omaha Hi-Lo
Play No-limit Holdem at BetMGM Poker New Jersey
No limit holdem became the standard form of poker in the early 00s when televised events became a mainstay of the poker media. As a result, it has become the most popular cash game format.
Given its role as the flagship variant, the majority of tables on BetMGM Poker NJ are no limit holdem. You'll be able to find all the cash game types you could hope for, and poker tournaments ranging from the micro stakes to the nosebleeds.
Texas holdem is played with two hole cards and five communal cards that are dealt out over the course of four betting rounds. The rules for no limit Texas holdem are simple, but strategy can become very complicated very quickly. There is a reason it is known as "the Cadillac of poker."
On each player's turn, bets are limited by "table stakes." This means that players can bet up to (but no more) the full amount they have on the table. This is why the game is called "no limit," you can push all in at any point.
BetMGM Poker NJ offers plenty of NLH tournaments. There are regular tourneys, sit'n'goes, and regular poker festivals like the BetMGM Online Championship, a series of online tournaments in No-limit Hold'em and Omaha formats (more on which in a moment).
Launched in September 2022, the inaugural BetMGM Online Championship featured a $1,000 buy-in NLH Main Event with a $250,000 guarantee. Across the 26 events in New Jersey, BetMGM allocated $795,000 in guaranteed prize money.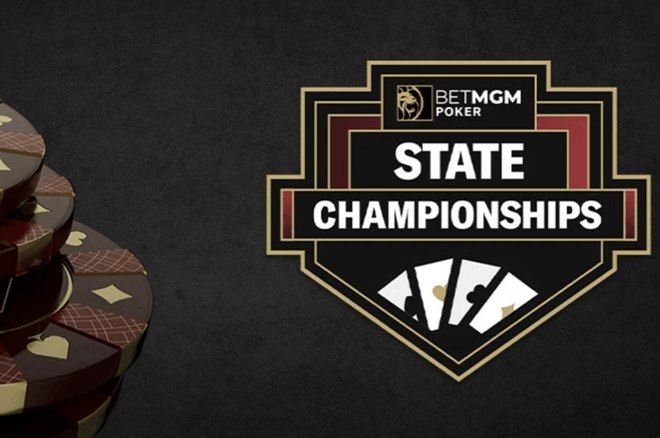 Play Pot-limit Omaha at BetMGM Poker New Jersey
Pot limit Omaha is similar to no limit Texas holdem. There are just three key differences.
In Texas holdem, players receive two hole cards. In PLO players receive four.
In Texas holdem players can use any combination of the board or their hole cards to make their hand. In PLO a player must use exactly two hole cards and three board cards in their hand.
Above all, in Texas holdem, the betting is usually fixed limit or no limit. In PLO, the maximum bet on each player's turn is the amount in the pot (hence "pot-limit").
These are small adjustments, but the resulting game is vastly different. There are more drawing hands which makes action fast and swings wild. The nuts become far more important, and hands like top-pair top-kicker are massively downgraded in value.
BetMGM Poker NJ runs PLO cash games and tournaments in a wide range of stakes and formats. However, there are fewer players and fewer tournaments than the NLH equivalents. PLO is popular enough though, that you can usually find a game if you are willing to work around BetMGM's tournament schedule a little.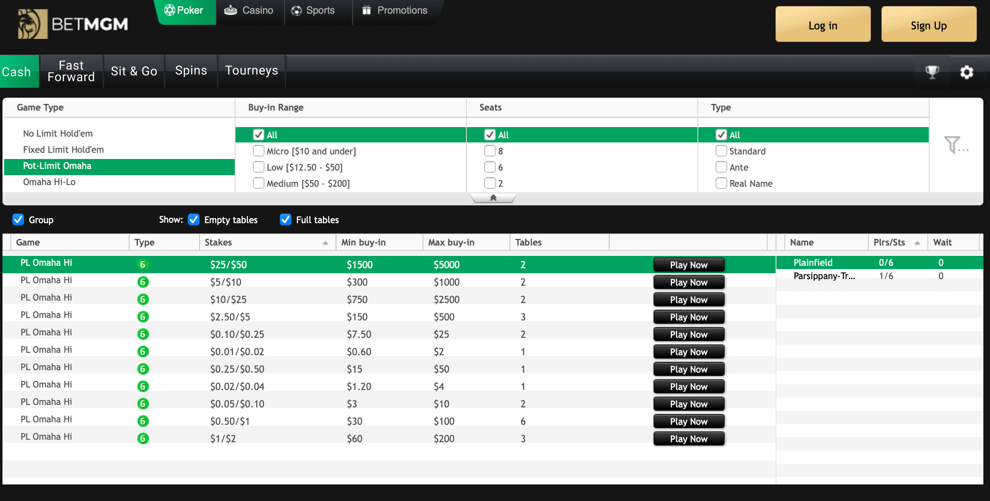 Play Mixed Games at BetMGM Poker New Jersey
Unfortunately, BetMGM Poker NJ does not offer mixed game formats. It does however offer separate tables for holdem, Omaha, and seven-card stud variants.
Play Short Deck/6+ Hold'em at BetMGM Poker New Jersey
BetMGM Poker NJ does not offer short deck yet. However, given the growing popularity of the format, we might expect to see this feature added.
Play Zoom Poker at BetMGM Poker New Jersey
Like the "Zoom" games offered by other poker clients, BetMGM Poker has a fastforward cash game option for players looking for a turbo cash poker game.
In the fastforward format, every time you fold your hand you are moved immediately to a new table. Your opponents at the new table are drawn from the pool of players who recently folded on other tables. In this way, you play a different set of players and stacks every hand, with zero downtime between hands.
If you are grinding for rewards points or trying to clear a match deposit bonus match, the high speed of play can be an enormous boon. fastforward games can allow a player to get through hands at a huge rate. When volume is key, this is the format for you.
The 6-max fastforward tables on BetMGM Poker NJ, start at $0.05/$0.10 and go to $0.25/$0.50, so don't expect to find any crazy high-stakes action. Like some of the other cash game options, it may be hard to get a table running outside of peak hours.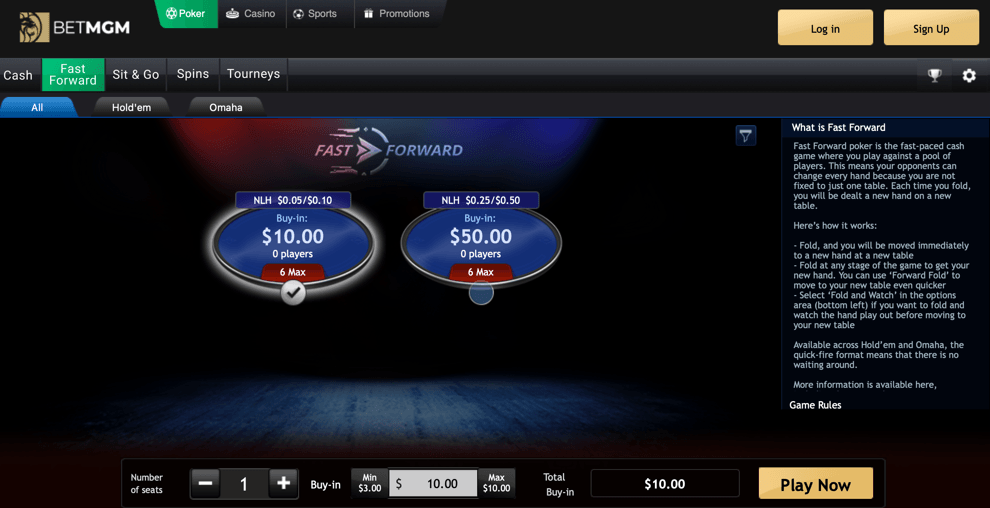 Play Poker Tournaments Online at BetMGM Poker New Jersey
Tournaments are where BetMGM Poker NJ shines. Where cash games tend to be a bit slow outside of peak hours, you can find a tournament at any time of day.
The site offers no-limit holdem and Omaha poker sit and gos (SNGs), multi-table tournaments (MTTs), and Spins (equivalent to spin and goes).
Regular tournament buy-ins begin small at just $1 and climb all the way up to $500, with hyper, turbo and regular-speed games all being offered. If you are after the juiciest wins, the marquee event in the BetMGM Poker NJ daily tournament calendar is the $100 buy-in Daily C-Note $10K GTD event that begins at 7 p.m.
The site also offers a 10-handed Winner Take All SNGs as well as the more traditional top-3 paid format.
The multi-table tournaments (MTTs) are probably the best part of the BetMGM Poker NJ app. Given this poker site's position in the market, you can expect to find competition of much lower skill levels compared to the more popular sites with daily MTTs for pros to grind.
One of BetMGM's weekly highlights is the Sunday Main $30K GTD sport buy-ins of $215 and start at 5 p.m. every Sunday and allows played three re-entries as they look to earn a piece of the guaranteed prize pool.
This event costs $215 to enter and is considered to be one of the highest-value poker events in New Jersey.
Another highlight is the $535 Mega Tuesday 6-max tournament, which offers at least $12,000 in prize money every Tuesday at 8 p.m.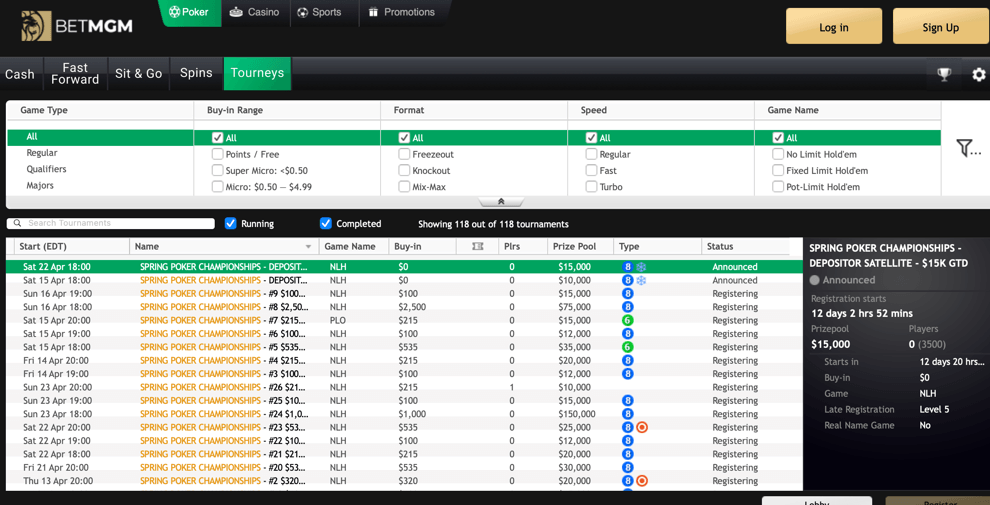 Cash Games at BetMGM Poker New Jersey
The cash game scene at BetMGM Poker is fantastic, and it's truly one of the best places to get some action for micro-stakes, low-stakes, mid-stakes, and even high-stakes players at all skill levels.
Play Ring Games at 888poker New Jersey
Despite the remarkable growth of the network, the cash games on BetMGM Poker remain a bit a hit-and-miss. The main problem is volume, often there just aren't as many players as at the tournament tables. This reflects a player population that has many more recreational players than serious pros.
The action is great if you plan to join the site to play 6-max Texas hold'em games at the lowest stakes. This is probably the most popular set of cash games. The influx of recreational players coming from the casino site makes the $0.01/$0.02 to $1/$2 games extremely juicy and soft, with a good number of players at the table at nearly every given time of the day.
Cash game stakes climb all the way up to $10/$20 and $25/$50, but good luck getting a table to run.
There are also a number of heads-up tables at stakes like $1/$2 and $5/$10 where you can always count on having someone waiting in the registration lobby.
Nine-max NLH tables are not the most popular ones at BetMGM Poker. There are good ring games at higher buy-in levels too, but you'll have to connect at peak hours to find a decent level of action there.
The same applies to fixed-limit cash games. While BetMGM Poker features lots of options to choose from, you won't have many players to join until you wait for peak hours.
The BetMGM main poker website also features also six-handed games of pot-limit and Hi-Lo Omaha poker cash games, which on any night will have. Since most of the Omaha action in New Jersey happens on PokerStars, don't expect to find too many active players ready to play with you.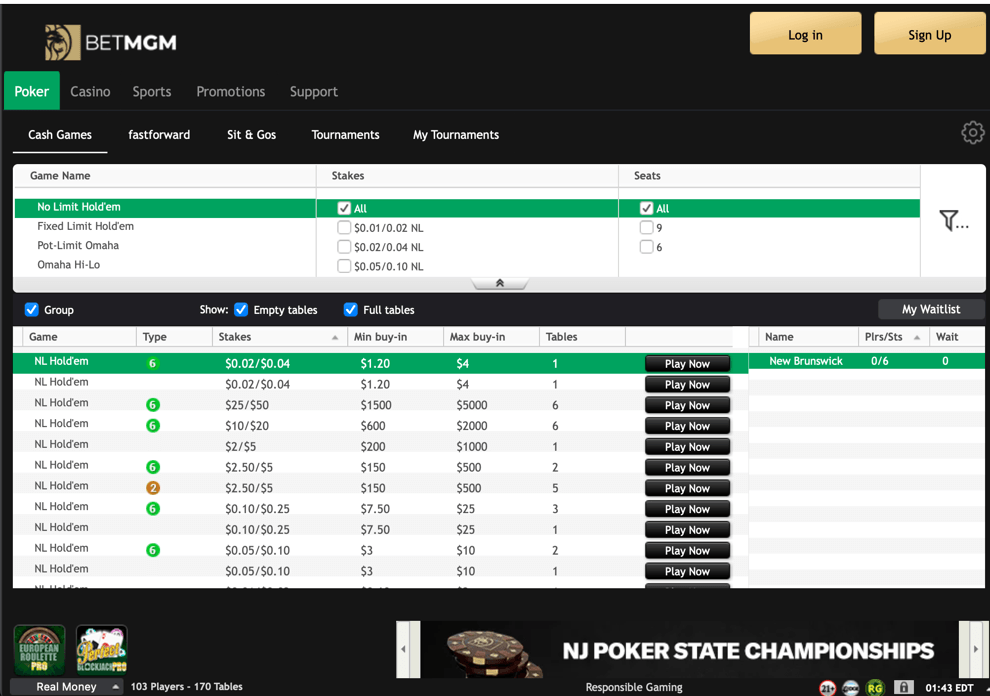 BetMGM Poker New Jersey Software Review
BetMGM Poker New Jersey has a top-quality app. In this BetMGM Poker NJ review, we'll look at the key aspects of poker software. This poker review will cover how easy the software is use to use, how reliable the software is, and whether the software is visually appealing or not.
These three aspects combined will give a good sense of the overall user experience for the BetMGM Poker NJ software.
Functionality
The BetMGM Poker NJ software comes in three forms, a browser client, a downloadable desktop client, and a mobile app.
All three versions are beautifully crafted to ensure that the user doesn't run into difficulties. The software is highly intuitive and has been adapted to each of the three formats to ensure the user experience is smooth.
The desktop client and mobile poker app in particular are both good examples of the BetMGM Poker software. It is worth noting that for the best results with the browser version, you may want to use Firefox or one of Windows's default browsers.
Reliability
Other than some issues with the browser version, the BetMGM Poker NJ software reviews very well. It is very stable and extremely reliable. The issues with the browser version clear up quickly if you switch to one of the recommended browsers.
The downloadable desktop client in particular is based on the partypoker NJ client. As such, it has been built on a solid base with years of updates and fine-tuning.
Appearance
One of BetMGM Poker NJ's strongest features is its front end. The attention to visual presentation is everything you would expect from a company founded in part by the service industry monolith that is MGM Resorts International.
Care has been taken to combine form and function in all three versions of the software. As a result, the BetMGM Poker NJ poker app is one of the prettiest on the market. Same goes for its desktop and browser siblings.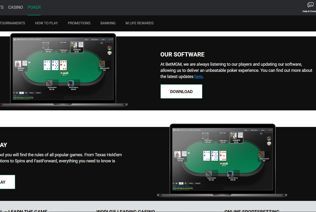 BetMGM Poker New Jersey Customer Service, Contact and Support
BetMGM Poker has an excellent reputation for its robust security and user-friendly customer service. This is important to keep players like yourself from getting stuck or confused. It also provides a quick and easy way to resolve any issues that do arise.
Features like site security are important for players. Poker sites hold not only your precious bankroll, but also a lot of key personal information including details of your established online banking account details and any proof of identity or address that you've provided.
They also often hold details like phone numbers, email, and postal address details. All stuff you want to keep safe. So it is good to know exactly how secure you are with BetMGM Poker NJ.
Software Support
| | |
| --- | --- |
| Support e-mail: [email protected] | |
| Phone: 609-248-9531 | |
| Owner/Operator: MGM Resorts International | |
| Software Provider: PartyPoker | |
| Company Headquarters: Jersey City, New Jersey | |
| Game Server Location: New Jersey | |
BetMGM Poker New Jersey Customer Service
The customer support department at BetMGM is very well structured and they have set up an FAQ page that covers most of the issues you will ever have—from how geolocation works to the rules for each of its poker games to guidance for dealing with problem gaming.
If you aren't able to find the answers you need online, BetMGM also has a 24-hour live chat service where you can chat to a juman representative. In order to receive help, be prepared to provide your full name and date of birth, and other key information about your BetMGM account.
If the online chat doesn't resolve your issue, you can talk to the support service at BetMGM Poker NJ by email to [email protected] or by phone on 609-248-9531.
BetMGM Poker New Jersey Security
As a large, well-regulated site, BetMGM has everything in place that you would hope for. The site is heavily encrypted and the software is audited for security and fairness by third-party testers.
The New Jersey Casino Control Commission and the Department of Gaming Enforcement both oversee BetMGM's operations in New Jersey and act to ensure that they comply with security and encryption standards. They also ensure that the software deals cards fairly and manage several other aspects of the online poker market that should help reassure players.
You should always be careful about passwords, communications, and any payment details. However, you can trust BetMGM with your money and information. This is a large business with efficient and professional standards.
BetMGM Poker New Jersey Rewards, Promotions, and Welcome Bonuses
Players in New Jersey have access to an abundance of offers, rewards, at least one welcome bonus, and ongoing promotions. These can range from a small welcome bonus for setting up an account to a 100% matched bonus on your first deposit—which caps out at $1,000!
Smart use of BetMGM Poker welcome bonus codes can make all the difference for a poker player. Here's how to get the most out of BetMGM Poker's best bonus codes, rewards, and promotions.
BetMGM Poker New Jersey Rewards
Perhaps the best long-term benefit of a BetMGM Poker NJ account is that you are able to earn points under the MGM Rewards scheme.
Depending on your approach to playing poker, these BetMGM Poker NJ rewards can make a huge difference to how long your poker bankroll lasts or how quickly it grows.
Here's a summary of each BetMGM Rewards tier:
Sapphire:
Earn MGM Rewards Points
Guaranteed Lowest Room Rates
Discounts To Select Shows
Pearl:
Bonus Slot Dollars
FREE Self-Parking
FREE MGM Rewards Concerts
Gold:
Resort Fee Waived
$100 Tier Status Dining Credit
Free Enhanced Room Upgrade
Platinum:
Up To $600 Air Travel Credit
$200 Tier Status Dining Credit
Annual Complimentary Cruise
Noir:
Up to $1,200 Air Travel Credit
Up to $500 Tier Status Dining Credit
Complimentary Transportation
BetMGM Poker New Jersey Promotions, Bonuses, and Offers
For new players, the best bonus code BetMGM Poker NJ has to offer is the 100% deposit match up to $1,000 worth of bonus money. New players can also take advantage of $75 in bonus play tournament tickets for poker players new to the site when they sign up for a BetMGM Poker NJ account.
BetMGM Poker NJ also runs regular promotions, including a 100% match up to $500 for returning players. Other seasonal promotions target particular online or live poker tournament series or big events like Christmas or March Madness.
There is also an ongoing refer-a-friend promotion through which players can earn themselves a $50 bonus per pal.
It is important to note that bonuses usually come with playthrough requirements before the deposit bonus releases and can be withdrawn. Playthrough requirements are usually linked to the number of raked hands played. Always check these requirements and factor them into your BetMGM Poker NJ deposit bonus release strategy.
Payment Methods and Banking at BetMGM Poker New Jersey
You have lots of options when it comes to making a deposit to the online poker account on BetMGM Poker NJ, with this online poker room accepting all the most popular payment methods for deposits and withdrawals.
BetMGM is one of a very few 'PayPal online poker rooms among very few in New Jersey. meaning you can use this popular e-wallet service to manage all aspects of your real money poker activity.
How to Deposit and Withdraw at BetMGM Poker New Jersey
Here's the full list of all the banking options available at BetMGM Poker NJ:
| Payment Method | Deposits | Withdrawals |
| --- | --- | --- |
| PayPal | Yes | Yes |
| Prepaid card | Yes | Yes |
| Visa | Yes | Yes |
| American Express | Yes | No |
| Apple Pay | Yes | No |
| PayWithMyBank | Yes | No |
| PayNearMe | Yes | Yes |
| ECheck/ACH | Yes | Yes |
| Bank transfer | Yes | Yes |
| Borgata cashier | Yes | Yes |
| VIP Preferred | Yes | Yes |
| GAMEON | Yes | No |
| BetMGM Gift Card | Yes | No |
| Play+ | Yes | Yes |
| Check by Mail | No | Yes |
Pro Tip: get a prepaid card! Pre-paid cards are the best way to manage your bankroll easily. BetMGM NJ offers its own prepaid card - which is probably the best way to handle all your financial operations on the site.
Deposit and Withdrawal
| Operator | Deposit | Withdrawal |
| --- | --- | --- |
| Skrill | | 1-2 days |
| VISA | | 1-5 days |
| MasterCard | | 1-3 days |
| PayPal | | 1-2 days |
| American Express | | 1-7 days |
| Online bank transfer | | 1-7 days |
Languages Available on BetMGM Poker New Jersey
English
BetMGM Poker New Jersey FAQs
Is BetMGM and Borgata the same site?

No. BetMGM and the Borgata Hotel Casino Resort operate separate sites in New Jersey. However, they are partners and share the same player pool.
Does BetMGM work in New Jersey?

Yes. BetMGM has poker, casino, and sports betting platforms all of which are legal and regulated in New Jersey.
Is BetMGM Poker legal in the US?

Yes. However, it is only available in specific states where it is regulated, like New Jersey!
Does BetMGM Poker have an app in New Jersey?

Yes. Download the BetMGM Poker NJ app to play poker with BetMGM in New Jersey.
It BetMGM Poker NJ a legal site?

Yes, BetMGM Poker NJ is a legal poker site. Playing online poker and casino games on BetMGM Poker NJ is completely legal for players 21 and over who are physically located in New Jersey.
Is BetMGM Poker NJ safe?

As a fully regulated and licensed poker site, BetMGM Poker NJ is perfectly safe to play poker on. That said, online poker players should always remain careful when playing on any online site.
Are there poker cash games on BetMGM Poker NJ?

Yes, BetMGM Poker offers cash games beginning at micro stakes and climbing to $25/$50. Six-max tables are the most common, though there are also heads-up tables.
Does BetMGM Poker NJ have Sit & Gos?

Yes, there are Hold'em and Omaha SNGs offered on BetMGM poker that start at $1 and climb to $500.
Does BetMGM Poker NJ have MTTs?

Yes. In addition to daily action and weekly specials, like the $215 Sunday Main $30K GTD, BetMGM NJ has hosted the BetMGM State Poker Championship.
Are there bonuses or promotions on BetMGM Poker NJ?

There are a number of welcome bonus options available for players on BetMGM Poker NJ, including a 100% match up to $1,000 for first-time depositors.
Is BetMGM Poker NJ software good?

BetMGM Poker offers users a great experience on PC, Mac and mobile devices.