Online Poker Australia
Unfortunately, real money online poker in Australia was outright banned in 2017. Prior to this, online poker advertising was illegal, but Australians could still play on sites such as 888poker and PokerStars. However, while online real money poker is illegal in Australia since 2017, when the Australian Senate passed the Interactive Gambling Amendment Bill, there are still plenty of options for Australian players to play online poker for free.
In this article we'll explain more about the history and regulation of real money online poker in Australia, as well as recommending the best sites to play poker online for free.
---
Read: Australia Loses Fight for Legal Online Poker (2017)
---
Play Free Online Poker in Australia
While Australian players are unable to legally play real money online poker, it is possible to play free online poker in Australia. Many online poker sites offer free-to-play games, also known as play money games, which allow you to enjoy the game without risking any real money.
Playing free online poker can be a great way to improve your skills and gain experience in the game without the financial risks associated with playing for real money. But it is worth noting that playing free online poker is generally not as competitive or challenging as playing for real money, as many of the players may not take the game as seriously, with no real money at stake.
Best Free Online Poker Sites in Australia
The free online games section on PokerNews lists the best free online games for Australian players to play poker and experience online casinos. Here we bring you a couple of the best sites to play online poker for free.
PokerStars Play
PokerStars Play is a free social poker game from one of the biggest names in online poker. The excellent PokerStars Play platform brings the excitement of Texas Hold'em, Omaha Poker, and thrilling casino games directly into your hands.
Although no real money changes hands, PokerStars Play gives you the experience of playing online poker at PokerStars or playing games in the PokerStars Casino using play money. As there is no money to be won, PokerStars Play is available around the world.
World Series of Poker Free to Play
The World Series of Poker app is a free-to-play online poker game that offers poker players the chance to online poker from almost anywhere for free. The official app of the World Series of Poker (WSOP) is rich with features and has dozens of ways to boost your coins balance.
There are plenty of exciting cash games with Texas Hold'em and Omaha, plus a plethora of tournaments, some of which award virtual WSOP rings and bracelets to display next to your avatar.
Be sure to check out some of our reasons for playing online poker on the WSOP App.
Poker in Australia
Australia has a long and rich poker history and is home to former World Series of Poker Main Event champion Joe Hachem who took down poker's biggest prize in 2005.
The country also boasts two WSOP Player of the Year winners in Jeffrey Lisandro (2009) and Robert Campbell (2019).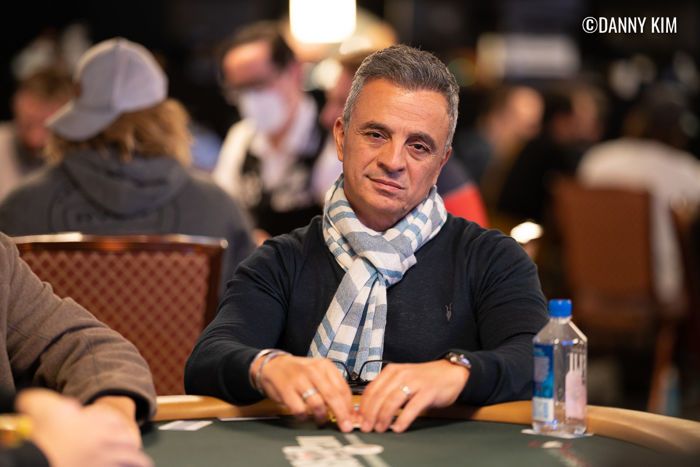 Australia has also played host to several major live poker festivals, the biggest of which being the Aussie Millions. This was the largest and richest poker festival in the Southern Hemisphere, held at the Crown Casino in Melbourne, Australia.
The popular Australian tournament series last ran in January 2020 before the COVID-19 pandemic shut down live poker at many casinos around the world.
However, in early 2023, Crown Poker stated on social media that poker tournaments "will no longer be running at Crown."
Is Real Money Online Poker legal in Australia?
Online poker is not legally available to play for real money in Australia due to the Interactive Gambling Act 2001, which prohibits the provision and advertising of online gambling services to Australian residents, and the amendment bill that was passed in 2017, which banned online poker for real money outright.
---
Read: Australia Loses Fight for Legal Online Poker (2017)
---
While there are some offshore online poker sites that may accept Australian players, major operators such as PokerStars and 888poker no longer offer real money poker to players based in Australia.
There have been few reported cases of individuals being prosecuted for playing on offshore sites, but PokerNews would not recommend doing so and, instead, provides a number of free-to-play alternatives.
It is important to note that even if playing online poker is not illegal in a particular jurisdiction, it may still be regulated or restricted in some way. Additionally, players may encounter difficulties with depositing and withdrawing funds due to Australian banks and payment providers being prohibited from processing online gambling transactions.
History of Online Poker in Australia
The history of online poker in Australia has been somewhat chequered. Changes in the law over the years and the level of enforcement efforts have had a significant impact on both the availability and the popularity of the game.
Early in the 21st century, online poker was very popular in Australia, albeit with many players using offshore sites to play for real money. However, when the Australian government passed the Interactive Gambling Act in 2001, it became illegal for online gambling operators to offer their services to players located in Australia.
For many years after that 2001 law change, many offshore online poker sites continued to offer their services to players in Australia, to which the government largely turned a blind eye. However, in 2017 the Australian government passed amendments to the Interactive Gambling Act that closed loopholes that offshore sites used to continue operating in Australia.
Most of the major offshore online poker sites left the Australian market following those amendments in 2017. Now, Australian players are restricted to playing legal online poker only on free-to-play online poker sites such as....
Learn how to play poker and other useful links….
Online Poker Australia FAQs
Is Online Poker Legal in Australia?

Real Money online poker in Australia is illegal. Sites that offer free online poker games (for no real money) are legal.
Can I play Poker online for real money in Australia?

No, real money online poker in Australia has been banned since 2017. It is, however, legal to play on free online poker games.
What are the best free online poker sites?

A list of the best free online poker sites can be found right here on PokerNews. See our Free Online Games section.