How to Plan a WSOP Trip: Housing, Flights, Transportation in Las Vegas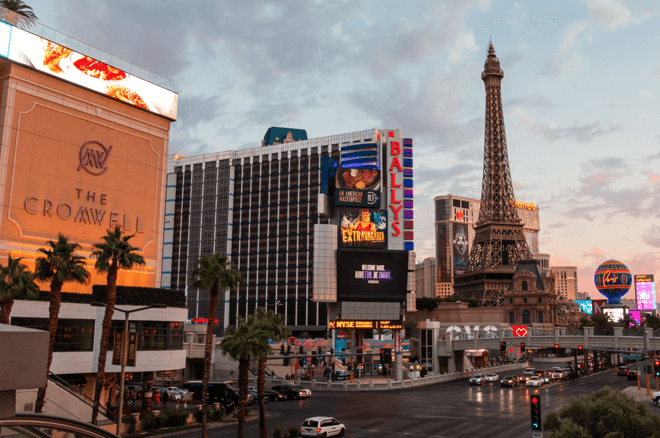 Table Of Contents
The 2021 World Series of Poker is less than a week away. If you're still in the trip planning process, this article will make your life easier (promise!). We're going to help you find a reasonably priced place to crash at night (that isn't full of cockroaches), means of transportation, and of course a way to actually get to Las Vegas.
First things first, the main stuff: the WSOP starts September 30 and runs until November 23. Yes, it's still at the Rio, although speculation is that it's moving to the Strip next summer.
Due to COVID-19, there are some rules in place you should be aware of at the upcoming WSOP. First off, all players must provide proof of vaccination against the coronavirus. You only need to show the proof the first time you register for a tournament, and it can all be done within five minutes using the CLEAR PASS app. And although face masks aren't required while seated at a poker table inside the Rio (they are inside other Las Vegas poker rooms, however), they are when you're up walking around.
Leading up to the series, we've covered some offbeat places to eat in Las Vegas, the differences between the 2021 WSOP and past years, and even explained the local weed laws. For this article, we're focusing on how you're going to get here, how you're going to get around, and where you're going to stay.
Disclaimer: Unfortunately, there's no way to avoid at least a moderately expensive trip this year. Unlike during the summer, you can't just roll into town, book an Airbnb across the street from the Rio for $40, and rent a car for $25 a day. The world is changing, the city is changing, but it's possible to do it up big within a reasonable budget.
Getting to Las Vegas
You can't score that first WSOP cash of the summer until you arrive in Las Vegas (unless you're playing in one of the recently added 11 online bracelet events). So, how are you going to get to town?
If you have a car and the means to drive to Southern Nevada, fabulous. You'll save money that way and also have the presence of mind knowing you have a vehicle available to get around town. For those who don't have this luxury, you'll need to get a flight or take a bus. Depending on where you live, Southwest Airlines is always a good place to start because they don't charge baggage fees and often have reasonable rates.
With that said, Southwest is typically quite expensive if you don't book at least a month in advance. So, if you're only coming in for the Main Event (November 4 start date), you should still be able to find a cheap flight. We checked Chicago to Las Vegas November 3-24 on Southwest and found a fare as low as $242 roundtrip with taxes and fees included as of Saturday.

McCarran International Airport is a focus city for a number of discount airlines, including Allegiant, Frontier, JetBlue, JSX, Southwest, Spirit, and Sun Country Airlines. If you're looking to keep your flight price as low as possible, it's best to check those airlines first before you head over to Travelocity, Priceline, or Hotwire to find rates on the major airlines.
If you're hoping for something even cheaper than a flight but don't have a car to get to Las Vegas, you can always give FlixBus a look. Now, we can't guarantee you will have an enjoyable time riding a bus, but the one-day trip (depending where you live) isn't going to kill you. You can go from San Francisco to Las Vegas, for example, on FlixBus for about $80 roundtrip. FlixBus travels from most major cities in the United States, so chances are pretty good you aren't located too far from a pickup stop.
Airbnb vs. Hotels
Now that you have a way to make it to Las Vegas, you need a place to comfortably rest up each night so you're mentally prepared for the challenges of a grueling WSOP. The two obvious choices are hotels and Airbnb's. Which one is better? Well, that depends on your situation.
If you're going to be in town for more than a week or two — or even the entire series — there are some major advantages to an Airbnb. Having a full kitchenette, laundry in unit, and often a covered garage provides some valuable benefits for the long-term traveler that you won't get at most hotels.
On Airbnb, customers have options on the type of room or place they desire. You can select a single room and share the entire house or condo with other guests, the whole house to yourself, a hotel room, or a room shared with another traveler.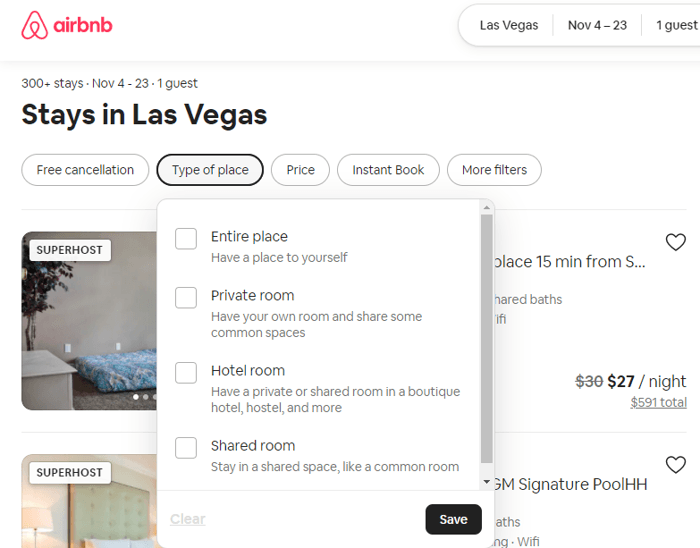 Before you book just any place, there are a few things you should take into consideration. While money is going to be a factor for most, it's usually best to avoid the cheapest places. There's a reason — or multiple reasons — why an Airbnb is dirt cheap, and it's usually because the home is in poor condition and located in a sketchy neighborhood.
The best options, at least for the price conscious traveler who also desires a safe and comfortable place to stay, are the Airbnb's priced in the middle.
Unfortunately, most Airbnb's priced reasonably near the Rio are already booked up during the series. So, your best bet is to find somewhere further west down Flamingo Road (Rainbow Boulevard and west), south of the Strip near I-15 (easy access to the Rio), or in Summerlin (20-25 minute drive to the Rio). Of course, if you don't have your own car or a rental car, this will pose a bit of a problem (more on this later).
As for hotels, we don't want to make it sound like we're just peeing all over the idea of staying in one. That's far from the case. If you're in town for just a week or so, by all means stay in a casino, especially if you don't care to just crash in some random person's house.
Hotel casinos also provide some valuable amenities for the poker traveler, such as easy access to a sportsbook, restaurants, bars, and a poker room. You'll also have maid service, which is extremely beneficial for those who plan to spend 15 hours a day playing cards.
For hotel reservations, it's always best to go through a travel booking site (unless you have comps) compared to booking directly through the hotel. Hotels.com (free room for every 10 nights you stay), HotelsCombined, or type in Google.com/travel/hotels and view results from various sites (see pic below).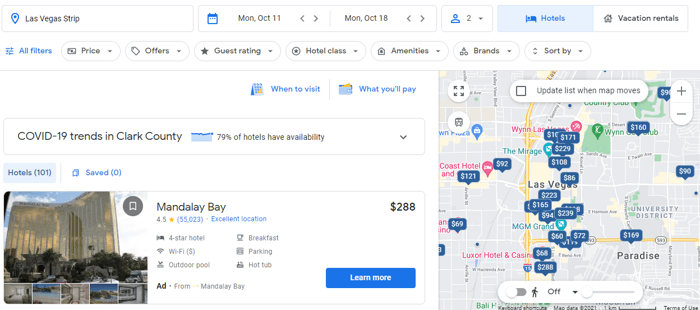 Getting Around Town
Las Vegas is a major city with over 2 million residents and more than 40 million annual visitors. But, unfortunately, this town simply isn't conducive to the car-less traveler or resident.
The good news is the Rio is only about a mile from the heart of the Las Vegas Strip, where many poker players stay during the WSOP. The bad news is it's a tough walk. With that said, there is a direct walkway from the Rio to the side of Caesars Palace, and it will be a much more pleasant walk in the fall compared to the WSOP's usual summer time slot due to the weather. But it's still a hike for those who aren't in great physical condition.
If you aren't bringing a car and won't be staying at the Rio, you can take Uber/Lyft, but be aware that rates have gone up since COVID-19. The city bus runs for $6 per day ($8 on the Strip) and there is a drop off right across the street from the Rio. But riding the bus, especially if you have a connector, is time consuming and a royal pain in the butt.
Your final option, outside of carpooling of course, is to rent a car. Much like everywhere in the country, car rental rates in Las Vegas have skyrocketed due to the automobile shortage in the U.S. over the past year. Here's a look at the current cheapest weekly rates for the first week of the 2021 World Series of Poker.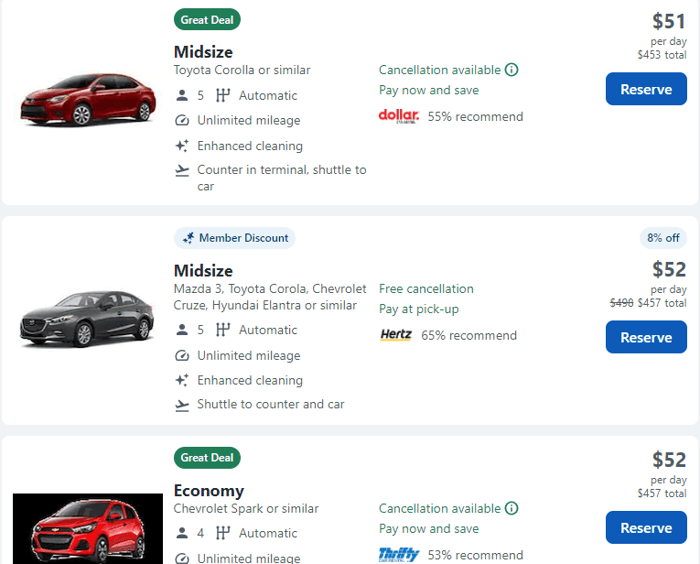 Regardless of your method of transportation, where you stay, and how you get to Las Vegas, the most important thing is to have a good time and hopefully make some money. And if you go on to win a gold bracelet, don't forget to choose PokerNews for your first post-game interview.